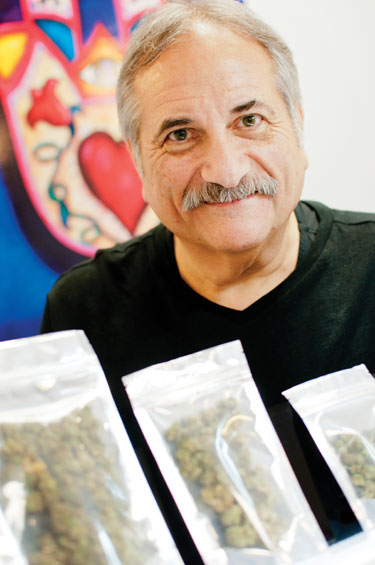 Takoma Wellness Center: Rabbi Jeffrey Kahn
(Photo by Todd Franson)
Kahn says he first broached the idea of getting licensed to operate a dispensary after testifying before the D.C. Council in February 2010.
"I met with my family and said, 'I think this is something we can do,'" he recalls. "The whole family was excited about it. We enjoy helping people, seeing dramatic and miraculous stuff happen. … The patients seems healthier and say they feel better when they come in after their initial visit, and they often use less [marijuana] as they get stronger."
Kahn says his dual roles as both a rabbi and medical-marijuana pioneer raise a few eyebrows, but not too many.
"From a Jewish perspective, healing and bringing comfort to the sick is the most important thing," he says. "Some people are a little taken aback, but it's not as if the Jewish community would be as shocked about a rabbi working with medical marijuana as they would if a rabbi were the world's biggest bacon producer."
As he walks around the dispensary, Kahn adjusts some of the displays offering various strains of medicinal marijuana grown by the city's three operating cultivation centers, paraphernalia or other devices like those used for vaporization or "magical butter" machines that infuse cannabis into soluble fats, which can then be used to cook edible treats. The atmosphere of the actual "store" part of the dispensary is like a mom-and-pop store counter, where patients can obtain the amount of product they need, while the remainder is run like a doctor's or social worker's office, with space allotted for screening and tracking patients' progress.
Initially — and even to some extent even today — medical marijuana has been misunderstood, with opponents of medical marijuana raising the specter of open-air drug markets and unregulated chaos. But Kahn says D.C.'s program is so closely monitored and its standards for qualifying to take part in the program are so strict that it deflates any scaremongering or visions of underground smoke shops that would rival Amsterdam.
"For 70 years, we've been teaching people negative things about marijuana," Kahn says. "But because diseases are equal opportunity employers, more and more people know someone who's been touched by medical marijuana. And these are regular, average, normal people. Most of our patients are older, and probably wouldn't feel comfortable in a counterculture-type establishment anyway."
Still, it's that high degree of regulation that concerns Hawkins, who voices concerns that the limitations placed on medical marijuana mean that some who could truly benefit from it are not.
"I'd say the law is not working very well, because so few have been able to register," Hawkins says. "They have to go through the Department of Health, which is slow and obsessed with the bureaucratic process, which makes some patients distrustful of the program."
In addition, she adds, many doctors are leery of prescribing medical marijuana at all, because those patients seeking to register under the new law have to have their primary doctors sign a piece of paper that states that marijuana possession and use is still illegal under the law and spells out the legal ramifications of breaking the law. A better solution, she says, would be to amend the law to allow the primary doctor to refer the patient to another doctor if they are uncomfortable issuing the prescription for medical marijuana themselves, rather than intimidating doctors and deterring them from recommending marijuana for those that truly need it to treat chronic conditions.
Hawkins says she saw a similar scenario take place when D.C. began its clean needle exchange to reduce the rate of transmission of HIV through intravenous drug use, in 1991. The program, which was run with strict controls through the Department of Health, only managed to register 26 people in the first year. However, once the program was moved to the private Whitman-Walker Clinic (now Whitman-Walker Health), the rate of participation increased. Hawkins was later forced to set up — within a span of three days — Prevention Works, a nonprofit organization, to take over the administration of the needle exchange and transfer all the program's assets, after outgoing President George H.W. Bush issued an executive order barring places engaging in needle exchange from receiving federal funding.
In that way, Hawkins believes marijuana will follow a similar trajectory, with dispensaries, like Takoma Wellness Center, seeing more customers and losing less money if a private firm takes over the administration of the program. Hawkins also believes that other changes are needed to expand the program beyond a small population that experiences one of the four required medical conditions. Her hope is that the D.C. Council will pass legislation to amend the current law to instead use the restrictions as guidelines, rather than absolutes, for the types of conditions that can be treated with medicinal marijuana.
For example, she says, people officially diagnosed with severe "debilitating" migraines, children suffering from pediatric epilepsy, and people who suffer pain after having limbs amputated could benefit from medicinal marijuana, but are currently unable to enroll in the District's program.
"None of the dispensaries will survive if there aren't more patients," warns Hawkins.