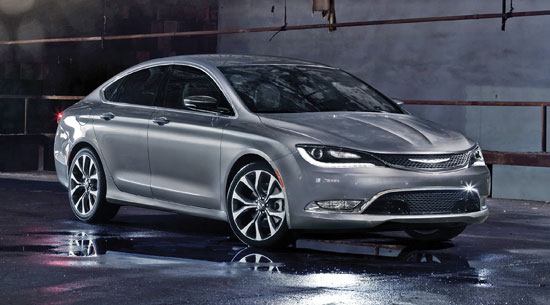 This week, the Detroit Motor Show gets into full swing, with reveals, concepts and model debuts coming thick and fast as the world's leading manufacturers compete for mindshare and column inches. Among all the glitz and glamour, as show lights reflect off of beautifully polished chrome and swathes of painted plastic, it can be difficult to stand out if you're not presenting a car packed to the roof with future-proof technology and styling that draws cues from science fiction. There are, however, more than a few models that foreshadow the ordinary, mass-market models that will soon be dominating our highways.
Chrysler took to the Detroit stage to usher in the 2015 redesign of its 200 sedan. The original 200 debuted a few years ago — you may remember an advert featuring a rather emotional ode to Detroit during the Superbowl, with the city's own Eminem driving a 200 — but has since received a rather lukewarm response at retail. Its Chrysler 300-lite looks didn't help; the 200 never seemed a fully realized vehicle, though it was far from unattractive. With this new version, Chrysler has thrown out every design restraint and taken its sedan in an entirely different direction.
With slim headlights and a smooth, restrained front, it puts on a handsome face. This blends seamlessly into a coupe profile, with subtle lines and gentle bulges, before swooping down into a rear that draws more than a little inspiration from Audi's recent sedans. It all works, though, and the 200 offers an interesting new direction for the Pentastar brand — though I miss the bluff, retro-inspired looks of 2004's 300. (Call me nostalgic.) Under that glossy skin sits a new platform, which comes with available all-wheel-drive — a first for this segment, with power derived from a 184 hp 2.4-liter four-cylinder or a 295 hp 3.6-liter V6, the latter of which has AWD as standard and comes mated to a 9-speed transmission.
Inside, you'll find big seats, a vast infotainment screen and uncluttered fascia, digital dials behind the wheel and, in sporty S trim, paddles for shifting gear affixed to said wheel — as well as firmer suspension and some additional styling cues inside and out. If the 200 is as good on the road as it is to look at, Chrysler could be looking at a hit — something the company could definitely benefit from. Production starts this spring with a price of $22,695.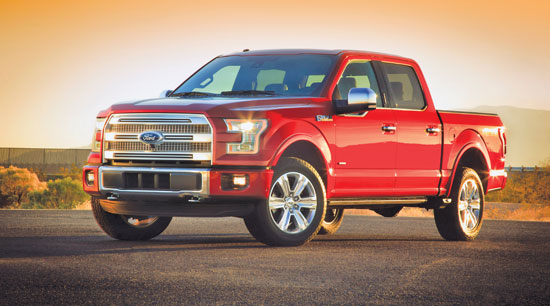 You could forgive Ford for playing it safe with the F-150, part of the F-Series of trucks that have remained the U.S.'s favorite for a staggering 43 years. A nip here, a tuck there, a small interior overhaul, maybe an increase in economy and Ford would likely continue to have sold them by the bucketload. What the blue oval brand did, though, is reinvent the way it manufactures its F-series, making the 2015 F-150 the most dramatic new addition to the brand yet.
What makes it so special? Aluminum. The strong, lightweight material that's a favorite of luxury carmakers is being used as part of an aluminum-intensive structure that sheds an incredible 700 pounds from the weight of the outgoing F-150. Paired with the equally radical 2.7-liter EcoBoost V6, the F-150 should easily deliver class-leading fuel economy. It's not just economy that will benefit, as driving dynamics, performance and towing capabilities should all take advantage of the reduced kerb weight and increased power-to-weight ratio.
It's not all aluminum, though. The truck's ladder frame is cast in high-strength steel, which Ford says helps to make the F-150 the "strongest and most durable F-150 ever." Bold words, yes, but backed up by "torture tested" claims that the F-150 has endured more than 10 million real-world and lab miles. To further allay any worries about the aluminum construction, Ford also points out that the military uses aluminum in many vehicles — so pipe down in back, naysayers.
There's no official power or efficiency ratings yet, but the 2.7 EcoBoost engine should rate higher than the base 3.5 V6 and "deliver the same power as some mid-range V8s." On top of that, the 3.5-liter EcoBoost V6 is also available, as is the world-crushing 5.0-liter V8 if you need even more power and load-hauling capability. A light dusting of fresh tech has also been added to the new model, including a 360-degree camera to aid maneuvering, LED lighting and a generous, 8-inch LDC in the center console. If Ford's featherweight full-size truck is ticking all of your boxes, you'll want to watch for it as it hits showrooms later this year.