There's always one major conundrum with any new console launch: What games do you get? As the second wave of PS4 stock hits retailers, many people will be facing this question just now as they stare at games on store shelves. In the case of the PS4, though, it's a fairly easy choice — the gaming giant brought relatively few titles to its own console at launch, so third-party games are the way to go for most. If you've already shot through Battlefield and scoured every beach in Assassin's Creed, though, and are taking a look at the first-party offerings for Sony's console, let us help you with a quick review of four of the biggest titles.
Killzone Shadow Fall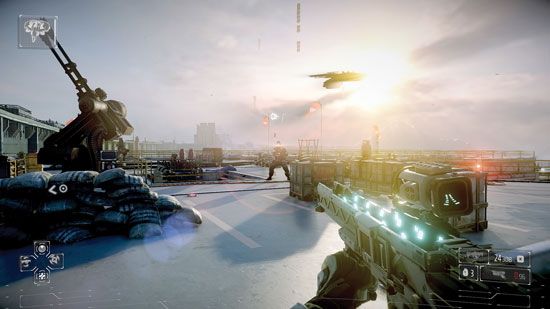 The fourth title in Guerilla's first-person shooter franchise brings a lot of changes in its leap to the PS4. Gone are the dark locales and gloomy settings of yore. Out go the dense, deliberate controls. And wave farewell to the series' focus on war with antagonists the Helghast — a very obvious nod to the Nazis, red banners and all. Instead, inspiration has been drawn from Call of Duty, Halo and the Cold War. This time the action takes place on planet Vekta, which has taken in Helghan refugees, splitting the planet into two factions. Think USSR v. the West and you can see where they're going with this.
It's a fast-paced, tight-knit campaign, which takes place across various beautiful locales — a lush jungle, shining cities and an abandoned space station are just a few of the areas you'll gun your way through, andKillzone is definitely going to be the game you use to show off your PS4. Sadly, Killzone's seemingly trademark script deficiencies are here, but they're countered by the stunning graphics and booming, rich sound on offer. Personally, I missed the slow, heavy feel of prior games, but the lightened controls certainly allow for some exciting skirmishes, and they make multiplayer — which is thoroughly excellent — much easier.
Add in some great, PS4-unique flourishes like interacting with your attack drone through the touchpad, or the controller's light flashing red when you get shot (mine flashed often), and some fresh additions to combat, andShadow Fall looks set to help Killzone stay relevant into the next generation.
Knack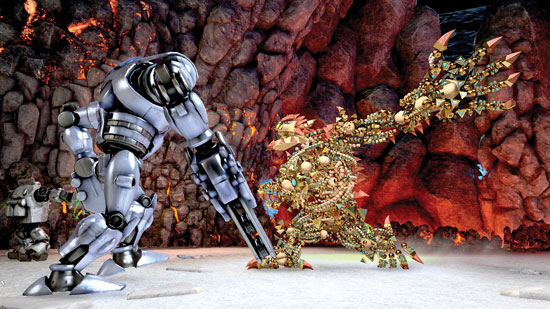 Oh, Knack. Not for a long time has a game made me so utterly, completely livid while playing. Often, I'd find myself clenching my fists, punching pillows, shouting expletives and plotting the grisly murder of Mark Cerny,Knack's writer and director — who also happens to be lead architect for the PS4. I played Knack for about 12 hours, completing it on Normal difficulty, and I spent most of that time in a blind rage.
Knack gets a lot right. It looks great, there's some fantastic art design and many levels showcase great textures and particle effects. Our hero, Knack, is an intriguing concept — an entity who can expand and contract by absorbing "relics" or other dense material into his body, changing his strength, attacks and interaction with the world. The story has laughably clunky dialogue, but it held my interest throughout, and the sound — from enemies grunting as I slugged them, to the controller's speaker tinkling as I absorbed sunstones — helped elevate the experience.
None of this matters, however, because Knack features some of the most punishing, unfair, obtuse level and AI design I've ever witnessed in a game. On Normal, which is suitable for most gamers, I died constantly. Knack's awful checkpointing system meant every time I did, I had to play through several sections of a level, trudging through numerous enemies, retreading my steps only to die and be thrown right back to the start again.
Knack in his smallest state is infuriatingly weak, and many areas force you into this state, though often these parts felt like filler to pad out levels. As you absorb relics and increase in size, Knack's frustrating, repetitive yet simple, combat becomes easier, but inevitably, just as you become accustomed to life as a powerful giant, you're snapped right back to weak-ass Knack. Whoever thought that going from stomping around a city, crushing tanks, to being so small an oversized insect can kill you would be fun needs to be removed from the gaming industry. Cerny and company have included collectibles in levels to enhance replayability. No thanks, Mark. Once was more than enough.
Doki Doki Universe
If you've ever wondered what a child's drawing would look like were it to come to life, look no further than Doki Doki Universe. Bursting with fun, imagination, buckets of cuteness and an overall feeling of fuzzy warmth, Doki Doki Universe is a game that will simply make you smile. I fell more than a little in love with it.
The game follows robot QT3, abandoned on an asteroid by his human family with only a balloon for company. QT3 is informed he's to be scrapped, unless he can discover his own humanity. What follows is an utterly charming journey of introspection, as QT3 journeys to various worlds and tries to help those in need. If you've ever played Scribblenaughts, you'll be at home here. QT3 speaks to characters, ascertains their problems and what they need, and then summons objects to satisfy them. Conversations are humorous, character designs are delightful, and the whole game feels unique — even with many standard gaming conventions on show.
QT3 interacts with a therapist, who will determine if he gains sufficient understanding of humanity. Players can complete mini quizzes, which will build a personality profile of the player, which in turn then impacts the game world. It's a neat touch, and it was quite something having such a cute game get so deep into my psyche. What's less neat is Doki's in-your-face DLC — fly between worlds and you'll spot locked planets and asteroids that you need to purchase in order to visit. It ruins the immersion. Similarly, gameplay can get repetitive when every task follows a similar format. However, as I flew between planets on my trusty steed — which was, at various points, a pig with a crash helmet, a block of Swiss cheese and a happy poo — I couldn't help but be sucked into Doki's sweet, cartoonish, delightful world.
Resogun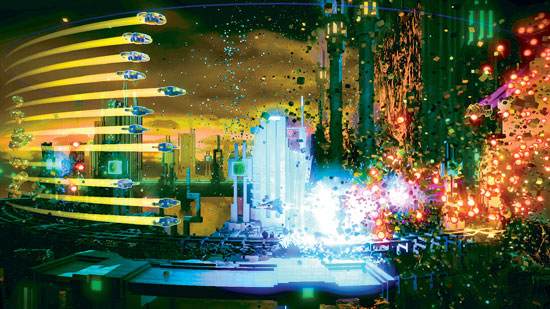 If you're looking for a hardcore, time-wasting, life-consuming, pick-up-and-play game, this is it. I startedResogun, a twin-analogue stick side-scrolling shooter, to see what it was like and, before I realized it, several hours had passed. Drawing from classics like Defender and much-loved PS3 stick-shooter Super Stardust HD, its frantic, fast-paced gameplay follows a small spaceship trying to evacuate the last human survivors from doomed colonies, collecting them as hundreds of alien craft try to blast the humans and their tiny rescue ship.
The devil in Resogun really is in the detail, and it's packed with thousands of details. Particle effects, lighting, strobing, explosions, gunfire, visual and auditory cues, pulsing music and crashing sound effects. Resogun is a sensual assault. The sheer amount of things occurring on screen are testament to the raw power of the PS4 — even in this download-only title.
The real draw is in its leaderboards, though. Smashing through waves of ships, eradicating whole fleets in a chained shot, eliminating hordes with a well-timed bomb, chaining shots together to build your counter, grabbing power-ups to increase weapon output — all are in effort to boost overall score, which is posted online to compare with friends and strangers. Trying to save every human, minimize personal damage and maximize enemy losses is addictive, and lends a replayability factor that many games can only dream of. There's no punishment for dying — your combo meter is wiped, but you can keep on playing and building score, which only makes the experience better.
To top it all off, at the end of a level, players can sit back and watch as the colony they flew around reaches apocalypse and detonates in spectacular fashion, consuming the screen in particles and light and fire. It's an intense, satisfying conclusion that only adds to a bounty of reasons that make Resogun a must-play for anyone with a PS4.
Contributing editor Rhuaridh Marr covers gaming, tech and cars for Metro Weekly. Follow him on Twitter @rhuaridh.