He's not gay, but members of the LGBT community will identify straightaway with the character Billy in Studio Theatre's arresting production of Nina Raine's Tribes. From the way he intuitively feels different from the rest of his family before coming out, to the sense of comfort and freedom he finds meeting others like himself immediately afterward — many of us have trod a similar path of increasing outgoingness, or at least increasing self-confidence. But Tribes is most poignant in a scene late in the play, when Billy, performed with beguiling power and conviction by non-hearing actor James Caverly, confronts his family, asking them to see and listen to him — to understand, not just tolerate.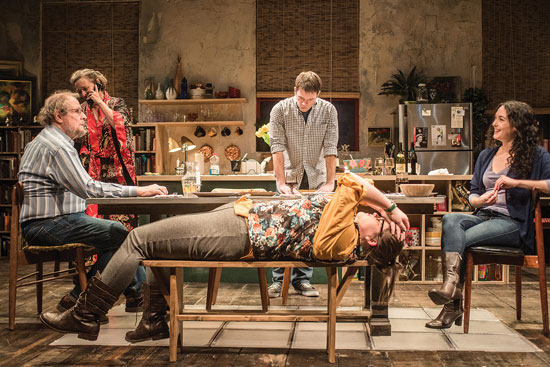 Tribes
(Photo by Teddy Wolff)
The dramatic scene is very much like a gay person's coming out. Billy's father Christopher (Michael Tolaydo) even makes reference to it, in a characteristically flippant manner that only makes things worse. Billy's not gay, you see, but deaf, and the only non-hearing member of a loud, gregarious Jewish-British family. If only he were gay, maybe — maybe — Billy would have a better shot breaking through his liberal father's sanctimonious shell, getting him to finally hear, maybe even accept, his son. But as it is, the family patriarch just won't allow himself to see how much he and the rest of his "tribe" — his wife Beth (amusingly played as a put-upon diva by Nancy Robinette) and two other children — have made Billy feel not only like the black sheep of the family, but also defective and totally dependent. That is, until Billy meets a going-deaf girl, Sylvia, who introduces him to Deaf culture, opening him up to a whole new world, one in which he just might thrive. Helen Cespedes as the strong-but-struggling Sylvia almost steals the show. Billy's family, meanwhile, they take a shine to her in a way that makes Billy feel threatened.
Tribes covers a lot of ground and conveys much about the strengths and weaknesses of a tribe of any kind, be it a family or a community or a culture. Far more than a play about the experience of being deaf or an examination of Deaf culture, though, Raine's play ultimately pivots on the twin issues of language and communication. Even the most minor subplots relate to these fundamental human expressions. From Christopher's idle interest in learning Chinese, to the murder mystery his wife Beth is now writing, to his daughter Ruth's (Annie Funke) opera — all are expressive pursuits that in most contexts would be considered noble or helpful — or at the least harmless. But here, they speak volumes about just how inexpressive — tone-deaf — members of this family are.
Tribes




1/2
Studio Theatre
To Feb. 23
$39 to $75
202-332-3300
studiotheatre.org
Studio's interpretive production, helmed by the company's artistic director David Muse, only enhances Raine's points. Erik Trester has designed colorful, generally amorphous images that he projects periodically — along with occasional subtitles — onto the three walls of Wilson Chin's well-rendered set. "What is he trying to say?" you may ask — and that seems to be the point. And both lighting designer Matthew Richards and sound designer Ryan Rumery have a few moments to show what they can say through their chosen medium. Most stunning is the moment during a heated family argument when the two work together to emulate what it might be like for a deaf person to stand amid hearing people who are yelling at — and, ultimately, not really listening to — each other.
Chances are you'll be more impressed the more you learn about how much time and effort Studio spent putting together this production, including extensive work and outreach with Gallaudet University and the many sign-language interpreters they've hired. All of it with an eye to try and accurately reflect, even in the smallest of details, the experience of deaf people. It's apparently an unprecedented effort, even in the backyard of what's considered the nation's best school for the deaf. Maybe it shouldn't have taken this long for such a collaboration. Certainly it's intriguing to think of what might result next.