"I started taking dance because I used to imitate Michael Jackson," says Robert Battle, who recalls playing piano and singing as a child growing up in Miami before Thriller inspired him to move. But the 41-year-old's dance career path was further solidified once he caught a local performance of the Alvin Ailey American Dance Theater. "I remember just being so moved by it, so excited by it."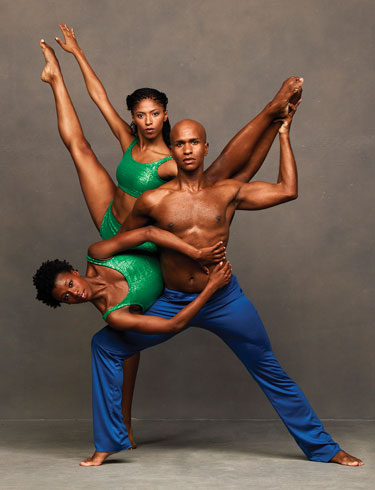 Alvin Ailey American Dance Theater's Rachael McLaren, Jacqueline Green and Glenn Allen Sims
(Photo by Andrew Eccles)
Decades later, Battle is provoking similar reactions as head of the Alvin Ailey American Dance Theater, whose popular appeal is built in large part on what Battle calls "a sense of the unexpected."
What other modern dance company, for instance, incorporates ballet into its repertoire? Next week at the Kennedy Center, the company will do just that, performing two pieces expressly written as ballets — The River, written for the American Ballet 44 years ago by the company's late namesake and set to music by Duke Ellington, and Chroma, a 2006 piece for the U.K.'s Royal Ballet written by Wayne McGregor and featuring a score by rock star Jack White.
Battle has juxtaposed the ballet Chroma with Bill T. Jones's modern-dance classic D-Man in the Waters, which "is really about gesture — running, jumping, skipping, sliding on your belly on the stage." Battle added it to the Ailey repertoire in honor of Ailey's affinity for Jones, plus the fact that Jones wrote the piece in 1989 as a tribute to a dancer who died of AIDS — the same year Ailey died of the disease.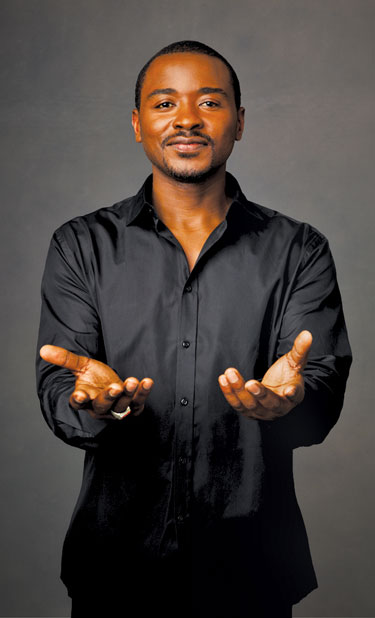 Alvin Ailey Artistic Director Robert Battle
(Photo by By Andrew Eccles)
Battle never got to meet Ailey, having moved to New York to attend Julliard in 1990. But every day, as he works to preserve Ailey's legacy as well as Ailey's mission to advance African-American choreographers, Battle says, "I feel his presence. I'm surrounded by him in so many ways."
Battle, whom a New York Times dance critic recently raved "has injected the company with new life," says this, his third season at the helm, has been "record-breaking," with people "coming back again and again and again" last fall in New York.
"I really do want to echo that this season is like no other," he continues. "If you love the company, if you think you love the company, if you're curious — this is the time to see the company." '
The Alvin Ailey American Dance Theater performs three programs next week starting Tuesday, Feb. 4, at 7 p.m., at the Kennedy Center Opera House. Tickets are $30 to $140. Call 202-467-4600 or visit kennedy-center.org.