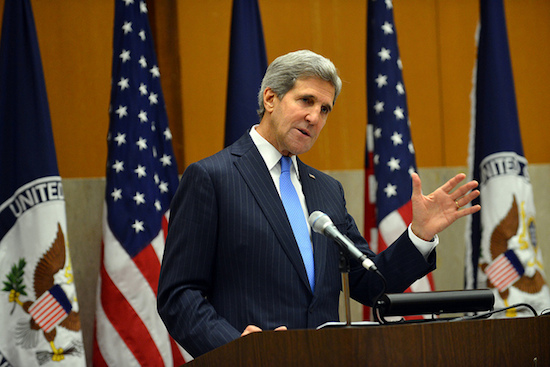 The State Department and human rights advocates are voicing concerns over a new law in Nigeria that not only outlaws same-sex marriage, but LGBT organizations and attempts by LGBT people to organize in the African nation.
In a statement released Monday, Secretary of State John Kerry said the U.S. is "deeply concerned" by the enactment of the law, known as the Same Sex Marriage Prohibition Act, which was signed by Nigerian President Goodluck Jonathan on Monday.
"Beyond even prohibiting same sex marriage, this law dangerously restricts freedom of assembly, association, and expression for all Nigerians," Kerry said. "Moreover, it is inconsistent with Nigeria's international legal obligations and undermines the democratic reforms and human rights protections enshrined in its 1999 Constitution."
"People everywhere deserve to live in freedom and equality. No one should face violence or discrimination for who they are or who they love," Kerry added.
According to a State Department spokesperson, the U.S. will continue to raise concerns with Nigeria over the law, but it remains unclear if Nigeria could face sanctions or cuts in U.S. aid as a result of the law.
"Since the law was in draft form, we've been in continual contact with the Jonathan administration, the National Assembly, and a wide variety of Nigerian stakeholders," State Department deputy spokesperson Marie Harf told reporters. "Our conversations have been focused on our concerns that portions of the law, again, appear to restrict Nigerians' rights to freedom of expression, assembly, and association – provisions that we've been very clear we do not support."
Only a day after the act was signed into law, reports from Nigeria indicate authorities have began enforcing the new restrictions with force. According to the Associated Press, dozens of gay men in Nigeria have been rounded up and tortured into providing the names of other gay men. They face up to 10 years in prison under the Same Sex Marriage Prohibition Act.
Human rights advocates have described the situation in Nigeria as the "worst case scenario" while insisting the U.S. and other countries must exert pressure on the Nigerian government.
"[T]he fact that this law is being enforced so quickly and forcefully demonstrates the full extent of Nigeria's human rights crisis," said Shawn Gaylord of Human Rights First in a statement.
"It is imperative that the United States, and like-minded governments around the world, take every step possible to stem the tide of this tragedy and to prevent similar laws from being passed in other countries, including the Ugandan Anti-Homosexuality Bill currently under consideration and the Russian Family Code Amendment," Gaylord continued. "It is equally imperative that the international community supports the efforts of the Nigerian LGBT community who will both bear the brunt of this law and be best positioned to lead the efforts to make Nigeria safer for all of its citizens."
Speaking to reporters Tuesday, State Department deputy spokesperson Marie Harf said that while the sovereignty of Nigeria must be respected, the Nigerian law could stand in violation of international law due to its broad provisions pertaining to the right to the freedom of expression, peaceful assembly and association set forth by the International Covenant on Civil and Political Rights, which Nigeria is party to.
"We are deeply concerned by some of the recent developments we have seen in Africa with respect to the human rights of LGBT individuals, including passage of the 'anti-homosexuality bill' by Uganda's Parliament, and also increasing arrests of LGBT individuals in countries such as Cameroon and Zambia," Harf continued. "Human rights are a cornerstone of our foreign policy. We say this all the time, and we will continue to support the efforts of human rights defenders in Africa and across the globe who are working to end discrimination against LGBT persons. The president and Secretary [Kerry] have been very clear that LGBT rights are human rights. We treat them as such and we fight for them wherever we can."
[Photo: John Kerry. Credit: U.S. State Department.]