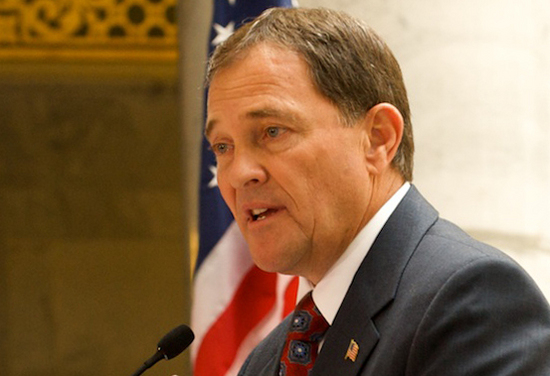 The state of Utah is facing a new lawsuit for its decision to place state recognition of same-sex marriages "on hold" earlier this month.
In a complaint filed in state court Tuesday, the American Civil Liberties Union argues that the state of Utah has placed the approximately 1,300 same-sex marriages performed in Utah between Dec. 20, 2013 — when a district court struck down Utah's same-sex marriage ban as unconstitutional in Kitchen v. Herbert — and Jan. 6 — when the U.S. Supreme Court halted further same-sex marriages in Utah pending an appeal — in a state of legal limbo and "prevented legally married same-sex couples from accessing critical protections for themselves and their children."
Moreover, the lawsuit argues that the protections that were gained by same-sex couples married in Utah cannot be retroactively taken away under the due process clauses of both the Utah and U.S. constitutions. Filed on behalf of four same-sex couples who were legally married in Utah before the Supreme Court issued a stay, the lawsuit seeks to have the state immediately recognize their marriages. Both Republican Gov. Gary Herbert and Attorney General Sean Reyes are named in the lawsuit.
"These couples were legally married under Utah law and their unions must be treated the same as any other Utah marriage," said John Mejia, legal director of the ACLU of Utah, in a statement. "Even our attorney general said that the marriages were entitled to full recognition by the state at the time they were performed. Regardless of what ultimately happens in the federal challenge to Utah's marriage ban, the marriages that already occurred are valid and must be recognized now."
Although Utah has halted the extension of state benefits to same-sex couples married before the Supreme Court interjected, the federal government has extended those benefits. In a video statement released earlier this month, Attorney General Eric Holder confirmed that same-sex couples married in Utah "will be recognized as lawful and considered eligible for all relevant federal benefits on the same terms as other same-sex marriages." Attorneys general in several states that permit marriage equality have also confirmed the same-sex marriages performed in Utah will be recognized in their respective states.
As the original case makes its way to the 10th Circuit Court of Appeals, marriage-equality advocates argue in their lawsuit filed today that the state cannot block recognition of marriages legally performed in the state.
"These couples and their families are suffering real immediate harm as long as their marriages are placed on hold," Joshua Block, staff attorney with the ACLU Lesbian Gay Bisexual and Transgender Project, said in a statement. "These marriages were validly entered into under Utah law, and the state is legally obligated to recognize their marriages now instead of placing these couples in limbo."
[Photo: Gov. Gary Herbert, via Wikimedia Commons.]