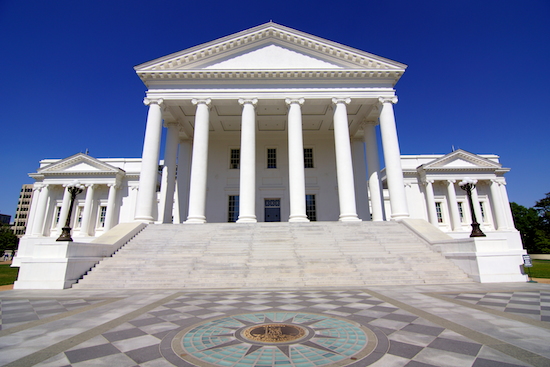 A Virginia House subcommittee Thursday continued the lower chamber's annual rampage against LGBT rights by voting to table four bills, including two patroned by Republicans, dealing with prohibiting discrimination in public employment and in housing.
The first two bills, HB417 and HB562, patroned, respectively, by Del. Marcus Simon (D-Falls Church, Fairfax Co.) and Del. Ron Villanueva (R-Virginia Beach, Chesapeake), would have amended the Virginia Human Rights Act by including "sexual orientation" among a list of protected groups against whom the state and any agency, board, bureau, or other instrument of the state would have been prohibited from singling out for discrimination in public employment. As introduced, both bills would have defined "sexual orientation" as "a person's actual or perceived heterosexuality, bisexuality, homosexuality or gender identity or expression."
The second two bills, HB418 and HB883, patroned, respectively, by Simon and Del. Joseph Yost (R-Montgomery, Giles, Pulaski counties; City of Radford), would have amended the section of the Virginia Code known as the Virginia Fair Housing Law to include "sexual orientation" – defined as a person's sexual orientation or gender identity or expression – among a list of groups that should be protected from housing discrimination. The bills would have prohibited landlords or real estate agents from refusing to sell or rent to a person based on their sexual orientation after making a bona fide offer, attempting to changes terms of a sale or lease, printing or publishing statements that restrict people of certain sexual orientations from attempting to buy or rent a dwelling, and refusing to rent or sell to people of a particular sexual orientation in certain neighborhoods, among other provisions.
All four bills were sent to the House Committee on General Laws, whereupon the committee's chairman, Del. Todd Gilbert (R-Shenandoah, Warren, Page, Rockingham counties) assigned it to a subcommittee where Republicans outnumber Democrats 6-2. The subcommittee then voted to table all four bills, effectively killing them for the rest of the session.
While no official vote tally was made publicly available for the subcommittee vote, sources close to deliberations say it broke down along party lines, with Delegates Nick Rush (R-Floyd, Montgomery, Pulaski counties), Thomas Wright, Jr. (R-Amelia, Cumberland, Lunenberg, Mecklenburg, Nottoway counties), Christopher Peace (R-Hanover, King William New Kent counties), Barry Knight (R-Virginia Beach), M. Keith Hodges (R-Essex, Gloucester, King and Queen, King William, Mathews, Middlesex counties), and David Ramadan (R-Loudoun, Prince William counties) voting to table the bill, and Delegates Dolores McQuinn (D-City of Richmond, Henrico, Chesterfield counties) and Kaye Kory (D-Fairfax Co.) voting against the motion to table.
Equality Virginia, the state's top LGBT rights organization, took to Twitter: "The House of Delegates is simply out of touch with Virginians." In response to that tweet, former Libertarian Party candidate for governor, Robert Sarvis, responded, "Better [would] be to advocate reform/repeal of zoning/land-use/other regs. Get more housing access, choice, affordability. Restricted markets make discrimination easier and less costly to practice (among other things)."
But Equality Virginia Executive Director James Parrish was more pointed in his assessment.
"The Republicans in the House of Delegates continue to be the roadblock to equality in Virginia," Parrish said. "They need to understand that while they might be safe in some of their seats, the business community and the majority of the citizens of Virginia are deciding that they support fighting discrimination. This vote just makes them look even further out-of-step with the times and with their constituents."
[Photo: Virginia State Capitol. Credit: Skip Plitt/C'ville Photography, via Wikimedia Commons.]