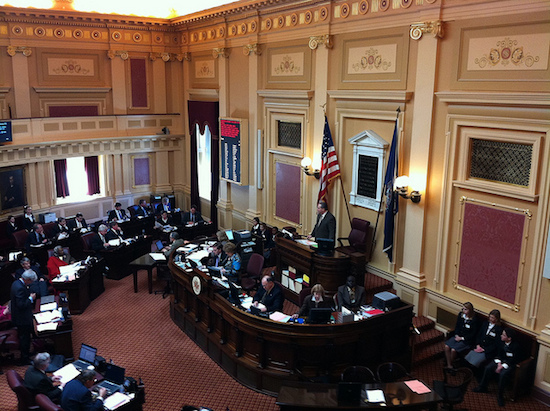 A bill that would have allowed same-sex couples, as well as other adults not in a legally recognized marriage, to jointly adopt by means of a second-parent adoption deadlocked in the Virginia Senate Friday, further frustrating LGBT advocates and adding to the mounting total of pro-equality bills that the Republican-controlled General Assembly has killed during the 2014 legislative session.
The bill, SB336, patroned by Sen. Janet Howell (D-Arlington, Fairfax counties) and signed onto by Del. Betsey Carr (D-City of Richmond, Chesterfield Co.), would have allowed an adult other than the adoptive or birth parent but who is not legally recognized as a spouse of that parent to become the legally recognized second parent of the child or children in question.
While Howell's bill does not specifically reference sexual orientation or limit itself to same-sex couples, most of those affected by the bill's defeat will be same-sex couples who already have adoptive or biological children, and many of whom are recognized as the legal parent in other states. Under current Virginia law, only a straight couples or single homosexual parents may adopt children, and those single homosexual parents may be discriminated against by certain adoption or foster placement agencies.
According to James Parrish, executive director of Equality Virginia, parents may obtain a legal second-parent adoption in another state, and later move to Virginia. In that case, even though Virginia does not view them as legally married, both parents may be listed as the legal parents on the child's birth certificate. Parrish told Metro Weekly that one of four couples asked by his organization to testify in favor of the bill before the Senate Committee on Rehabilitation and Social Services did just that — moving from Virginia to Maryland, setting up residence in Maryland for a prescribed period of time, in accordance with that state's laws, and then later moving back to Virginia.
"Nobody should have to move to another state just to protect their family," Parrish said.
Another couple testified about their inability to have a mother recognized as a parent after one of the children took ill and had to be rushed to the hospital. One of the mothers from a third family, who herself is a state employee, told of how her children will be unable to take advantage of her job benefits or her pension, should she die.
Still, despite testimony from the four LGBT families, as well as the American Civil Liberties Union of Virginia and the Family Equality Council, Howell's bill deadlocked on a 6-6 vote in committee, effectively killing it.
Voting in favor of the bill were Sens. Linda "Toddy" Puller (D-Fairfax, Prince William, Stafford counties), Mamie Locke (D-Hampton, Newport News, Portsmouth, York Co.), George Barker (D-Alexandria, Fairfax, Prince William counties), Barbara Favola (D-Arlington, Fairfax, Loudoun counties), John Miller (D-Hampton, Newport News, Williamsburg, York, James City, Suffolk counties) and Kenny Alexander (D-Norfolk, Chesapeake).
Voting against the bill were Sens. Frank Wagner (R-Virginia Beach, Norfolk), Emmett Hanger (R-Staunton, Waynesboro, Rockingham, Augusta, Green, Madison, Culpeper counties), Ryan McDougle (R-Caroline, Essex, Middlesex, Spotsylvania, Lancaster, Northumberland, Richmond, Westmoreland, King George, Hanover counties), Dick Black (R-Loudoun, Prince William counties), Bryce Reeves (R-Fredericksburg, Orange, Spotsylvania, Culpeper Albemarle, Louisa counties) and Walter Stosch (R-Henrico, Hanover counties). Wagner, the committee chair, was probably the most shocking due to his generally "moderate" image and pro-LGBT voting record on other bills, such as last year's employment nondiscrimination measure.
What was most shocking about the bill's defeat was that it occurred on the one Senate committee where Democrats are supposed to have an 8-7 majority. But Senate Majority Leader Thomas Norment (R-James City, York, Surry, Suffolk, Isle of Wight, New Kent, King William, King and Queen, Gloucester counties; Poquoson, Hampton), who at times is not openly hostile to LGBT rights, was not present for the vote, and the committee also has two vacancies that have yet to be filled due to the statewide election of Lt. Gov. Ralph Northam and Attorney General Mark Herring.
Herring's successor, Jennifer Wexton, had not yet been sworn in or seated by Friday morning, despite winning a special election on Tuesday by 16 points, and Northam's successor, Del. Lynwood Lewis (D-Norfolk, Accomack, Northampton counties) faces a recount after he won a Jan. 7 special election by only nine votes. As a result, Republicans on the committee were able to defeat the bill by denying it the majority needed to pass out of committee and head to the full Senate for an up-or-down vote.
Parrish, in an interview with Metro Weekly, called the failure of the bill in the senate committee an "embarrassment" for the state, which is essentially refusing to allow the children in those families to receive the legal protections and benefits available to them through their second parent.
"All this vote would have done would have protected the kids whose parents haven't had the opportunity to gain legal protections as a second parent," Parrish said, referring to scare-mongering tactics that were employed by the conservative anti-gay think tank the Family Foundation in urging senators to reject the bill. "While the Family Foundation will try and muddy the waters about this bill, it would only have protected families that already exist."
"For some reason," Parrish continued, "Senate Republicans just don't understand that these families are just trying to protect the children they already have, just as straight parents want to protect their own families."
The one bright side, for Parrish, is that there may be a chance that upcoming court cases could force Virginia to accept marriage equality, which would make a second-parent adoption bill unnecessary, as same-sex couples with children would be legally recognized as spouses and parents. In either case, he said, next year, the Senate will be friendlier to not just this bill, but other pro-LGBT bills that the General Assembly has defeated this session, including a bill prohibiting discrimination in state employment on the basis of a person's sexual orientation or gender identity.
Second-parent adoption is not yet dead for the session, as a similar bill, co-patroned by three Republicans – Del. Joseph Yost (R-Montgomery, Giles, Pulaski counties; City of Radford), Del. Gordon Helsel (R-Poquson, Hampton, York Co.) and Del. Tom Rust (R-Fairfax, Loudoun counties) – is set for a hearing in the House of Delegates on Monday, Jan. 27. But despite bipartisan support for the measure, it faces an uphill battle in the lower chamber, which is even more dominated by Republicans than the Senate.
[Photo: Virginia Senate chamber. Credit: Waldo Jaquith, via Flickr.]