Kudos, Washingtonians! You live in the gayest city in the country.
The Advocate just released its ranking of American cities based on criteria such as openly gay elected officials (we have 17), number of gay bars from Out Magazine's list of the top 200 (two: Duplex Diner and JR.'s), and number of Mariah Carey concerts (communal sigh, we had none).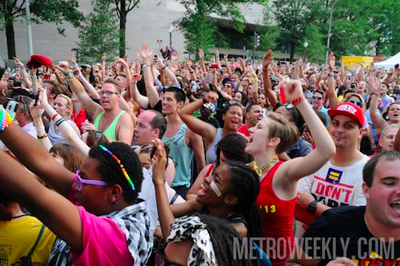 Washington took the top spot, followed by Pasadena, Calif., and Seattle, which came in second and third respectively.
Other criteria included lesbian head-of-household rankings, Jonas Brothers concerts, Pink concerts, and a local chapter of the International Gay Rodeo Association. The District is not in the top 101 cities for lesbian head-of-households, had zero Jonas Brothers concerts, and hosted one Pink concert. Inquiring minds will be relieved to know that the District does still have the Atlantic States Gay Rodeo Association, offering monthly trail rides in Maryland.
Even neighboring Arlington pulled ahead of No. 11 San Francisco, what many think of as a quintessential gay city.
Top 15 Cities:
Washington
Pasadena, Calif.
Seattle
Cambridge, Mass.
Atlanta
St. Louis
Madison, Wis.
Salt Lake City
Oakland, Calif.
Arlington, Va.
San Francisco
Rochester, N.Y.
Orlando, Fla.
Long Beach, Calif.
Pittsburgh
The Advocate's write-up on Washington:
Washington, D.C. (pop. 623,323)
In many respects, D.C. is still part of the South. But this city has a whopping 17 gay elected officials, perhaps a result of its unique status as a federal district, free from the grip of a state government. Gay-friendly neighborhoods include P Street and 17th Street in the Dupont Circle area, and Logan Circle to the east. The capital's nightlife includes the Duplex Diner and its hot bartenders (DuplexDiner.com), and show tunes, top 40, and retro pop at perennial fave JR's Bar (1519 17th St. NW, 202-328-0090). Though they're ostensibly right-leaning, we think hunky young pols Rep. Paul Ryan and Rep. Aaron Schock are subtly demonstrating their LGBT friendliness by indulging in well-known gay customs: Ryan lifts weights and exaggerates his stats (how fast was that run, Paul?), and Schock likes his shirtless photo shoots and pink fashion accessories. And we cannot overlook House Speaker John Boehner; bring extra Kleenex if you invite him over for a Nora Ephron flick on movie night.
[Photo: Capital Pride Festival 2013 / Metro Weekly]