As dependable as cherry blossoms in spring, Washington is once again ready to welcome the Centaur Motorcycle Club's Mid-Atlantic Leather Weekend, Jan. 17 to 20. And 2014 is a big year, with the Centaurs marking the 40th anniversary of the first "Leather Cocktails," held at New York's Waldorf Astoria hotel, and the 30th anniversary of the Centaurs serving as hosts.
While that's certainly worth celebrating, the leather community – particularly the Centaur MC – also has sad news this season. Frank Nowicki, Mr. MAL 1993 as well as the contest's longtime emcee, lost his mother, Mary, in late 2013. That loss will resonate at the weekend, in that Mary Nowicki was no stranger to MAL, seated in the audience when her son won his title, and at many MAL Weekends thereafter.
"She was actually one of the first mothers that came around," Nowicki said of his mother accepting his full identity in a January 2013 interview. "My mom's always been real, real cool."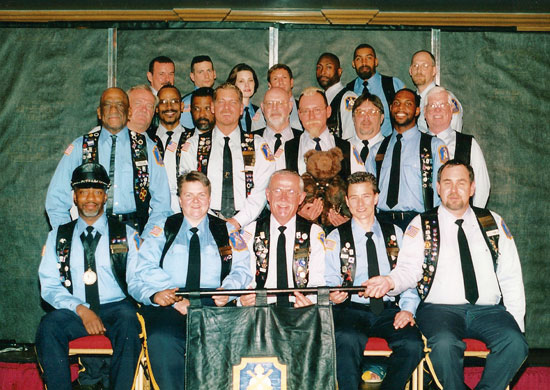 (Photo by courtesy Highwaymen)
Another loss that will be felt this year is Jim Raymond, who also died in late 2013. Raymond, a member of the Centaurs, was regarded by many leatherfolk as a mentor and friend, and his death has prompted an outpouring of sadness.
Still, this is a resilient community, and the MAL Weekend will surely offer countless ways to celebrate that resilience. One of those opportunities comes Friday night, Jan. 17, as the Highwaymen TNT mark an anniversary of the club's own, its 35th, with the no-cost "Gear Up" party.
"This is the biggest thing we've taken on in quite sometime," says R. Derrick Thomas, president of the Highwaymen, who recalls events from the club's history such as its now-defunct "Bearfest" event. "We've got a great DJ. We're really pleased to be working with the Centaurs, who've collaborated with us, given us the space during MAL Weekend. I'm thinking it's going to be a big deal. I love the fact that it's free. To me, that falls in line with what we do as a club. We're not about raising a bunch of money or growing our bank account. We're about having a good time with people who want to have a good time and laugh. Having a great dance that is free will, hopefully, bring in a lot of fun people and we'll all have a good time together."
WHO ARE THE HIGHWAYMEN?
INDEED, THE HIGHWAYMEN TNT take having a good time seriously, and often on the road, even if their "runs" have nothing to do with motorcycles. That "TNT," after all, stands for "Trash 'n Travel," hallmarks of the Highwaymen. The club is also dedicated to diversity and playfulness in ways that have helped to set them apart. Thinking of leather clubs as fictional characters, it's easy to spot Sgt. York, or Hercules, or Tom of Finland's Kake in the mix. In the case of the Highwaymen, however, it's more a case of Shakespeare's Puck or the Romans' lusty Bacchus.
"I think one of the reasons they established the Highwaymen," says Herb Kaylor, a past club president and one of its longtime members, having joined in 1992, "was they were almost making fun of some of these other clubs."
Kaylor is referring to the original eight Highwaymen, who, according to member Kevin Jordan, are: Marvin Andy, John DeBogory, Jim Erkman, Bob Mattingly, Jerry Meis, George Pavlick, Allan Peterson and Don Vance, with Peterson serving as the club's first president.
"The group didn't really fit in anywhere else, so they formed their own club," Kaylor continues. "The Highwaymen continued to almost buck the trend. We are so diverse. When I joined, there were a lot of deaf people in the club, actually. There were more active military in the club than there are now. I don't think we have any deaf members anymore. We were the first club to have women join, which has been great. Since the Highwaymen broke down that barrier, I think you'll find women in most of the other clubs. … The reason the Highwaymen have been so successful over the years — and it looks like we're going through a renaissance right now — is because we are very welcoming."
H. Alexander Satorie-Robinson, another past president, says that while he'd been a member of Onyx, dedicated to leather men of color, his friend Neil Alexander, since deceased but whose time as president predates Satorie-Robinson's, helped to bring him fully into the Highwaymen fold.
"With Neil being there, myself being there, and not feeling any sense of sort of racial tension or any difference, I think that had been the history of the club," Satorie-Robinson says of that dedication to diversity. "People felt comfortable. We also had deaf members in our club. During my period we had our first three women join the club. We were about inclusion and always have been. It was something that was relayed to me from my earliest interactions with members."
Jackie Thompson, the club's de facto "run captain" who identifies as an "equal opportunity top," today celebrates the commitment to diversity that has helped give the club its unique flavor.
"I wanted to see other faces like mine," Thompson says of joining the Highwaymen. "I was looking for other women and diversity, color-wise. I wanted everyone to be comfortable with me not only being a woman, but a black woman, and not having an issue with it."
Obviously, the Highwaymen take their diversity as seriously as their trash and their travel.
"The most important thing is we are the diverse club that is welcoming of all sorts of folks, from all walks of life," Thomas pledges. "We have members who have never owned a piece of leather going through our pledge process right now. We're welcoming them with open arms. The reason I focus on those is because when people wonder, 'What's this leather stuff about? I've seen a video, I've seen leather people….' For me, I'd want to go with a group that's going to make it easy to explore, easy to ask questions, easy to cross that threshold if there is one, and to me that's the Highwaymen. You're not going to get attitude. You're not going to get rules and hard stipulations. You're going to get an easygoing approach. 'You don't know a whole lot? Great! Let me answer some questions for you. You've never been to a leather bar? Come to our jock night. Come to our cookout.' You'll meet a lot of really great people and have some good conversations. That's the beauty of what the Highwaymen are and why it has cross-appeal to all different types of people."
While the dedication to diversity is certainly a noble quality of the Highwaymen, this is about that time when members would start to get itchy for some fun. Because, as Satorie-Robinson explains with an impish laugh, "All the clubs like to enjoy themselves and party, but when I was part of the Highwaymen, we threw the after-hours party. Let's put it that way."