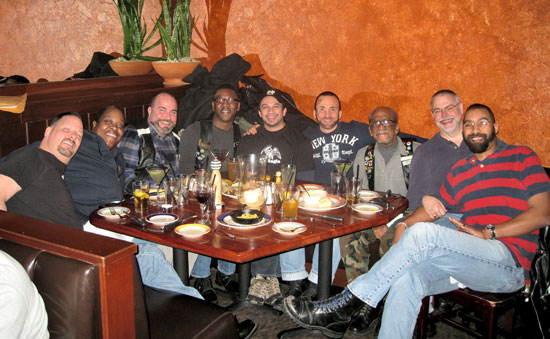 (Photo by courtesy Highwaymen)
THE TEMPTATIONS OF TRASH 'N TRAVEL
THINK OF THE Highwaymen and you might imagine that table in the high school cafeteria where the kids with an "outsider" reputation sit. A few tables are dedicated to the jocks of various sports. Perhaps the cheerleader table is the metaphor for the drag community. And while the Highwaymen seem proud of being a little fringe, of being that table that welcomes the new kid to sit with them, it's not necessarily that openness they most celebrate. What they seem most proud of – in this high school analogy – is cutting class, smoking in the boys' room and throwing the wildest parties.
"On Jock Night," Thomas says, pointing to the club's monthly offering at The DC Eagle, "wearing nothing but a jock and your club vest, or during one of our dinners, we're there to have a good time. And when we go on the road, we definitely have a good time. We let our hair down."
Many members point to "LUEY," the Houston event that stands for "Let Us Entertain You," as one of its best repeated trips, where the Highwaymen have made a name for themselves and even have the distinction of being the out-of-towners to host their own party during the annual weekend. The Highwaymen's particular brand of trashy travel, however, can begin before they've even left town.
Airport security, for example, might not be anyone's idea of a good time. But the Highwaymen refuse to let the TSA dampen their spirits.
"They won't pick up a P.A., usually," Kaylor shares, referring to the metal ring of jewelry worn through a piercing at the head of a penis, "P.A." standing for the piercing's namesake Prince Albert, though any actual historical connection is dubious. "If you wear a metal cockring, that'll go off, though. I've been traveling with people who've done that and they just reach in their pants and take it off and put it in the basket and it goes through the X-ray. That's some of my favorite memories, when we'd travel together."
"We're here to have fun," Kaylor emphasizes. "We have serious lives, most of us. We do our 9-to-5 thing. But we all need someplace to blow off steam. And that's where the Highwaymen come in."
In her capacity as road captain, one might bet that Thompson exemplifies the intersection of trash and travel more so than any other Highwayman. It's likely a winning bet. Her initiation run was up to Philadelphia to party at The Bike Stop with another club, the Philadelphians MC.
"Traveling with the Highwaymen is an adventure," she insists. "They're fun and catty and we sat there going up the highway saying, 'Oh, girl, he's a bear. He's yummy.' 'Oh, no, I want him."'
On that trip, one of the Highwaymen earned the "trash of the year" honor, she says, for following through on some of that stated desire.
"That's what happened in one of the rest stops going up to Philly," says Thompson. "I was like, 'Wow. How come this doesn't happen to women?'
"It's the 'trash' part that helps you into the Highwaymen. We've had [male] members make out with a girl. We had a member get 'Texas pinned' by a man with one leg. You have to try different things. You have to have the trashy part. The other side of 'trash' is we throw sex parties. 'Grind Downs.' That sort of thing. If you have no trashiness, it might work out better for you at another club. I think that's the reason I'm road captain: I make trouble, somehow. I put all the ingredients together and just watch it happen. They don't know the kind of devious mind I have. I want to find a bus company that's willing to take out a couple seats so that I can put a sling in it. My ultimate bus crawl."
As Thompson's fantasies turn to impressive feats of fetish she may be able to orchestrate for the road, Thomas – with his presidential demeanor – politely explains the particulars of being "Texas-pinned."
"When you travel, you may visit another club, and they have their club pins, their friendship pins," says Thomas. "There's a way to do it so that it's somewhat of a sexual ceremony. You stimulate the person's penis and where their penis comes down in their pants, that's where you stick the pin. You get them aroused, their penis snakes down their leg, and at the end of that is where you put the pin. That's the fun part — you've got to get in their pants to get the backing on there.
"Names won't be named to protect the innocent, but those are the sorts of things that happen on the road when you're having a good time. It's a lot of fun to go out with these guys."
On the road or in town, that's the Highwaymen reputation. It's one they've earned, and undoubtedly one of which they're immensely proud.