Unsurprisingly, I could be a precocious brat as a child because I spent so much energy not wanting to be a child. I hated being relegated to the kids' table during family holidays, quietly resenting my teenage cousins who had graduated to the grown-ups' table. When my parents had friends over I would do my best to stay in the living room with them, horning in on their conversations and pretending to be an adult.
One of life's greatest ironies is spending a childhood wishing to be a grown-up only to get the wish and realize, "This is what I wanted? I take it back!" But you never would have been able to explain that to my 10-year-old self because I was a kid — a well-read and overly verbal kid, but still just a kid.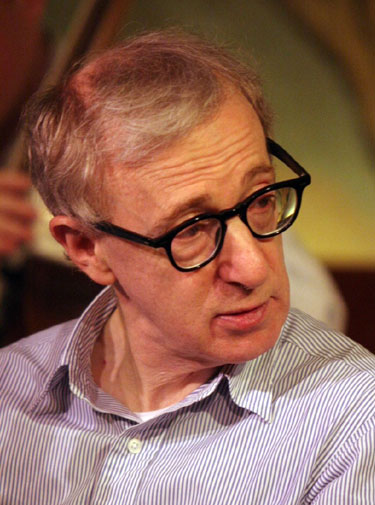 Woody Allen
(Photo by Colin Swan / Wikimedia)
It was at that time, during the late '70s, that my tennis coach dropped by for dinner at our house. Being a little news junkie, but also being a little unclear about a story that had been in the news, I decided to join the dinner conversation with a question.
"What did Roman Polanski do?"
Awkward. Though the look on my coach's face was priceless. While my parents were generally tolerant of my wannabe antics, I could tell I'd crossed some line I didn't know existed. "There are things you don't talk about at the dinner table," Dad said. It wasn't until after dinner when company was gone that he explained Polanski had had sex with a girl not much older than me. That made the line I'd crossed crystal clear.
As you've likely guessed, I bring this up because it bears some similarity with the past week's re-emergence of the emotional Grand Guignol of Woody Allen, Mia Farrow and their adopted daughter, Dylan Farrow: a talented filmmaker accused of sexual transgressions and crimes, which decades later are re-argued with every new film or award. But there is a big difference as well. Polanski was charged and pled guilty before fleeing the county; Allen was investigated and never charged.
I don't note the difference as a defense of Allen. I have no idea if his daughter's allegations of sexual molestation are true; there's no way I can know. Without a public release of the investigation, without a trial, without a conviction or an acquittal, it's guesswork. Though that hasn't stopped social media and news sites from filling up with righteous fury. It's like we're being pulled once again into a brutal family battle — and we think of these celebrities as part of our family because they're on our movie screens, our televisions, our computer monitors — where you have no choice but to pick a monster from one side and a victim from the other.
I believe in giving the benefit of the doubt to people who come forward with claims of rape, abuse and molestation because not doing so reinforces the shame and fear that enable predators like Jerry Sandusky and cultures like Steubenville. I also believe in the presumption of innocence because on rare occasions, as in the '90s hysteria over alleged satanic sex cults in daycare centers or the more recent Duke lacrosse case, it happens to be true.
But faced with the choice between Allen as a monstrous pedophile preying on his family and Farrow as a villainous harpy manipulating her daughter for revenge, I'll instead choose to opt out because there can only ever be pain and sadness for everyone involved with no way to ever know who deserves it. Decades after I first stumbled into a conversation about sexual abuse, we're not much better at talking about it. Buying into the illusion that we're all a part of the Allen versus Farrow story won't change that and likely just masks us from the stories closer to home.
Sean Bugg is editor emeritus of Metro Weekly. He can be reached at seanbugg@gmail.com. Follow him on Twitter @seanbugg.