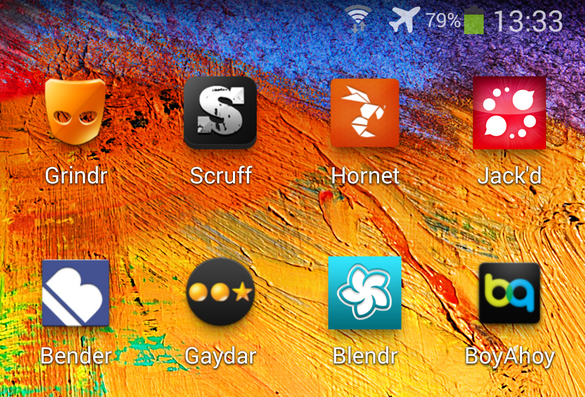 The National Crime Agency (NCA) in Britain has issued a warning to the country's users of gay social apps such as Grindr, Scruff and Jack'd to ensure that any sexual partners met through the app are above the country's age of consent, which is 16-years-old.
The warning comes after the National Society for the Prevention of Cruelty to Children (NSPCC) released a report claiming an increase in the number of teenagers calling the charity's support lines after negative experiences using Grindr and other such "geosocial" apps. The report calls out Grindr and other such apps as the easiest to abuse, despite not having specific figures for dating apps — however, over 1,000 people called the NSPCC between 2012 and 2013 regarding online sexual abuse and the quantity of those calls which specifically referenced "hook-up apps" has risen.
Head of education at the NCA, Jonathan Baggaley, warns that a lack of specific data shouldn't lead to any assumptions. "Just because we've not received huge reports doesn't mean this isn't a major issue. Clearly the very dynamic of this kind of relationship means young people won't report it. The law is very clear: regardless of how the conversation is started, regardless of who thinks they're in the driving seat the adult is always the one who has the responsibility. A child should never be blamed."
One individual spoke with the BBC, stating that he'd joined Grindr aged just 13, as a means of discussing his situation, "I was struggling with my sexuality so having something on my phone I could easily download was one way of meeting people who were gay that I could relate to." However, after starting a conversation with a 24-year-old, he soon found himself being groomed for sex, "He knew I was obviously emotionally vulnerable. We used to go out for meals, go to the cinema, play computer games and stuff like that. Looking back he was grooming me." The older man has since been prosecuted and placed on the sex offenders' register.
Most dating apps place restrictions on users when joining, requiring a specific age — normally 17- or 18-years-old. Claire Lilley, head of child safety at NSPCC, doesn't think the current system is effective enough at preventing children from accessing the apps. "These apps do have terms and conditions in place but they're simply not being enforced and as a result children are being put at risk of serious harm. We know this because of the huge increase in calls to ChildLine over the last year about issues such as online grooming."
Blendr, which also owns Grindr, issued a statement: "We do our best to ensure all users follow our strict terms-of-service policy that require users to be at a minimum age of 18. We have a diligent team of moderators focused on monitoring and ensuring users adhere to our terms-of-service guidelines."
Such terms and guidelines, however, are voluntary submissions by the app developers. The UK's Department for Culture, Media and Sport told the BBC that the age restrictions placed on apps "did not stand up in law, and were not legally enforcible".
For normal users, the message is clear: make sure any individual you're contacting is above the age of consent. If there's any concern regarding age, stop messaging them and report their profile to the app's developers — for their protection and yours.