Oh, Chevrolet, right in the feels. The brand that gave us the Camaro and Corvette is in the process of mounting its #TheNew campaign, which highlights new designs and features across the Chevy range. It's standard stuff — car makers do this all the time. But what makes the campaign different is the very nonchalant, entirely ordinary inclusion of same-sex individuals and families in the new advertisements. They even showcase Jack Andraka, the gay wunderkind who developed a tool for detecting certain types of cancer.
Featured alongside their heterosexual counterparts, there's no fanfare, no special branding — gay and straight co-exist in Chevrolet's ads in perfect harmony, too happy with their all-American automobile to care about homophobia or wonder what those two men do in the privacy of their own home. As the ads state, "While what it means to be a family hasn't changed, what a family looks like has. This is the new us."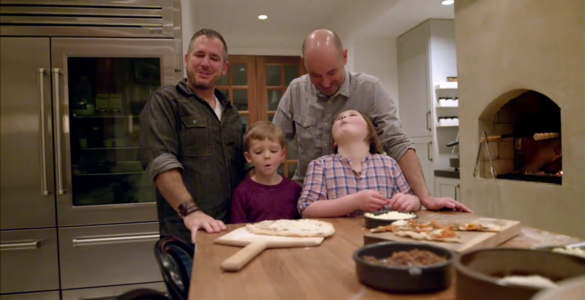 The rhetoric runs even deeper with "Like the old love, the new love starts with a kiss. Like the old community, the new community still keeps us connected… A whole new lineup for a whole new world." In case you haven't got the point, Chevrolet are totally down with the gay thing, and their new cars are as modern as the world we live in.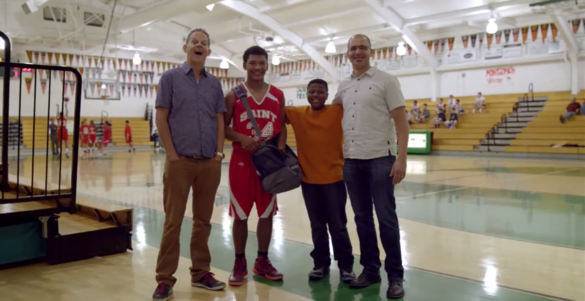 Chevrolet chose to air its two ads during the Olympics broadcast on Friday, which raised more than a few eyebrows. Many believed it to be a form of protest against the law in Russia banning gay propaganda, which other companies have already spoken out against. However, Chevy, in a statement, said "these ads … are not intended as any political commentary." Allen Adamson, managing director of Landor Associates New York office, disagrees, saying "Actions speak louder than words. The action of putting a spot on the Olympics is far more powerful than a press release. It's a very clear statement of what they believe Chevy stands for."
Whatever Chevrolet's intentions, they should be applauded for making the ads in the first place. As GLAAD CEO Sarah Kate Ellis says, they "truly reflect the fabric of our nation, which today includes gay and lesbian families."