If you happen to drive up to PW's Sports Bar & Grill in Laurel, Md., you're likely to encounter Eric, doing a job he loves and is passionate about. Though his educational and work background is in computer science, the 30-year-old Houston-area native and self-described "country boy" loves to meet new people and chat them up as he crafts various cocktails to suit each patron's individual taste. But beware: If you happen to nod off at his bar, the self-admitted prankster may shower you with water from the soda gun or jolt you awake with a serenade of party poppers, letting the glitter and streamers fly! An ex "band dork" who played the clarinet in high school, Eric joined the Navy after graduation, later transferring from sunny Hawaii to Columbia, Md., where he lives with his husband, Allan.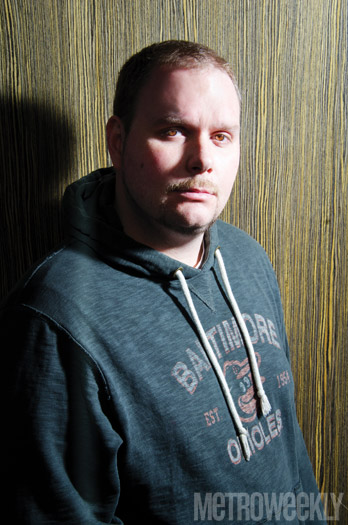 Coverboy: Eric
(Photo by Julian Vankim)
What's on your nightstand
A lamp, my alarm clock. Usually water. I always have water on my nightstand.
What's in your nightstand drawer?
Bills, lube, Christian Mingle log-in information.
What are your three favorite TV shows of all time?
American Horror Story. Any Gordon Ramsay series. I enjoy watching him cook and be an asshole to everyone. And I also love Game of Thrones and True Blood.
If you could have one superpower, what would it be and why?
Telekinesis. I'd like to be able to move things with my mind, because I'm lazy.
Pick three people, living or dead, you would like to spend the day with, and what would you do?
This is where my gay side comes out. Britney Spears, Taylor Swift and the guy who plays Hercules, Kellan Lutz. We'd all go shopping together, go out for drinks afterwards. Have a slumber party, because, of course, that'd be amazing.
What would you do at the slumber party?
I can't tell you on camera. Of course Britney Spears and Taylor Swift would not be there, though.
You're stranded on a desert island with one person. Who do you pick?
My husband. As much as he drives me insane, I still love him, so it'd be him and me there.
What annoys you?
People asking me if we have a phone charger at the bar.
What pleases you?
When people don't ask me for phone chargers.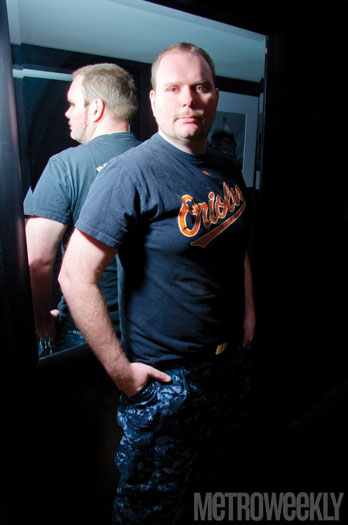 Coverboy: Eric
(Photo by Julian Vankim)
What's the worst thing a friend could do to you?
I do not like liars or backstabbing.
If you could read the mind of someone famous, who would it be?
Britney Spears, because I want to know what the hell happened to her. I love her.
What's your guilty pleasure?
Chocolate brownies. They're terrible for me. I love them.
What turns you on?
Bodies always turn me on. Accents, they get me, too. I'm a big eye person. I like eye contact with people.
What about bodies?
Muscles, ripped up. I'm not into the twink thing. I like the bigger guys.
What turns you off?
Bad breath. I absolutely can't stand it. Toenails kind of freak me out.
What's the strangest place you've ever had sex?
I've had sex in the middle of a lake before, in complete darkness. In the water. I've also had sex in my bedroom with my parents in the next room awake, back before I came out to them. That was exhilarating.
Define good in bed.
Sweaty action, aggressiveness.
Can men fake it? Should they?
They cannot fake it, because, obviously, something happens. It happens. And why would you fake it? Everyone should be happy during sex.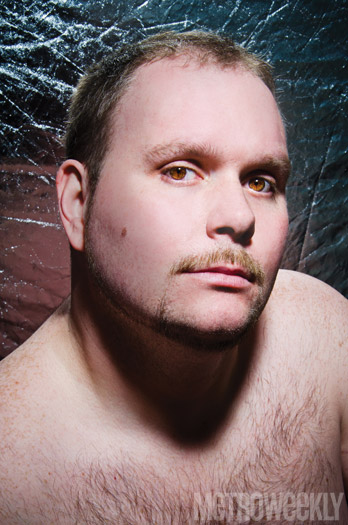 Coverboy: Eric
(Photo by Julian Vankim)
If you were a porn star, what would your name be and what would you be known for?
Oh, man, we are getting intimate now. I'd use my middle name, Shane. I'm actually a big shooter, so that's what I'd be known for.
Name two people you don't ever want to picture having sex.
My parents.
What's the best tip you ever got?
I've gotten a $150 tip before, and their tab was only $50. I did not have sex with them, either.
What's the craziest thing someone ever ordered from you?
A long time ago, I was asked to make a "stuntman." It's basically a tequila shot, but you snort the salt, drink the shot and squirt the lime in your eye.
Gin or vodka?
Vodka.
Scotch or bourbon?
Bourbon.
Wine or beer?
Beer.
Mustard, mayo or ketchup?
Ketchup.
Miley or Britney?
Britney.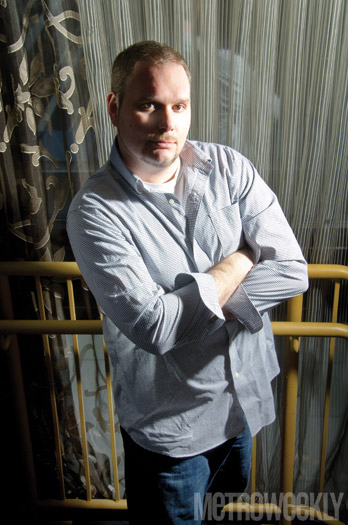 Coverboy: Eric
(Photo by Julian Vankim)
What's your favorite cocktail to make?
Bloody marys. I make them really spicy.
What's your theme song?
Taylor Swift's "I Knew You Were Trouble."
You become master of the world. What's your first act?
It'd definitely be some equality thing. I'd get rid of the whole homophobic attitude of the world.
Cuddling: The best, or a waste of time?
The best.
What are you most grateful for?
I am most grateful for being loved and loving.
What would you die for?
My family.
What's your motto?
Live, love and laugh. That was my mom's saying.