Visitors to Beacon Bar & Grill will get a treat if they're served a drink by Coverboy Ron, who enjoys creating cocktails to meet even the most discriminating palate's preferred tastes. The 31-year-old, who also works at The Fireplace, views himself as an artist behind the bar, always trying to think up new concoctions for his customers. Raised in rural Oregon, Ron spent his high school time as a scholar-athlete before moving to D.C. to work on Capitol Hill. But his love of politics eventually faded, prompting him to change careers and pursue bartending, where he's been able to interact with and entertain people with his quick wit and subtle yet sexually tinged humor.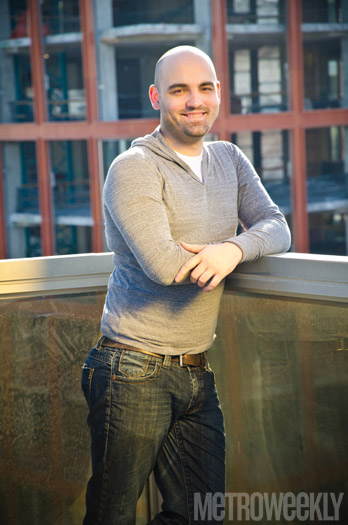 Coverboy: Ron
(Photo by Julian Vankim)
What's on your nightstand?
Two glasses of wine and an empty condom wrapper.
What's in your nightstand drawer?
Lots more condoms. A couple of cockrings, lube. It's a storage place for fun.
If you could have one superpower, what would it be and why?
Hands down, teleportation. Can you imagine where you'd go?
Pick three people, living or dead, who you would like to spend the day with. And what would you do?
Alexander the Great, because I would want to see how he interacted with troops. Zach Braff — I think he's hilarious. The other one would be Donald Faison. I would pick those two, and be like, "Let's re-enact Scrubs."
You're stranded on a desert island with one person. Who do you pick?
Let me give you traits: Taller than me. Great arms. Male, obviously. Black. And someone with at least nine-and-a-half inches.
What annoys you?
Indecisiveness. If you're coming up to my bar and being bitchy, saying, "Excuse me, I need service," and then I come up and ask "What do you want?" And you're like, "I don't know, what do you have?"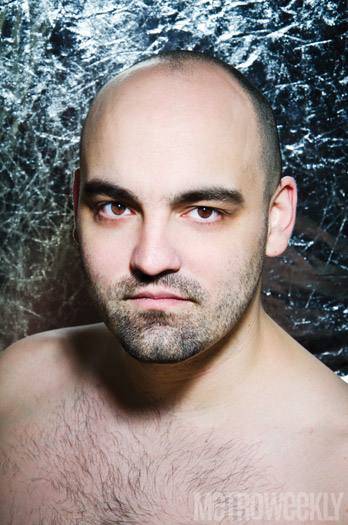 Coverboy: Ron
(Photo by Julian Vankim)
What pleases you?
A sense of intimacy, whether with friends or a lover.
What's the worst thing a friend could do to you?
Steal a boyfriend. That's the worst thing I think a friend could do.
What's your greatest fear?
To be alone.
What's your guilty pleasure?
Alcohol. And sex. And chocolate. And all three together.
What turns you on?
That sense of intimacy is a big thing, but when I'm looking at a guy, it's arms. I like arms, I like chests. I like to grab them, lay on them.
What turns you off?
Arrogance, completely.
Define good in bed.
The bottom controls what happens in bed. So it's a top that listens to what the bottom wants. If the bottom isn't enjoying it, the top's just being selfish. Sex isn't just about getting one person off, it's about getting both people enjoying that intimate contact.
Can men fake it?
Men can definitely fake it. It's the "O" face, the grunting. That's a lot of it. Maybe men fake it as saying they haven't come yet, when they want to keep going.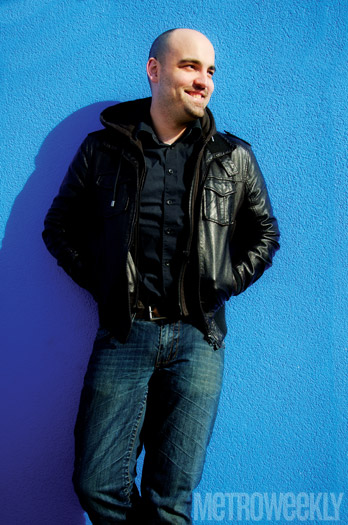 Coverboy: Ron
(Photo by Julian Vankim)
Name two people you don't ever want to picture having sex.
Madeline Albright. And John Goodman. Together or separately.
What's your favorite late-night eats?
Stoney's. I go to Stoney's after work. It's right on P Street. It's a great industry place late at night. Their chicken Reuben is amazing.
When you go to a bar, what do you order?
Jameson. Maybe a beer or ginger ale to chase it.
Gin or vodka?
Vodka.
Scotch or bourbon?
Bourbon.
Wine or beer?
Wine.
Mustard, mayo or ketchup?
Ketchup.
Gaga or Britney?
Gaga. Hands down.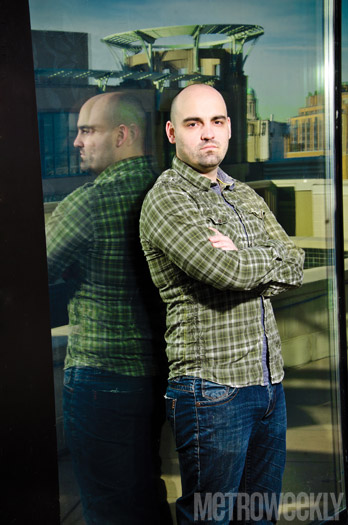 Coverboy: Ron
(Photo by Julian Vankim)
What's your favorite cocktail to make?
I like stuff that I've invented, and people enjoy. I have this drink here at the Beacon called the peppercorn martini. I use a Hendrick's gin, a little bit of dry vermouth, and a black-pepper simple syrup. It's delicious. You get the sweetness of the gin at first, and the heat of the black pepper on the end.
If you could change one thing about your body, what would it be?
I look at pictures and say, "Oh, I miss my hair."
You become master of the world. What's your first act?
Lower the drinking age in the U.S. It's stupid how it is. Most of our alcohol problems are because we don't start legally drinking until 21.
What age would you lower it to?
Eighteen. If you can go into the military, if you can vote, but you can't drink at 18, how is that a world that makes sense? You can get shot, but you can't legally drink?
What are you most grateful for?
I love my friends. But I'm most grateful for being able to do what I want.
What would you die for?
My parents, my family. I'm not in a relationship right now, but I would hope I would die for my partner.
What's your motto?
"Be me." Don't be anything you're not.