"It's a great place for people who are interested in starting to build a collection," Lisa Gold says of Select 2014. "Or people who are just interested in seeing what's happening in the region."
At least 75 percent of the works on display at this Washington Project for the Arts event, held this year at Artisphere, comes from artists in the D.C. region, more than 100 strong. Nine curators, also mostly local, were tapped to select the works for the show, a fundraiser for WPA.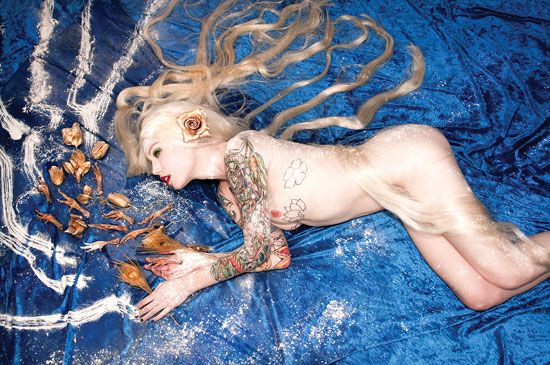 Blue Nude Pt. 2
(Photo by Victoria F. Gaitan)
"It's all contemporary work and it's in a variety of media," Gold, WPA's executive director, says — including video, sculpture, photographs and paintings.
"We have work in a variety of price ranges too," she adds, noting that proceeds from the art auction will be shared by her organization and the artists equally. "I came from New York where a lot of organizations would just solicit donations from the artists, and then they would keep all the sale proceeds. But since we are an artist service organization, we don't feel like that's the right thing to do. So we help the artists by sharing 50/50."
Started 40 years ago, WPA represents about 800 local artists, helping them with professional development opportunities and showcasing them through a variety of events. WPA organizes some of these from its home base at Southwest's Capitol Skyline Hotel, including an event every summer in the hotel pool called "Sink or Swim," which Gold describes as "a synchronized swimming performance art competition." From now until March 28 in the hotel's lobby WPA offers a video/performance series by New York-based Jacolby Satterwhite.
But Artisphere is this year's home for Select 2014, which opens with a reception Thursday, Feb. 27. The works are on view for three weeks, culminating in an Art Auction Gala Saturday, March 22, where people can purchase the works — as well as eat dinner, and even take a swing at some artist-designed piñatas.
Select 2014 opens with a free reception Thursday, Feb. 27, from 7 to 10 p.m., and runs to March 21, with the Art Auction Gala Saturday, March 22, from 7 to 11 p.m. 'Artisphere, 1101 Wilson Blvd., Arlington. Tickets to the gala are $35. Call 703-875-1100 or visit artisphere.com.