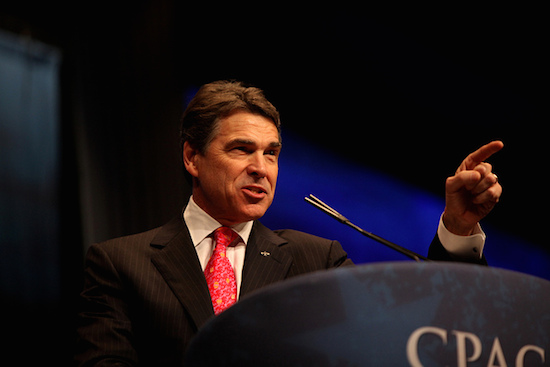 A federal judge found Texas' same-sex marriage ban in violation of the U.S. Constitution in a ruling handed down Wednesday.
U.S. District Court Judge Orlando L. Garcia found that a constitutional amendment approved by Texas voters in 2005 defining marriage between a man and a woman, as well as portion of Texas Family Code, denies same-sex couples equal protection and due process rights under the Fourteenth Amendment of the U.S. Constitution.
"These Texas laws deny Plaintiffs access to the institution of marriage and its numerous rights, privileges, and responsibilities for the sole reason that Plaintiffs wish to be married to a person of the same sex," Garcia stated in his decision.
Moreover, the ruling states that today's decision "is not made in defiance of the great people of Texas or the Texas Legislature, but in compliance with the United States Constitution and Supreme Court precedent."
"Without a rational relation to a legitimate governmental purpose, state-imposed inequality can find no refuge in our United States Constitution," the ruling states. "Furthermore, Supreme Court precedent prohibits states from passing legislation born out of animosity against homosexuals (Romer), has extended constitutional protection to the moral and sexual choices of homosexuals (Lawrence), and prohibits the federal government from treating state-sanctioned opposite-sex marriages and same-sex marriages differently (Windsor)."
Garcia granted a preliminary injunction requested by the plaintiffs halting the state from enforcing the ban, but stayed his decision pending an appeal to the Fifth Circuit Court of Appeals. The case was brought by two same-sex couples — one couple who wishes to marry in Texas and another couples married in Massachusetts seeking to have their marriage recognized by Texas. The administration of Gov. Rick Perry (R) is defending the state's same-sex marriage ban.
The ruling is the sixth by a federal judge since the Supreme Court struck down Section 3 of the Defense of Marriage Act in June to find state bans on same-sex marriage or recognition of same-sex marriages legally performed in other jurdicitions unconstitutional. Federal judges in Utah, Ohio, Oklahoma, Kentucky and Virginia have reached similar decisions.
UPDATE: As expected, Texas Attorney General Greg Abbott said today's ruling would be appealed to the Fifth Circuit Court of Appeals.
"This is an issue on which there are good, well-meaning people on both sides. And, as the lower court acknowledged today, it's an issue that will ultimately be resolved by a higher court. Texas will begin that process by appealing today's ruling to the Fifth Circuit," Abbott said in a statement. "Because the judge has stayed his own decision, his ruling has no immediate practical effect. Instead, the ultimate decision about Texas law will be made by the Court of Appeals or the U.S. Supreme Court."
Gov. Rick Perry was indiginant in his response, stating that it is not the role of the federal government to overturn the will of Texas voters.
"The 10th Amendment guarantees Texas voters the freedom to make these decisions, and this is yet another attempt to achieve via the courts what couldn't be achieved at the ballot box," Perry said in a statement. "We will continue to fight for the rights of Texans to self-determine the laws of our state."
[Photo: Rick Perry. Credit: Gage Skidmore.]