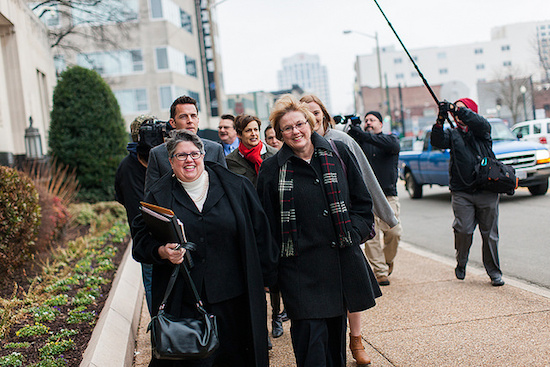 Virginia's same-sex marriage ban was struck down by a federal judge late Wednesday in a ruling that found the ban in violation of the due process and equal protection clauses guaranteed under the Fourteenth Amendment of the U.S. Constitution.
In a 41-page ruling issued shortly before 9 p.m. Thursday, U.S. District Court Judge Arenda L. Wright Allen found Virginia's constitutional amendment defining marriage as between a man and a woman and banning state recognition of legal same-sex marriages performed in other jurisdictions, as well as portions of Virginia code and "any other Virginia law that bars same-sex marriage or prohibits Virginia's recognition of lawful same-sex marriages from other jurisdictions" as unconstitutional.
"The Court is compelled to conclude that Virginia's Marriage Laws unconstitutionally deny Virginia's gay and lesbian citizens the fundamental freedom to choose to marry," the ruling states. "Government interests in perpetuating traditions, shielding state matters from federal interference, and favoring one model of parenting over others must yield to this country's cherished protections that ensure the exercise of the private choices of the individual citizen regarding love and family."
In a ruling that begins by quoting Mildred Loving, who brought the case before the Supreme Court that ended bans on interracial marriages nearly 50 years ago in Loving v. Virginia, concludes by quoting Abraham Lincoln.
Justice has often been forged from fires of indignities and prejudices suffered. Our triumphs that celebrate the freedom of choice are hallowed. We have arrived upon another moment in history when We the People becomes more inclusive, and our freedom more perfect.

Almost one hundred and fifty four years ago, as Abraham Lincoln approached the cataclysmic rending of our nation over a struggle for other freedoms, a rending that would take his life and the lives of hundreds of thousands of others, he wrote these words: "It can not have failed to strike you that these men ask for just… the same thing—fairness, and fairness only. This, so far as in my power, they, and all others, shall have."

The men and women, and the children too, whose voices join in noble harmony with Plaintiffs today, also ask for fairness, and fairness only. This, so far as it is in this Court's power, they and all others shall have.
Although Allen found the Virginia law to be unconstitutional, same-sex weddings will not immediately begin in Virginia. In light of the Supreme Court's decision to issue a stay on a similar ruling in Utah that struck down that state's same-sex marriage ban, Allen issued a stay pending appeal to the Fourth Circuit Court of Appeals.
Allen's ruling comes after oral arguments were heard just last week on Feb. 4 at the federal court house in Norfolk. The case, Bostic v. Rainey, was brought last summer by two same-sex couples, Timothy Bostic and Tony London and Carol Schall and Mary Townley. In September, the star legal duo who brought down California's same-sex marriage ban — Ted Olson and Davis Boies, along with the American Foundation for Equal Rights — joined the case. And Olson, much as he argued against Proposition 8 before the U.S. Supreme Court last March, argued against Virginia's same-sex marriage ban in District Court last week.
"The United States Supreme Court has stated fourteen times that the freedom to marry is one of the most fundamental rights—if not the most fundamental right—of all Americans," Boies said in a statement after today's ruling came down. "The denial of that fundamental freedom to marry the person you love and be treated with equal dignity and respect seriously harms gay and lesbian Americans and the children they are raising."
According to James Parrish, executive director of Equality Virginia, Virginia is today standing on the right side of history. "I am proud that here in Virginia we are no longer asking if the freedom to marry the person you love will be a reality," Parrish said in a statement, "but instead we are asking when."
Virginia Attorney General Mark Herring, who announced shortly after taking office last month that he would not defend the state's same-sex marriage ban in court, said in a statement that the decision is a "victory for the Constitution and for treating everyone equally under the law," but that a long legal battle may still remain.
"Judge Wright Allen's eloquent decision is only one step in what I suspect will be an extended legal process to definitively answer the questions raised in this case. When we announced the decision to change Virginia's legal position in Bostic v. Rainey, I said that the case presented fundamental questions that need to be decided by a court, and may ultimately need to be decided by the Supreme Court. That remains true today," Herring said. "The legal process will continue to play out in the months to come, but this decision shows that Virginia, like America, is coming to a better place in recognizing that every Virginian deserves to be treated equally and fairly."
Virginia is the second southern state this week in which a federal judge has ruled in favor of recognizing same-sex marriage. A federal judge Wednesday struck down Kentucky's ban on recognizing same-sex marriages performed in other jurisdictions, while not ruling on Kentucky's ban on allowing same-sex couples to marry. Similar bans on same-sex marriage have been struck down in Utah and Oklahoma by federal courts since the Supreme Court's sweeping decision last June ruling Section 3 of the Defense of Marriage Act (DOMA) unconstitutional.
[Photo: Plaintiffs Carol Schall and Mary Townley. Credit: Glenn Fajota/American Foundation for Equal Rights.]