Washington has always been a city in transition and likely always will be. And alley cats will probably continue to bear witness. They certainly had a front-row seat for the U Street corridor's turn-of-the century changes.
"I live near 13th and U," says David Bryant. "When I moved there in 2001, there were still a lot of feral cats – probably 50 – in the area. I was seeing cats and kittens right there in my neighborhood and I wanted to help them. At the time, Metro Ferals was the local group doing that. Most of the shelters were doing euthanasia."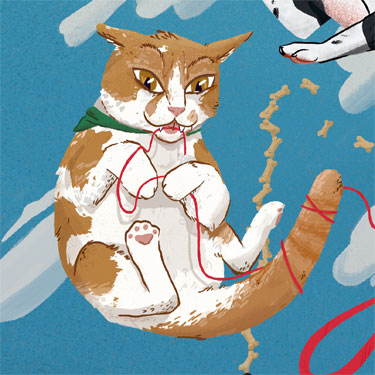 (Illustration by Christopher Cunetto)
The alternative, Bryant explains, is "trap-neuter-return," aka TNR.
"I've always had an appreciation for animals," he says. "When TNR became popular, I thought, 'At least we can do that."'
And so he – and many others – do. Today, that's largely through the Washington Humane Society, with its Cat Neighborhood Partnership Program, with the cute acronym CatNiPP.
"CatNiPP works with residents and volunteers to Trap, Neuter and Return (TNR) cats in order to get to the root of the problem – reproduction," reads the Humane Society's description. "TNR is the most humane, practical and effective long-term strategy and its use is promoted by the D.C. government. We depend on the participation of community members, as WHS does not currently have the resources to trap all of the cats in need on our own."
Bryant is one of those volunteers, as Metro Ferals lends plenty of hands at the CatNiPP clinic and elsewhere. At the monthly clinic – though twice in February, marking World Spay Day with a special Feb. 23 clinic – held at the Humane Society's National Capital Area Spay and Neuter Center, a feral cat is spayed or neutered and vaccinated for rabies and other viruses. A cat's ear is also "tipped," meaning the tip of one ear is removed, "the universal sign of a spayed or neutered free-roaming cat." The cats are generally returned to the area where they were trapped. If kittens are spotted early enough, they can be conditioned for adoption.
"I worked in an alley on Chapin Street," shares Bryant, whose TNR efforts have been featured by China Central Television. "I rescued 21 kittens and got every one adopted. And we neutered a dozen adults."
Notably, there is some debate when it comes to feral cats. People for the Ethical Treatment of Animals (PETA), for example, considers it "rarely humane" to allow cats to "continue their daily struggle for survival in a hostile environment." Alley Cat Allies, a national organization based in Bethesda, counters, "Feral cats – who are not socialized to people, and therefore cannot be adopted – have been living outdoors, in close proximity to humans, for nearly 10,000 years. … Feral cats are part of our community. They always have been, and they always will be."
For those preferring Bryant's TNR-style approach, the Humane Society of Washington has plenty of opportunities to help. There is a need for volunteers to trap cats, to transport cats, to help with community outreach or at the clinic, or to foster feral kittens. Of course, donations are always welcome, too.
To learn more about the Washington Humane Society's Community Cat Programs (CatNiPP), call 202-608-1356, email CatNiPP@washhumane.org or visit washhumane.org.