Eytan Fox, the gay New York-born Israeli film director, has a relatively short filmography. Directing his first official piece in 1994, he has gone on to helm just 11 projects in his 49 years. Fortunately for Fox, however, of the few pieces he has helped craft, several have become staples of foreign-language gay cinema. Fox doesn't shy from acknowledging and celebrating his Israeli roots, and the challenges and adversities that presents. His films tackle a variety of issues: homophobia, racism, Arab-Israeli tensions, lost love, self-discovery. One even handles Jewish attitudes toward Germany in the aftermath of World War II. Fox doesn't shy from presenting the bleak aspects of life, but he also celebrates its beauty. It also doesn't hurt that he has a penchant for musical numbers, regardless of the film's tone. We revisited four of Fox's most famous films, as well as his latest, Cupcakes, to get a firm grasp on the director's canon.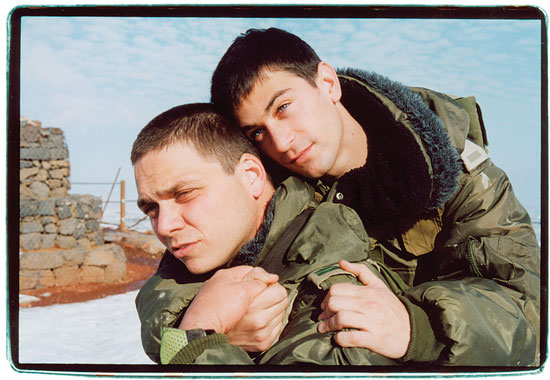 Yossi and Jagger
Yossi and Jagger
2002





It's important to remember that Israel has allowed openly gay servicemembers in its armed forces since 1993. It's also important to remember that being out is still an incredibly hard thing to do. That's the basis for Yossi and Jagger, a short, emotional drama that finds its setting in a group of soldiers on the Israel-Lebanon border. The film follows troop commander Yossi, and his relationship with his second-in-command officer Lior, nicknamed Jagger for his handsome looks and lip-syncing to Mick Jagger. They keep their love a secret from the other soldiers, using regular patrols to exercise their need for one another — having sex, talking, enjoying the privacy, as they roll around in the snow together. At just 67 minutes and shot on a shoestring budget, it won't blow you away with production values. What it will do is reduce you to an emotional mess.
 
Jagger wants to be open about their love, to plan for the future. Yossi, deftly portrayed by Ohad Knoller, is closeted, apprehensive, scared. An impromptu visit from an army colonel, announcing a nighttime ambush, moves the story along, bringing with it a base full of soldiers who are exhausted and weary, unwilling to risk their lives for what they deem to be a pointless excursion. Fox maneuvers through the base, and later the raid scenario, like a fly-on-the-wall. We eavesdrop on numerous conversations, catch glimpses of different personalities, and in such a short space of time the entire cast manages to create an authentic, believable atmosphere. It's what makes the film's ending all the more devastating. We have come to care for these soldiers, in particular Yossi and Jagger, championing their love, their friendships, their bonds. Yossi's emotional outburst, when he finally stops caring what the other soldiers think, is incredible. It may only be an hour, but Yossi and Jagger explores a deeper, and rawer, love story than most films twice its length.
Walk on Water
2004





Fox's film about a Mossad agent hired to be a guide for a German tourist may not sound like much, but you'd be wrong. Eyal is a trained killer, adept at removing terrorist threats without causing a scene. When he returns home from a mission to discover his wife has committed suicide, it sets into motion a narrative that deals with so many issues it's almost too much for Fox to handle — yet it all somehow works, and works well. Tasked with monitoring Axel and Pia, German grandchildren of a Nazi war criminal long considered dead but discovered alive in South America, Eyal poses as a tour guide to shadow them in an attempt to discover if they know of their grandfather's whereabouts.
 
Lior Ashkenazi handles the various complexities of Eyal's personality well — his homophobia when he discovers that Axel is gay; the flirtatious nature of his time spent with Pia (Caroline Peters), Axel's sister; a torrent of barely concealed anger when Axel sleeps with a Palestinian man. It's in the relationship between Eyal and Axel that Walk on Water truly succeeds — a scene at the Dead Sea strips away the emotional layers holding Eyal back and he opens up to Axel as if he were a true friend. It's beautifully handled by Fox, Ashkenazi, and Knut Berger as Axel. By the film's end, both men are changed. Their effect on each other is obvious, producing a work notable for its focus on homosexuality being part of a much larger fabric of events and social issues. Dealing with homophobia, transphobia, the Israel-Palestine conflict, anti-German sentiment, the emotional cost of killing for a career, lost love and new love, Walk on Water threatens to drown itself under its own ambitions, but the core story, the friendship between its two leading men, keeps it afloat and makes it something of a marvel.
The Bubble
2006




It's easy to see why Fox wanted to call The Bubble "Romeo and Julio." This story of love between two people who live on either side of a conflict is very similar to Shakespeare's tragedy. Once again tackling the Israel-Palestine conflict, Fox presents a tale of Noam (Ohad Knoller), a Jewish man living in Tel Aviv, who falls in love with Ashraf (Yousef Sweid), a Palestinian man. The title of the film references the city of Tel Aviv, a relatively peaceful part of Israel where residents are said to live in a bubble, separated from the conflict and trouble on Israel's borders. Noam spots Ashraf while working at a military checkpoint, but has to return to Tel Aviv as his military service has concluded. Ashraf follows Noam to return a passport that Noam dropped at the checkpoint. The two meet and, naturally, fall in love. Determined to keep Ashraf in Tel Aviv where he can live openly as a gay man, Noam conspires to have him work in a restaurant under the Jewish name Shimi.
 
It's from this point that the film descends into somewhat soap-worthy fare, with Noam's roommates Yali, who's also gay, and Lulu intertwining with the story. Lulu's boyfriend discovers that Ashraf is not Jewish and he flees to Palestine. The Bubble is intent on contrasting the very different lives of the two men — the majority of it deals with Noam trying to get Ashraf back, and Ashraf's very conservative family conspiring to keep him closeted. There's a forced marriage to Ashraf's cousin, a Jihad bombing in Tel Aviv that directly impacts a character, an Israeli response in Palestine which affects Ashraf's family, and the whole film culminates, through emotional scene after emotional scene, in Ashraf taking his brother-in-law's place as a suicide bomber. The ending of the film is arguably its most powerful moment, and I won't spoil it, but it's a slog to get there. Fox seems intent on prodding every issue — Jihadists, bombs, military attacks, the contrasting of life in Palestine with life in Israel, not just for gay men but for everyone. The soapy, schlocky nature of certain portions of the film drag down what is otherwise a very touching, heartfelt relationship between two people who society and culture won't let be together.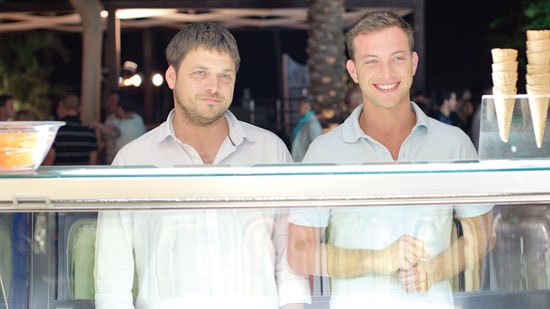 Yossi
Yossi
2012






Fox's fifth feature, a sequel to Yossi and Jagger that takes place a decade after that film's events, is also his best. It strips away a lot of the social-issues baggage Fox puts into other works and presents a very raw, powerful tale of one man trying to rediscover himself. Ohad Knoller reprises his role as Yossi, and delivers a standout performance. As a closeted cardiologist, the film opens on a depressingly lonely person. Yossi lives his life through his job, taking night shifts and working himself to the ragged edge. His eyes are constantly surrounded by bags, there's a permanent 10-day beard and he never looks like he's had more than a couple hours asleep. A female co-worker pines for him, a male co-worker is desperate to take him to a bar and get him laid — to a woman, of course. Yossi's scenes at home are in a dimly lit apartment, eating takeout and masturbating to scenes of youthful gay men having sex on sandy beaches. That Knoller has gained weight between the two films adds literal and metaphorical depth to his character. He doesn't care about himself. He's depressed, alone, and is still trying to reconcile a love lost 10 years ago.
 
What follows, after a series of events that lead him to head out into the desert on an impromptu vacation, is a character study in a man trying to find meaning in his life. Knoller's ability to convey a complex range of emotions adds greatly to Yossi's character. He can move between bemusement, joy and isolated depression in just a few subtle facial expressions. After meeting a group of soldiers on his way to Eliat, one of whom is gay, Yossi's transformation slowly occurs. We see him struggle with his confidence, his sexuality, his body issues. His lust for the handsome soldier is constantly tempered by his own self-loathing and feelings of inadequacy. A later scene, where he finally comes to terms with his own looks, and that someone could find him attractive, is devastating and uplifting at the same time. A somewhat trite ending can't spoil a film that takes great joy in its raw approach to romance and self-discovery. It's a big-budget film without any of the entrapments that brings.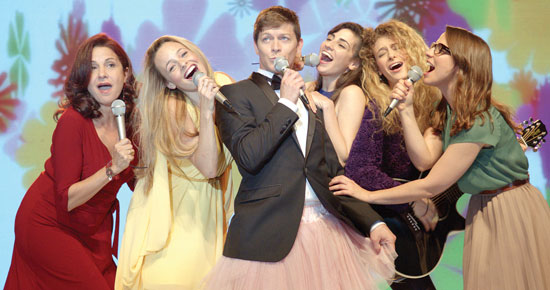 The Cupcakes
Cupcakes
2013




Forgive the pun, but Cupcakes, Fox's latest feature film, is incredibly sweet. Entirely inconsequential, but nonetheless very endearing. It follows a group of normal people, who all share an apartment block, as they find themselves representing Israel at the "Universong" contest — a global singing competition that takes liberal inspiration from Eurovision. It offers clichés and tropes aplenty, but its saccharine nature won't have you reaching for your dentist's phone number. It's well-acted, colorful, and is guaranteed to put a smile on your face. Watch it with a glass of wine and low expectations, and you'll likely come away happy, unless you're a complete miser.
 
It does have some emotional depth. Ofer has a closeted boyfriend whose family sponsors the Universong competition; Anat's husband leaves her because she doesn't pay enough attention to him; Keren is an awkward blogger who writes about things she would never actually do in the real world; Efrat is a lesbian songwriter who wrote the song that is taking them to Universong but who can't get anyone to watch her perform live; Dana is smothered by her conservative father; and Yael is trapped in a job and life that constantly references her former modeling career. Each one of these stories helps carry the film through its short length, and all are resolved with happy endings as the credits roll. Cupcakes is a film you watch when you just want to sit back, smile and not really think about things. Its main cast is a very likeable, watchable group. It's not Fox's deepest work — and it's certainly not his best — but it's a fun little ditty that adds a burst of welcome joy to a canon otherwise marked by mature, emotionally resonant offerings.