One of the knocks on the door last Halloween was not trick nor treat. It was a representative from the Humane Society holding the downstairs neighbor's cat in outstretched arms.
"Is this your cat?"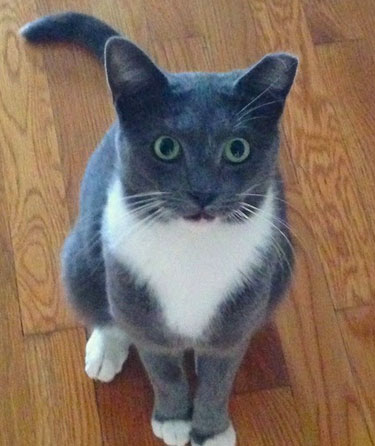 Jitters
(Photo by Will O'Bryan)
While, no, it was not our cat, the visit was still relevant, as the Humane Society rep explained that the organization had fielded some complaints about feral cats in the neighborhood and was setting out traps.
Husband Fernando and I slapped our faces and exclaimed, "Oh, no! Jitters!" The neighbor's cat the Humane Society guy presented us might not have been ours, but we felt some responsibility for Jitters, who was out there on the street somewhere.
Jitters is a feral cat. At least, she was. She crossed our paths in early spring of 2013, if memory serves. We assumed she was being cared for by someone who allowed her to be an outdoor cat. Why else would she be so sociable, regularly trailing us down the sidewalk? But the "ear-tip" confirmed that she was "trapped-neutered-returned."
Out of pity, my husband began feeding Jitters on the front stoop. He even gave her that name, which fit perfectly, as she would get close – but not too close.
Then came this warning of the traps, and a new strategy. We needed to get Jitters inside. Did we want a cat? Not really. Regardless, the traps were coming. So was winter. Fernando began putting Jitters's dish just inside the house, leaving the door open. She would take a few steps in for Friskies, but she'd bolt if anyone got close. Eventually, we were able to close the door behind her.
In the seemingly secure backyard, where she was allowed in hopes that it would satisfy her craving for the great outdoors, I watched her turn the barbecue hood into a cat perch. Then I watched her tiny body spring the 10 feet to the garage roof. She pulled herself up, strutted away and disappeared into the alley.
Three days later, Jitters returned, and we tried again. This time, success. Within a couple days, she was litter trained. Not long after, she was on her back, exposing her belly and willing us to rub it. The only remaining hurdle is being able to pick her up.
With so many of our gay friends adopting kids, you'd think our experience with Jitters would give us some tiny insight into that. Granted, raising a child is in a league far beyond owning a pet. Instead, I'm feeling a bit more empathy for those parents who decide to give up a child for the sake of improving that child's future. Because that's what we're doing – at least at a cat level.
Jitters's latest lessons have revolved around feeling comfortable with her new pet carrier. She's been a quick study with everything else, and the carrier has been no exception. That's great, because I'm hoping she'll experience as little trauma as possible as she relocates to her new home. It's a home with one very dedicated human who's been looking for a cat companion for some time. She was even permitted a belly rub within minutes of meeting Jitters. And why not? She's the sort of person who will encourage Jitters to climb up on her bed and snuggle next to her on the sofa. We, on the other hand, discourage those behaviors.
We love Jitters, and giving her up will be sad. But we know that we're giving her a better life with a woman who can give her so much more. As I look at my gay pals and their kids, I'll probably always see those mothers who made tough choices on the children's behalf. And, at least from what I've seen, I wish I could tell them that those kids are doing as wonderfully as I'm sure Jitters will.
Will O'Bryan is Metro Weekly's managing editor. Email him at wobryan@MetroWeekly.com. Follow him @wobryan.