Before I jump into writing about football, I have to share a few facts about myself so you can decide exactly how seriously you want to take me.
First, despite hanging out with lots of football players in my last year of high school, my knowledge of the game is decidedly dilettantish. I know how to keep score, the basics of the gameplay, and some of the no-no's like pass interference. I've picked up this knowledge from our football-saturated media, two ex-boyfriends who were big fans, and a brief flirtation with sports video games.
Second, I'm not a fan. If it weren't for baseball, football would be the most boring team sport in the world. (In case you're wondering, golf would be the most boring individual sport in the world.) All vanishingly short bursts of action surrounded by unholy stretches of officiating, argumentation and grandstanding, football is as legalistic as it is athletic. Your mileage may vary. I suspect I'll be hearing shortly from some of my baseball fanatic friends and golfing family members.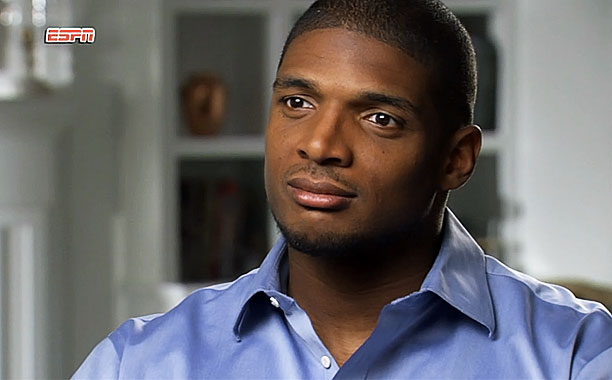 Michael Sam
(Photo via ESPN)
Third, as with any sport that involves being hit in the head on a regular basis, I've grown more than a little uncomfortable at the sight of stadium crowds cheering as grown men compete their way into chronic traumatic encephalopathy. Any physically demanding sport carries the risk of chronic and career-ending injury, but there's a difference between a blown-out knee and a battered brain.
So, I bring some baggage to the table when I react to Missouri defensive end Michael Sam's decision to make history by coming out prior to this year's NFL draft. While I don't usually mind being the guy to rain on a parade, I don't want to undersell or undercut the importance of what Sam has done. He called professional football's bluff that a "man's man" game has no room for a gay player, that a gay man in a locker room somehow threatens other men, that open homosexuality is a "distraction" a football team can't afford.
That's a big deal. And despite the past few years of reading the tea leaves of various players' Instagram accounts and Facebook pages, the breakthrough didn't come from a current NFL player reaching the end of his career (the approach Jason Collins took in the NBA). Instead, we have a young, talented and highly regarded college player — already acknowledged as a prime pick for the NFL draft — coming out before his pro career even begins.
It's a decision I admire and respect. While I've long hoped that a professional male tennis player would break the barrier before this, I realize that that wouldn't have the impact on American society that Michael Sam already has. For the past 48 hours ESPN has been gayer than Logo, and despite a handful of dunderheaded remarks, the reporting and discussion has been positive and respectful. The pushback against unnamed NFL sources who parroted old-school, locker-room homophobia to Sports Illustrated was surprisingly swift.
Will there be challenges and setbacks for Sam? Probably. But my guess is that once he's signed to a team — and I'm positive he will be — there will be recurring flurries of press coverage during spring training, pre-season and through the fall, after which things will quiet down when everyone accepts the obvious, that he's a gay player who's one member of a team. That's the victory Sam deserves and our community needs.
I may not be the world's biggest football fan, but I know a touchdown when I see one.
Sean Bugg is editor emeritus of Metro Weekly. He can be reached at seanbugg@gmail.com. Follow him on Twitter @seanbugg.