"I was actually kind of nervous when I first made the zine because I thought maybe people would be offended," says J. Morrison on his artist series HomoCats: Fight The Power. But cats are incredibly popular in our increasingly gay-friendly Internet age. And, really, only homophobes would take offense at Morrison's images of cartoon cats with captions such as "We eat homophobes for dinner" and "Free butt sex."
"I would say a 'HomoCat' is the literal translation of a gay cat," Morrison describes, "but more of an outsider, someone on the fringe." The Ohio-born, New York-based multidisciplinary artist took inspiration for his series chiefly from "I Can Has Cheezburger," one of today's most popular websites, featuring photos of cats with humorous captions submitted by readers. Morrison narrows that focus by making every one of his images carry a pro-gay message, sometimes as subtly as drawing cats with a rainbow flag or pink triangle in the background.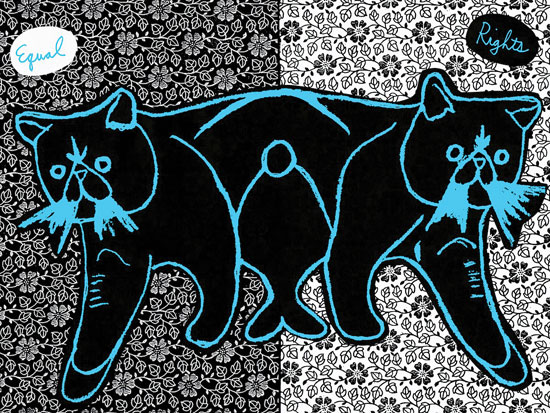 HomoCats Equal Rights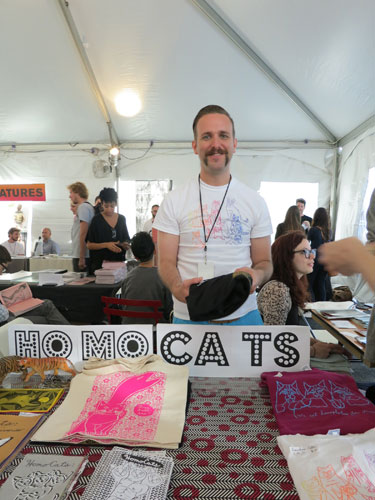 Homocats: J. Morrison
Over the next month, D.C.'s Transformer Gallery will display the series, which includes digital prints, screen-print drawings, artist books, zines — even HomoCat wallpaper. Transformer has also created two related events: a "Purrrformance Art Party," with performances, including real cats on a catwalk, at the nearby 14th Street bar Black Whiskey, Friday, Feb. 8, starting at 9 p.m.; and a cat adoption day, with feline rescue and adoption organization Homeward Trails at Transformer on Saturday, Feb. 15, from noon to 3 p.m.
"I'm really excited about these other events because I feel like it takes it another step, which I'm not able to do," Morrison says. Of course, there are many ways to expand the HomoCats brand — or, if you will, many ways to skin this cat. Perhaps a cartoonist will make an animated HomoCats movie. "Oh I think that'd be great," responds Morrison, who later scratches out another idea for an offshoot.
"I don't think HomoDogs would be as funny or interesting," the self-described "cat lover" says. The independent, sometimes even catty, nature of felines just lends itself to the feisty humor of his series: "There's something about the cat and the sensibility of the cat that I think is just funnier than all other animals." '
J. Morrison's HomoCats opens with a reception Saturday, Feb. 8, from 6 to 8 p.m., and is on view through March 15, at Transformer, 1404 P St. NW. Call 202-483-1102 or visit transformerdc.org.