Through her love of cats, Laura Goodman found the love of her life.
"I fell in love with my partner [Rita Schoch] when she came to the door to adopt a cat from me," says Goodman, who a few years earlier, in 1995, co-founded the Feline Foundation of Greater Washington Inc.
This boutique, all-volunteer, cat-rescue organization in suburban Loudoun County, Va., provides "optimal medical care" to help rehabilitate previously homeless felines. The ultimate goal is to find each cat's "perfect person," with Goodman assisting as matchmaker by drawing from the organization's pool of approved adopters-to-be.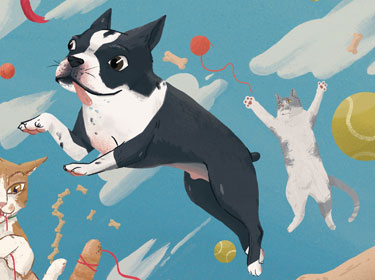 (Photo by Illustration by Christopher Cunetto)
And that, of course, is the focus of all who work in pet rescue and adoption. This predominantly nonprofit sector of a booming pet industry is particularly strong and supportive in the Washington region. "There are a lot of people doing a lot of really great work in our area," says Goodman, noting that she knows of at least 20 other rescue groups in Northern Virginia alone. Included in that bunch is the large Arlington-based Lost Dog & Cat Rescue Foundation.
"We are fortunate that we live in an area where people love and value rescue animals, and we can place them into really great homes," says Colleen Learch, a volunteer board member at the foundation. Typically, the organization finds homes for more than 50 rescue dogs and cats every weekend through multiple adoption events at venues including the PetSmart in Alexandria's Potomac Yards shopping center. The number of possible dog adoptions any given weekend is directly tied to the number of volunteers the organization has working the events. "The more volunteers we have, the more dogs and cats that get adopted," Learch explains. "We bring one dog for every volunteer that we have at any of our events. If we bring five volunteers, we can only bring five dogs." Because they're in cages, cats are less dependent on the number of volunteers.
The foundation makes it easy to say yes, offering a lifetime return policy. In fact, if within the first two weeks the adoption isn't working out, the foundation will refund its application fees, which range from $150 for one cat to $375 for a puppy. "We want everyone to be happy," Learch promises. "At any point in the animal's life, if the adopter can't care for that animal, they can come back to us and we'll find them another home." She says this is "one of the ways we have of making sure that we're doing our part to make sure more animals don't end up in shelters."
While a shelter is rarely optimal, it may also be a good place to start the adoption process.
"A lot of times people think the shelter is a scary or a sad place for animals," says Marika Bell of the Washington Humane Society. "I think the biggest fear people have with animals from us is that they're worried that the animal has been abused and might have health or behavioral issues because of that. Honestly, we don't see that many abused animals. Generally we see animals that have been loved, but that the person just couldn't care for anymore. And there's really nothing wrong with them."
There are also misconceptions, largely based on outdated practices and policies, about the Washington Humane Society itself. In recent years the organization has had "an entire staff turnover," according to Bell, who is in her second year as director of behavior and "rehoming," aka adoptions. For one thing, the organization does not set a time limit for animals in its two D.C. shelters. "They aren't with us for a certain period of time and then they get euthanized," Bell says. "Visitors don't have to feel sad when they come into the adoption center."
The WHS has not yet attained status as a "no-kill shelter," though. "The generally accepted definition of 'no-kill,"' explains Bell, "is when a shelter has a live-release rate of over 90 percent: Of the animals that come in, 90 percent find homes or are sent to other rescues." (The remaining portion are deemed unadoptable, generally because of dangerous behavior or late-stage terminal illness, and are euthanized.) Still, WHS has made great strides on this front. Seven years ago, when Lisa LaFontaine became WHS president and CEO, the live-release rate hovered around 30 percent. The most recent rate was 80 percent, according to Bell, who says the goal is to get to 95 percent. The path to getting there is through strong complementary programs, from fostering to off-site adoption events. At WHS, these types of programs, according to Bell, "are so new that there is room for growth within them, which is exciting." WHS has also revamped its adoption policies in the last couple years, "getting rid of the roadblocks that have traditionally been in the way," to the point that it now offers same-day adoptions. Previously it usually took a week or more to get through the system. "We're also trying really hard to make good matches," says Bell, who is the first director at WHS to oversee both behavioral practices, such as counseling and training, and adoptions.
And making good matches is what motivates those working in the rescue and adoption field. "We're all doing this for the same reason," as the Lost Dog and Cat Rescue Foundation's Learch puts it. "We want dogs and cats to have great homes. We don't want them to be abused. We want their lives valued. And we don't want to have to rescue them off the street in a terrible situation, because they deserve better than that."
For more information about the Feline Foundation of Greater Washington, call 703-920-8665 or visit ffgw.org. For the Lost Dog and Cat Rescue Foundation, call 703-295-DOGS or visit lostdogrescue.org. For the Washington Humane Society, call 202-576-6664 or visit washhumane.org.