For the sixth year in a row, the Capital Area Gay and Lesbian Chamber of Commerce (CAGLCC) will host the LGBT Mega Networking and Social Event at Town Danceboutique. The event, coming up Feb. 26, has grown by leaps and bounds every year with more than 1,600 area movers and shakers attending in 2013.
"There is uniqueness to us that makes this event successful," says Mark Guenther, executive director of the Chamber. "In our community, one can make a deep professional connection based on perceived shared backgrounds or sensitivity to our common cause that could outweigh all other factors."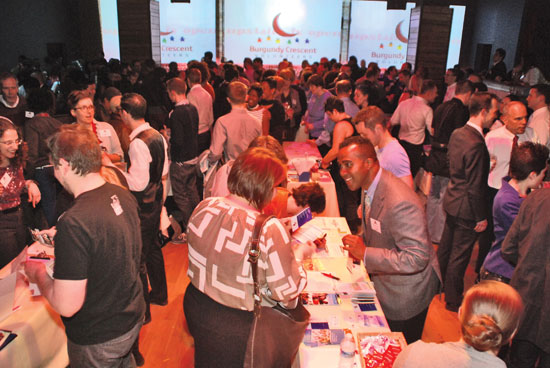 CAGLCC MegaNetworking
(Photo by Ward Morrison)
This local affair is made possible by partnerships with community organizations and local businesses. The Chamber has partnered with more than 30 LGBT networking and social groups to get the word out, including official community partners, who sign on for free and add their support — and listservs — to the effort.
The DC Center, D.C.'s LGBT community center, is one of these important partners. In fact, The DC Center recently relocated to 2000 14th St. NW with room for a new office for CAGLCC.
"We're thrilled that the Capital Area Gay and Lesbian Chamber of Commerce has joined us at our new facility," says David Mariner, the center's executive director. "We always welcome the opportunity work with them. The Chamber plays an important role in building our collective strength in the business sector."
Those sponsors and vendors who make the evening possible offer all manner of perks to attendees. The evening also includes a sweepstakes raffle for fabulous prizes. One sponsor, TD Bank, is a longtime supporter of LGBT causes. Nationally, TD participated in 14 pride parades in 2013. Mega Networking is just one of the local events across the country that they will invest in this year.
Through this extensive networking with partners, sponsors and organizations, plus a major social media campaign, Mega Networking lives up to its name with a growing attendance every year. The personal connections, of course, are the highlight of the evening. On this night, Town Danceboutique is not just the hot place to party, but it's also a place for professionals to celebrate and socialize.
The combination of professional networking and fun draws many people from the community who might not usually find themselves together in such a festive atmosphere.
"Coming together for this event is a priceless opportunity," says Guenther, "either to just connect on a social level or to meet people that will one day help you in your career."
The 6th Annual Mega Networking and Social Event is Wednesday, Feb. 26, 6:30 to 8:30pm, at Town Danceboutique, 2009 8th St. NW. For more information or to register, visit caglcc.org. It's free and open to all.
The Chamber Means Business. For more information visit caglcc.org or facebook.com/CAGLCC. On Twitter, follow @DCLGBTBIZ
Jessica Vaughan is a D.C.-based freelance writer and a member of CAGLCC.