The Justice Department will further expand federal recognition of same-sex marriages "to the greatest extent possible under the law," Attorney General Eric Holder announced in a speech Saturday night.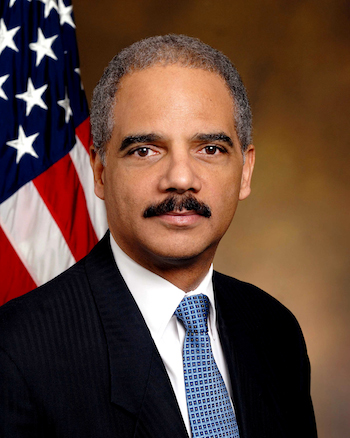 According to a new policy memorandum issued Monday, Holder will formally instruct Justice Department employees to recognize same-sex marriages in federal legal affairs such as bankruptcy cases, prison visits and court proceedings.
"This means that, in every courthouse, in every proceeding, and in every place where a member of the Department of Justice stands on behalf of the United States – they will strive to ensure that same-sex marriages receive the same privileges, protections, and rights as opposite-sex marriages under federal law," Holder said at a Human Rights Campaign gala in New York City. "And this policy has important, real-world implications for same-sex married couples that interact with the criminal justice system."
The updated policy is expected to apply in states that do not recognize same-sex marriages due to its application to federal matters. Among the new policy's implications, Holder listed the following:
• The Department will recognize that same-sex spouses of individuals involved in civil and criminal cases should have the same legal rights as all other married couples – including the right to decline to give testimony that might violate the marital privilege. Under this policy, even in states where same-sex marriages are not recognized, the federal government will not use state views as a basis to object to someone in a same-sex marriage invoking this right."¨

• In bankruptcy cases, the United States Trustee Program will take the position that same-sex married couples should be treated in the same manner as opposite-sex married couples. This means that, among other things, same-sex married couples should be eligible to file for bankruptcy jointly, that certain debts to same-sex spouses or former spouses should be excepted from discharge, and that domestic support obligations should include debts, such as alimony, owed to a former same-sex spouse."¨

• Federal inmates in same-sex marriages will also be entitled to the same rights and privileges as inmates in opposite-sex marriages. This includes visitation by a spouse, inmate furloughs to be present during a crisis involving a spouse, escorted trips to attend a spouse's funeral, correspondence with a spouse, and compassionate release or reduction in sentence based on the incapacitation of an inmate's spouse.
Moreover, the Justice Department will recognize same-sex couples for a number of benefits programs administered by the department, including the Radiation Exposure Compensation Program and the September 11th Victim Compensation Fund. The Public Safety Officers' Benefits Program, which provides death benefits and educational benefits to surviving spouses of public safety officers who suffer catastrophic or fatal injuries in the line of duty, will also be impacted.
"When any law enforcement officer falls in the line of duty or is gravely injured, the federal government should stand by that hero's spouse – no matter whether that spouse is straight or gay," Holder said.
The announcement comes as the Justice Department has sought to consult with a number of federal departments and agencies to implement the Supreme Court's June ruling striking down Section 3 of the Defense of Marriage Act. Since that ruling, the federal government has sought to extend rights and benefits to legally married same-sex couples. Just last month, Holder announced the Obama administration would grant federal benefits to the approximately 1,300 same-sex marriages performed in Utah between Dec. 20, 2013 — when a district court struck down Utah's same-sex marriage ban as unconstitutional — and Jan. 6, 2014 — when the U.S. Supreme Court halted further same-sex marriages in Utah pending an appeal.
According to HRC President Chad Griffin, Holder's announcement will "change the lives of countless committed gay and lesbian couples for the better."
"While the immediate effect of these policy decisions is that all married gay couples will be treated equally under the law, the long-term effects are more profound," Griffin said in a statement."Attorney General Holder continues to show incredible leadership, and this latest action cements his place in history alongside Robert F. Kennedy, another Attorney General who crusaded for civil rights."
In his speech Saturday, Holder — the nation's first African-American attorney general — made allusions to the Civil Rights movement and Kennedy's steering of the Justice Department during that time.
"[A]s all-important as the fight against racial discrimination was then, and remains today, know this: My commitment to confronting discrimination based on sexual orientation or gender identity runs just as deep," Holder said. "Just as was true during the civil rights movement of the 1960s, the stakes involved in this generation's struggle for LGBT equality could not be higher. Then, as now, nothing less than our country's founding commitment to the notion of equal protection under the law was at stake. And so the Justice Department's role in confronting discrimination must be as aggressive today as it was in Robert Kennedy's time."
[Photo: Eric Holder. Credit: Department of Justice.]