Janet Mock's memoir, Redefining Realness: My Path to Womanhood, Identity, Love & So Much More, came out this month. As for Mock, she came out as a transgender woman in 2011 in the pages of Marie Claire, in an article titled, "I Was Born a Boy." That, however, might show some mainstream "cis" — identifying as the gender one is assigned at birth — bias, with the counterpoint being that Mock was actually born a girl, but with physical traits that did not reflect that reality. Regardless, Mock says it was violence against transgender people, as well as a relative absence of their voices from the national discourse, that moved her to come out. Working as an editor at People.com, with a long-term boyfriend, Aaron, living the New York City life she'd long dreamed of, Mock might have stayed in her comfortable closet. She chose otherwise.
In her memoir, Mock goes quite a bit further than stepping out of her closet, as she did in Marie Claire. She writes about the necessity of sex work as a teenager in Hawaii, working by night to pay for hormones and fund "genital reconstruction surgery" in Thailand. She writes of sexual abuse and poverty, and elaborates on her first female identity, "Keisha," a brief childhood persona extinguished in a barber's chair.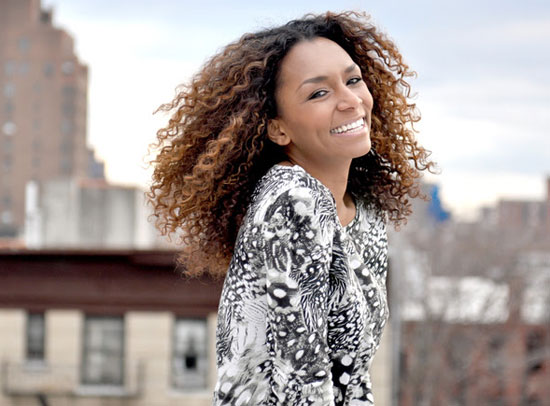 Janet Mock
(Photo by Aaron Tredwell)
With her media background, Mock also has the wherewithal to usher her story out to the largest possible audience.
"That's the blessing," says Mock. "I've worked in it. I understand what people want from me. There is a sense of performance with this, being a media-facing person. But how can I use the access points that I have to hopefully critique the conversation and push it forward and enlighten people? And inspire. Like young trans girls, how do I inspire them to feel like they have agency over their lives? That they can dare to dream bigger and that they don't have to think of life as a tragedy?"
One way she's doing just that is with her social-media hashtag platform, "#GirlsLikeUs."
"Every day there are new entries," she says of that particular branding. "It's been on Tumblr, on Instagram. Now Facebook has hashtags and people are using it there. It has its own life. It's this living organism of our lives as trans women. It was kind of like a solidarity project, a visibility project. It started during a very interesting time, March 2012. There was the Miss Universe thing [with Jenna Talackova disqualified for being transgender], [transgender woman] CeCe McDonald's sentencing [for fatally stabbing a man who attacked her and her friends], and there was a rash of murders of trans women of color. It was a point at which I thought we needed a space to have these hard conversations with one another, to share resources, a space for us to stake a claim. That's what #GirlsLikeUs has been."
With the release of Redefining Realness, Mock — who also sits on the Arcus Foundation board, and helped create programming for trans youth at New York's Hetrick-Martin Institute — is creating a new space for those conversations, though not just with the book. She's also launching a RedefiningRealness.com site to allow others to tell their stories.
"It's a space for readers to share their stories of authenticity, to declare their truth, to state their identity," she explains. "It's a space where people can tell their stories. In the storytelling process, people want to tell me stuff, but I'd rather them take it to a space where they can share it with a collective of people who can share stories together."
Meanwhile, Mock continues sharing her own story, whether in the pages of Metro Weekly, or later this month when she comes to Washington for a public appearance. There's just so much more to share.
METRO WEEKLY: Was it difficult to get your story published, or was it an easy sell?
JANET MOCK: It was all about strategy. There was a plan in place. I knew when Marie Claire was coming out that agents would be interested in figuring out if there was a wider story. So, having worked in magazine publishing and online publishing, I was prepared. I knew there would be interest. And I'd always wanted to write a book. I didn't necessarily know it would be about my life, but I felt there was more, that I was so limited by that Marie Claire story.
We got a deal within a year, like eight months. Book publishing is very slow. It took them a while to come around. I think they realized, "This young woman is becoming a voice in this movement and we should probably figure out a way to publish her." I'm glad that Laverne [Cox] has gotten a book deal, too, that there's going to be more out there.
MW: From the way you tell your story in Redefining Realness, I would think you'd be very proud of your strength, your determination, your grit. But you seem more comfortable emphasizing humility. Is that a fair interpretation?
MOCK: For so long, I was steeped in silence, and trauma brought on by silence. It took me a long time to get to the point of celebration. I just got finished copies of the book, and it wasn't until then I started crying. It was the realization of this dream of mine as a young person who wanted to be, one, myself, fighting hard to be myself; two, move to New York City; and, three, be a writer. And there's nothing that solidifies your sense of "writer" identity more than a book. It's all very new.
The pride, I think, is coming. I guess I'm proud. [Laughs.] But the pride is like, "Oh, I can be present and say that this book is a symbol of this childhood dream of mine being fulfilled." So, yes, I'm coming around to pride! [Laughs.] But I come from Hawaii, where humility is huge. It's in the culture to be humble. It's hard to, you know, say, "I'm so proud of myself! It's amazing what I've done!"