There's no denying we love our pets. They weave their way into the fabric of daily life, cementing their place as the furriest member of the family. As owners, we want to make their lives as comfortable as possible, which, inevitably, leads to presents, toys and little additions that make their time in our homes that much more special. And picking the perfect gift for your pet needn't be stressful. Which is why we've visited some D.C. pet spots to bring you six gifts we think every pampered pooch and coddled cat will love.
Dem Bones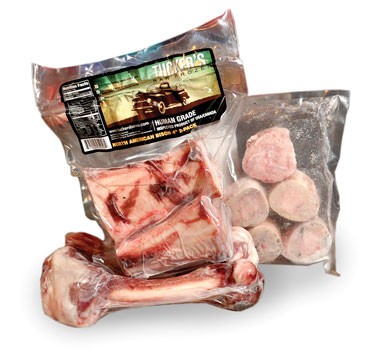 $5.99-$19.99
Howl To The Chief
733 8th St. SE
202-544-8710
howltothechief.com
Dogs are seldom happier than when munching away on a bone — so why not give them a real treat? Howl To The Chief has an incredible range of bones, with beef, venison, bison, lamb and elk all on offer for your dog's delectation. Available in a multitude of shapes, sizes and cuts — from Superior Farm's lamb femur to Tucker's Raw Frozen bison bones — you'll be hard-pressed to find something your pup won't love.
SmartCat Bootsie's Bunk Bed and Playroom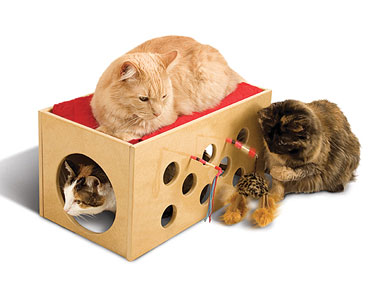 SmartCat Bootsie's Bunk Bed and Playroom
$39.99
Howl To the Chief
This one box has everything a cat could possibly want. If it dispensed food and water, it would be heaven for them. Offering a dark hideaway for secret snoozing, a plush upper-bunk for relaxing, toys to be swatted and plenty of scratching surface, it's an all-in-one pleasure center for your feline.
Aussie Naturals Toys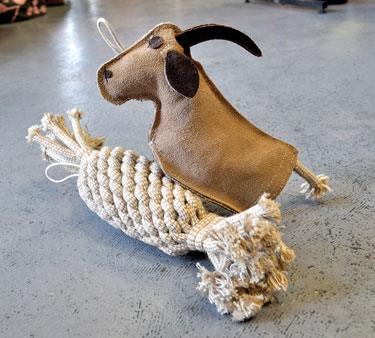 Aussie Naturals Toys
Pineapple $10.49, Tex $12.99
The Big Bad Woof
117 Carroll St. NW
202-291-2404
thebigbadwoof.com
These chew toys are a great mix of environmentally friendly and just plain ol' fun! Pineapple and Tex both feature a recycled water bottle to give them that addictive "crinkle" sound when gnawed, which can be swapped out as required, and are made from 100 percent natural and sustainable materials. Aussie Naturals tests its products on rescue animals, so every time you buy a toy you know a pup in need has had great fun making sure your dog will love it, too.
Michael's Soul Stew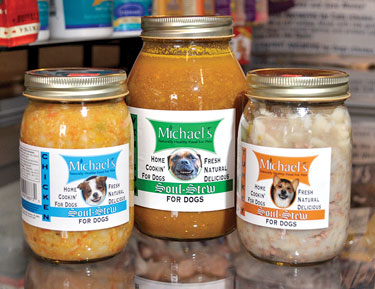 Michael's Soul Stew
$3.99-$7.99, 16 or 32 oz.
Howl To The Chief
If you're at all concerned about the quality of the food your dogs are consuming, then you may want to take a look at Michael's Soul Stew. Made in Pennsylvania, it prides itself on being prepared from restaurant-grade, American ingredients free from the unnatural additions used to bulk out many other brands. Take the venison: Its three ingredients are water, venison and yams. That's it. Free-range, farm-raised venison, at that. Available in beef, chicken and turkey as well, it's a great way to care for your dog's health.
Sisal Scratchers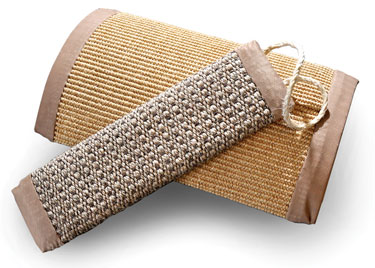 Sisal Scratchers
Door hanger, $11.99
Curved scratchpad, $18.99
The Big Bad Woof
These two scratchers are ideal for housebound felines. Throw the hanger over a door handle and your cat will have something to jump against and keep those claws in check — freeing your sofa from use as a substitute. For less agile cats, or for an additional scratching surface, the curved scratcher is great for placing flat or upright as another multi-dimensional scratching surface. You'll thank us next time your cat jumps onto your lap and doesn't immediately dig its claws in.
Bauer Pottery Food Bowls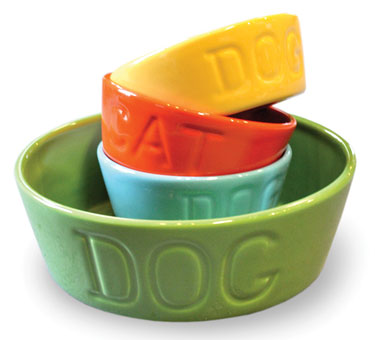 Bauer Pottery Food Bowls
$24.99-38.99
The Big Bad Woof
Okay, your pet isn't really going to care what its food comes in, but that doesn't mean you don't. Offering a break from staid stainless steel, these bowls by Bauer Pottery in L.A. are guaranteed to brighten up every mealtime and will look great on any surface. Color-coordinate your kitchen or just add a vibrant splash to a room — either way, this is one gift that isn't just for your pet, and we think you deserve it.