It's been two years since Deoni Jones, a 23-year old transgender woman, was stabbed in her face and killed while waiting at a Northeast D.C. bus stop. For family and friends of Jones, as well as for the District's transgender community and allies, the mourning continues.
On Saturday, Feb. 8, a range of local political leaders, respected activists, representatives of various LGBT organizations and family and friends of Jones and two other murdered transgender women, Elexuis Nicole Woodland and Nana-Boo Mack, gathered at the St. Luke Center, of St. Luke's Catholic Church, in Southeast D.C. The location is just across East Capitol Street from the bus stop where Jones lost her life two years ago. In a memorial service that combined prayer, singing, political speeches and other tributes, attendees recalled the lives of those lost to anti-trans violence in the District.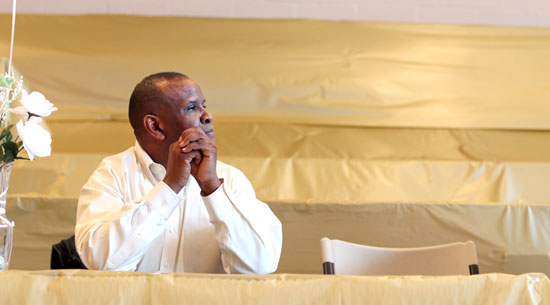 Alvin Bethea, father of Deoni Jones, at the Feb. 8 service
(Photo by Aram Vartian / Metro Weekly)
The memorial service came just one day after D.C. Superior Court Judge Robert E. Morin found Jones's accused killer, Gary Niles Montgomery, competent to stand trial for the third time. Since his arrest in February 2012, Montgomery has been subjected to at least four intensive mental-observation hearings, with psychiatrists and mental health experts from St. Elizabeth's Hospital finding him able to comprehend the extent and severity of the charges against him, and Morin ruling twice before – in March 2012 and April 2013 – that Montgomery was competent to stand trial.
However, the start of pretrial proceedings was delayed after Montgomery's legal team, attorneys Colle J. Latin and Anthony Matthews, objected to initial findings and asked for further competency hearings. Subsequent evaluation returned a designation of "not competent" on Dec. 2, 2013, the last time Montgomery appeared in person in court.
Friday, Feb. 7, both sides finally agreed to a further finding that Montgomery is competent to stand trial, prompting Morin to schedule a status hearing for March 28 and a preliminary trial date of Oct. 6, 2014 – 32 months and four days since Jones was killed.
The delay in prosecuting Montgomery, who faces a charge of felony first-degree murder while armed, has rankled the local transgender community and its allies, as well as Jones's family and closest friends.
In an interview with Metro Weekly, Alvin Bethea, Jones's father, said he and his family were frustrated about the slow pace of proceedings leading to trial and have been angry with both the defense and prosecuting lawyers from the U.S. Attorney's Office for the District of Columbia as delays have mounted over the past two years.
"What Deoni's mother and I are unhappy about is really the lack of empathy, the lack of sympathy, the disrespect and the lack of professionalism that the United States Attorney's Office has shown towards us, as family members," Bethea said. "We think that, again, the prosecution team has just not shown any empathy, sympathy, and to some degree, a measure of disrespect toward us, to the extent that we get the impression they blame us for what happened to Deoni, or they blame Deoni for what happened to her. And so, for that reason, we've asked for a new prosecution team. We've asked those prosecutors, Holly Schick and Jennifer Kerkhoff, that they be replaced by somebody who has some respect for us."
Bethea said his family is still grieving over the loss of his daughter, noting that his other daughters still sleep in Jones's bed at night because they miss their older sister. Bethea questioned why it seems to be taking so long to move forward with court proceedings against Montgomery.
"Our hearts are just full of grief," Bethea said. "Like I told the judge, and I've told their particular supervisors down at the U.S. Attorney's Office, anytime you've got victims coming to you like this, something is wrong with your office. … I sent [Ron Machen] an email expressing our displeasure. I have not gotten any response back from him. I filed a complaint with the Civil Rights Division asking that the prosecution team be replaced, and, again, they are refusing to replace them. They said 'That's our best,' and I told them if that's your best, we'll settle for your less. We cannot adequately work with them on the prosecution of our daughter's murder."
When approached about Bethea's comments, a spokesman for the U.S. Attorney's Office issued a statement defending the prosecutors' actions and efforts to reach out to Jones's family and the larger LGBT community in the District.
"The U.S. Attorney's Office is committed to achieving justice for the murder of Deoni Jones," spokesman Bill Miller said in the statement. "The attorneys on our prosecution team have shown great dedication and are diligently moving forward with preparations for the trial next fall of the man accused of first-degree/premeditated murder while armed in Ms. Jones's death."