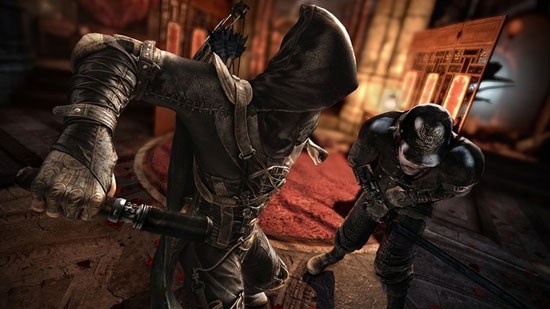 They say honesty is the best policy, so let me preface this by saying I've never played a Thief game. The original trilogy, which spanned 6 years and two developers, is beloved by many as a classic standard for the stealth genre of video games. It dropped players into a steampunk world and gave them the tools to strip their various locations to the bones, collecting any and all loot they came across. What that means is that this reboot, from Canadian developer Eidos Montreal, has a lot of expectation and nostalgia riding on its shoulders. It has to carry the franchise into the modern era of video games, offering enough to placate fans worried that the company will ruin the Thief name while simultaneously giving new gamers to the series — like myself — sufficient reason to stay and explore master thief Garrett's world. It's such a shame, then, that Thief ultimately straddles a confused middle ground where half-baked ideas and shoddy programming rub shoulders in the shadows with moments of sheer genius.
Of course, it'd be remiss of me not to mention Thief's biggest problem: Dishonored. One of the surprising hits of 2012, the worlds of Dishonored and Thief offer many similarities. Both are played from a first-person perspective. Both feature stealth-based gameplay. Both offer a story rich with supernatural elements, power-hungry tyrants, underground movements and cities rife with poverty and pestilence. Dishonored undoubtedly draws inspiration from the original Thief trilogy, but that's also this new reboot's biggest problem. In a post-Dishonored world, it was always going to draw comparisons — the fact that the games have so many similarities, despite assurances that it's entirely coincidental, guaranteed this. While Dishonored may not be as good a stealth game, and certainly doesn't offer the masterful thievery of Thief, it was inherently a good game. Thief just isn't.
If first impressions count, then Thief was already off to a poor start. The opening scenes of the game were plagued by bugs and issues. Framerate drops during cut scenes, lip-syncing that was anything but synced, shoddy sound mixing and a plot set up with all the hallmarks of something we've seen many times before. The first act did Thief no favors. However, once it was out of the way, and I was dropped into the city proper, it began to open up to me.
It helps that Thief can be a truly beautiful game. In one scene, I found myself running across rooftops in the midst of a thunderstorm. The lightning crashed around me, thick, billowing clouds raced overhead, rain poured from the sky and ran in rivers across the tiles and chimneys, dripping down from windows and doorways, illuminating with every flash of lightning. Candlelight flickered through stained glass windows, shadows moved across the scenery and any plant-life jostled and rustled as the wind caught them. Whether traversing buildings, sneaking through cobbled, narrow streets, clambering up the side of a tower or deftly swooping between shadows in a dimly lit mansion, Thief's world has the raw power to truly dazzle you. Character models in cutscenes are occasionally filled with details, dust clings to the air in darkened hallways, ash falls like snow in a level set in a crematorium. Thief's developers have put a lot of effort into crafting its world, and it shows. But it's evident that thoroughly testing that world wasn't high on the list of priorities. For every beautiful moment inThief, there's an out-of-place texture, a noticeable drop in framerate or a character lip-sync that is so out of time or nonexistent it's laughable. It doesn't completely pull you from the setting, but little bugs like these can mar the experience.
Sound design, too, is a hit-or-miss package. All too often I'd be carefully picking a lock, or sneaking through a room, when I'd be loudly interrupted by abrupt conversation or heavy footsteps. Panicking, I'd hide in the nearest shadow and wait for the guard or individual to walk past me. They never would — instead, they would more than likely be outside the building I was in, simply walking on the other side of the wall. Thief's sound-mixing is incredibly inconsistent in this manner. Location-based noises can occasionally work beautifully, such as a muffled conversation between disgruntled locals becoming fully audible as you slide beneath their window, but this was the exception, not the rule.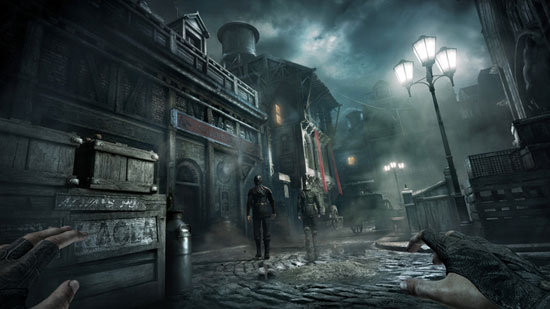 What Thief does get right is its music, which eschews a purely classical score, adding some incredible electronic layers that really pump up the atmosphere when they kick in. Accidentally crunching over some broken glass I hadn't spotted, I ran to a darkened corner as a nearby guard was alerted to my presence. The in-game music dropped a heavy bass, punctuating the silence like an audible heartbeat, as I sat, concealed, waiting for the threat to dissipate and the guard to resume his patrol. Played with a good set of headphones, Thief can be an aural pleasure at times.
Of course, what most people will be coming to Thief for is the gameplay, its classic mix of stealth-em-up and rob-everything-and-anyone that the originals did so well. Played in a certain way, Thief can be a masterful experience. Certain scenarios offer a variety of options — do I sneak up the side of the building, drop underground and work my way through tunnels, or dash between shadows avoiding the numerous guards who patrol each locale? This is where an individual's personal style is allowed to flourish. Favor the brute approach? Equip a fire arrow and cause a gas pipe to explode, incapacitating your enemies. Spot a chandelier with a rather weak chain? Grab a blunt arrow and send it crashing onto any poor souls below. Prefer to sit further back from the action? Pick a spot on the edge of a rooftop and send arrows hurtling into the skulls of any sod stupid enough to enter your crosshair. Prefer to remain in the shadows? Use water arrows to extinguish flames, enveloping your surroundings in darkness. Use Garrett's swoop ability to quickly dash between hiding spots. Send arrows filled with knock-out gas into a group of enemies and run away. Catch someone sleeping, or wandering away from you with their back exposed? Silently run up and knock them out with one hit.
Of course, it's also possible to complete every level without interacting with a single soul, and that's whereThief's true challenge lies. Sitting patiently, watching the movements of patrols, plotting out your next move — this is what fans of the stealth genre will love. Eidos deliberately made combat a punishing exercise; you can be quickly overwhelmed by just one or two guards. Accidentally drop from the rafters into a room with an enemy wandering past, and it'll be a desperate escape to try and evade them, particularly on the higher difficulty levels.
Of course, should you want the ultimate, Thief offers customizable challenges. Complete a level and it opens up to allow for replaying later on, with selectable options to enhance your playthrough. You can turn off navigation hints and rely solely on your sense of direction. Hate seeing your health and focus meter? Turn them off. Feel like removing the UI completely, with no indicators or help at all? You must be crazy, but it's all do-able. The game offers fantastic amounts of re-playability, with leaderboards letting players challenge their friends to match their skill levels or beat their playthrough time.
What really characterizes Thief games, though, is the thievery. Obviously. Garrett has a kleptomaniacal need to steal everything in sight. Pens, candlestick holders, jewelry, money, ancient artifacts, purses, letter openers. You name it, and if it's shiny and can be sold, Garrett will take it. Picking locks, slicing paintings from their frames or feeling around their edges for secret switches to open safes, rummaging through drawers and closets, grabbing bags of money from the belts of unsuspecting guards, solving challenging mini-games and intricate puzzles to unlock an ancient treasure — Thief gets the basics right. With each item stolen, Garrett's money pile increases — money that can then be used to upgrade his arsenal of weapons and gadgets. Stronger arrows, warm clothing to increase health, a more accurate bow, a wrench to access vents or wire cutters to disable machinery, just a few of the things available to purchase.
Garrett can also upgrade his Focus ability. It's gained after a supernatural accident in the game's opening act, and allows him to study his surroundings, finding objects that can be manipulated, secret switches connected to hidden doors, chests that can be opened, locks to be picked. It also alerts him to guards, enhances his sneaking ability and overlays a cool, blue effect to the world that singles out points of interest. It's limited, and doesn't recharge, relying on scarce flowers to be picked and eaten to regenerate its levels, which stops players from abusing the system in every area they enter.
Unfortunately, while early stages are filled with stealing, exploring, sneaking and delighting in solving the game's many puzzles, by the later acts, repetition starts to creep in. Every time you enter a building through a closed window, you're required to mash a button to lever it open. Same goes for sneaking through narrow gaps, where you're usually confronted by a fallen beam in need of lifting. Prepare to mash! Stealing things can quickly become tiresome, too. When picking the lock on a chest, for instance, Garrett doesn't automatically open it. Now, the same mechanic applies to doors — you can pick the lock then peek through the keyhole to make sure it's safe to move through. But this is a chest. I want Garrett to pick it and immediately open it. And heaven forbid there's more than one item inside, as Garrett will slowly grab them one-by-one, each requiring its own key press. It's a small irritance, but one that gradually grates — why can't he simply open the chest after unlocking and grab everything at once?
These confusing moments extend elsewhere. Eidos has mapped running and jumping to the same button, which means climbing is entirely contextual — you can only go where they want you to. Often, this leads to frustration. More than once my destination was above me, but I couldn't climb onto the box immediately beneath it because Eidos wanted me to take a more circuitous route. Same applies for dropping from ledges. Occasionally it's automatic, sometimes it requires its own button press, a lot of the time, when it would be a much quicker route, I'm not allowed to do it. Even the open exploration of areas is limited. Only a few set pieces offer a truly wide variety of entry points, more often than not you're left to choose between sneaking through a low vent or tunnel or climbing up through an open window.
These set pieces are further hampered by incredibly long loading times. If ever Thief felt like one of the original games, it's in these loading screens. Each section of the map is cordoned off into its own little hub. Each hub is fairly expansive, and can be traversed at will, but the loading time between them can stretch up to 20 seconds. It may not seem long, but if you need to swiftly move between several areas, it quickly becomes a drag.
Thief also suffers from a lot of bugs and inconsistencies. AI would miss me when I stood in front of them, or would see me through a stone wall. I would want Garrett to jump from beam to beam, he'd tumble to the ground and I'd be surrounded by guards. Characters would often talk, but their mouths wouldn't move. At one point, I was tasked with cracking a safe — except the game didn't load the button prompt that would allow me to interact with the combination lock. I had to restart the whole area to make it work, as reloading my checkpoint save provided the same result.
This is all before tackling Thief's biggest problem: its story. It's terrible. Poorly scripted, awkwardly acted, badly plotted — it's a series of set-pieces and bombastic moments drawn from other games, mashed together in a supernatural plot that just hampers the world Garrett lives in. Several areas completely pull you from the core mechanic — sneaking and stealing — just to force you to run from enemies or make you navigate through a burning house. The plot itself is convoluted and the ending is weak. None of the characters are particularly inspiring — though Garrett himself comments on his surroundings as you play the game and these often provide a nice little touch or break from the action. If some of Thief's best moments are to be found in hiding in the shadows, waiting for the perfect moment to strike a guard or steal a necklace, why does the story require so many moments where this master thief becomes an errand boy or a common criminal? Brilliant moments, such as the creepy asylum and beautifully realized brothel — complete with a very risqué sex scene — suggest that Eidos is capable of offering a full game of great areas to explore and interact with. It would just rather have boss battles instead.
Thief



$59.99
Available on PS4 (as tested), Xbox One, PC, PS3 and Xbox 360
Ultimately, my time with Thief was one of mixed emotions. The basics of gameplay are spot-on — Garrett interacts with his world in incredible ways, from the use of his bow to his penchant for shadows. My advice to players would be to complete the game, and then go back and devise challenges for you and your friends to complete in each of the games areas. Who can steal the most stuff in 20 minutes? Can you navigate that section with no UI and the difficulty at maximum? Is it possible to kill every guard in an area without ever being detected? When using the tools Eidos has given you without the plot they've strung around its neck, Thief is a brilliant example of the stealth genre.
Where it falls apart is in trying to be a game for everyone. The story throws a lot of concepts that gamers are enticed by, but none of them particularly work in the context of a Thief game. It uses odd button combinations and awkward repetition to remove a lot of the fun from stealing. It's littered with small bugs that can be amusing at first but simply annoying at later stages. It teases choice but then restricts or removes it. Some may love it, its punishing higher difficulties, its challenge modes. Some may even like the story. As for me, my time with Garrett was one where I felt like I was completing the game simply for the purpose of this review. I slogged through the last acts long after my interest had checked out. Worst of all, playing Thief made me want for something else, something more polished, something with a better grasp of its mechanics and plot. Thief made me want to play Dishonored. That I wanted to play a game that took its inspiration from the franchise Thief is attempting to reboot pretty much says it all.