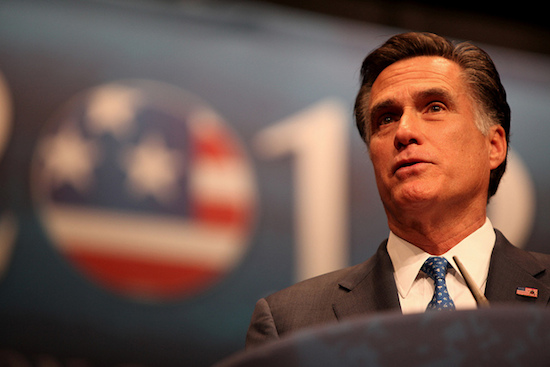 Former Republican presidential candidate Mitt Romney voiced his opposition on Twitter Tuesday to a controversial anti-LGBT bill in Arizona, joining a growing number of voices calling on Arizona Gov. Jan Brewer (R) to veto the legislation.
.@GovBrewer: veto of #SB1062 is right.

— Mitt Romney (@MittRomney) February 25, 2014
Senate Bill 1062, known as the "Religious Freedom Restoration Act," was approved by the Arizona House with a 33-27 vote last Thursday and by the Arizona Senate with a 17-13 vote earlier this month. While supporters of the bill argue it would expand religious freedom and protections, opponents — and in particular LGBT-rights groups — have said the bill's broad language would allow any individual, corporation, institution or business organization to refuse service to LGBT people by claiming a religious belief.
Arizona Sens. John McCain and Jeff Flake, who are both Republicans, have also urged Brewer to veto the legislation, as have a number of business leaders. Marriott, American Airlines and Apple have all expressed their opposition to the bill as well. At least three state senators who voted for the bill have now urged Brewer to veto the legislation.
NBC News reported earlier today that Brewer would likely veto the legislation, although she has not said so publicly.
Speaking to reporters Tuesday, White House press secretary Jay Carney did not offer President Obama's views on the bill, noting that the White House does not usually weigh in on state legislation, but said the proposed law sounds intolerant.
"I think the president's position on equality for LGBT Americans and opportunity for all is very well known. And he believes that all of us, regardless of sexual orientation or gender identity should be treated fairly and equally, with dignity and respect," Carney said. "That view would govern our disposition toward a state law under consideration."
[Photo: Mitt Romney. Credit: Gage Skidmore.]