Every child has that moment. You don a hat or wrap a piece of cloth around your head in a makeshift bandana, put on an eyepatch or draw on a fake goatee, grab a stick or toy sword and then proceed to swashbuckle and terrorize your way across the imaginary seven seas. Playing pirate is a classic role-play for a fertile imagination — it's anarchic, endlessly fun and more than a little naughty, but not so much that Mom chastises you for vanquishing your best friend in fictitious combat or pretending to loot a Spanish galleon.
Of course, as adults, stepping into the role of a pirate is something reserved for Halloween or the coasts of Africa, or relegated to the screen in increasingly lackluster installments by an omnipresent corporation. As a grown-up, it's very difficult to let loose and live out every 18th century fantasy of plundering, boozing and roaming the high seas. Unless you count Assassin's Creed IV: Black Flag, of course.
Assassin's Creed, as a franchise, has existed for more than six years now, and in that time we've been exposed to 16 iterations of the game across consoles, PCs and handheld platforms. That's a lot of stealthy assassinating, and it's little wonder that when the third installment, Assassin's Creed III (which was actually the fifth main title — come on now, stay with me) dropped, the whole ordeal of mysterious assassins and secret missions was becoming rather stale. That's why this fourth iteration is such a breath of fresh, albeit slightly salty, air.
Black Flag follows the 18th century exploits of infamous pirate Edward Kenway, grandfather of Connor fromAssassin's Creed III — the story here is a historical prequel of sorts. What makes Kenway unique is that he isn't an assassin. He's a pirate, a marauder, someone seeking his fortune on the sun-kissed beaches and schooner-filled seas of the Caribbean. The story opens with Kenway unwittingly killing an assassin, who tells him of a task he must complete in Havana. Kenway grabs his robes, checks his pockets, and that's it. We're now a pirate posing as an assassin. There's none of the hand-holding and slow drip-feeding of story and talents that the third installment imposed on players. Instead, after about an hour of story missions, players have gained most of their abilities and are granted the freedom to start exploring Black Flag's world.
And what a world. Despite releasing on last generation consoles first, Assassin's Creed IV manages to be one of the prettiest games available on Xbox One and PS4 — which is saying something given the caliber of graphics available on games specifically designed for both systems. The game features three main Caribbean cities: Havana, Nassau and Kingston, with another 50 unique locations to explore, as well as numerous islands and other areas to venture onto. Everywhere you look, there's something waiting to take your breath away. Sunlight filtering through dense jungle; thundering waterfalls throwing rainbows across an island; sails billowing as they pick up the wind and thrust your ship forward; bedraggled locals working hard as they try to survive in a small island community; towering castles defending the Spanish, British and pirate-controlled strongholds; epic explosions and flying debris as ships lock horns in seaborne combat. AC4 is constantly throwing things at you, pulling you from gorgeous locale to gorgeous locale. It's one of only a few games in which playing on the largest screen possible is practically mandatory, as there are so many details to appreciate as you navigate the world.
Incidentally, these worlds aren't created equal. PlayStation owners will have the crisper, smoother, more detailed experience as AC4 runs at a native 1080p and makes use of more advanced anti-aliasing than the Xbox One version, which runs at 900p. Unless you have a direct comparison, though, you likely won't feel shortchanged, but it's something to consider if you own both consoles.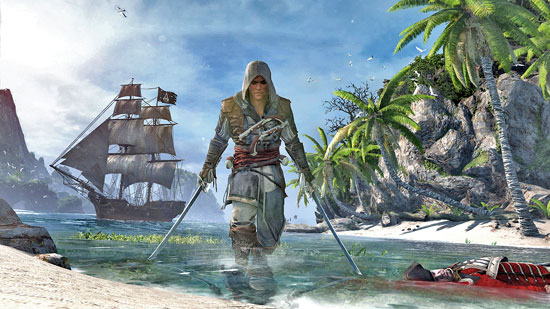 Much of the joy found in Assassin's Creed IV's setting is in simply exploring it. Commanding my ship, the Jackdaw, the most fun I had was sailing through the ocean waves, listening to my crew singing sea shanties, watching seagulls float overhead as I quested for treasure hinted at by discovered maps, or looked for booty-laden ships through my spyglass. Using the special ram I'd upgraded my ship with, I'd fire chain shots at an enemy's rigging before bracing my men and crashing into the hull of the other vessel. A few bow shots and mortar rounds later and it would be ready to board. Swinging by rope onto their deck, I'd engage in some fast-paced combat, dueling with deckhands and foot soldiers until their vessel was ours to pillage for goods and materials to sell or to upgrade our own ship. Any straggling sailors were recruited onto my vessel or sent down with theirs. This is exactly what I want from a pirate game. This is the freedom and the fantasy I pictured as a child.
That fun continues onto land where, be it missions or simply free-roaming, there's the usual wealth of things to do. Assassin missions, couriers to tail and loot, treasure chests to track down, messages in bottles to discover and wind-battered, sea-sprayed locales to walk through. The actual story of Black Flag frequently fell to the side as simply exploring the world and completing side-quests was often more rewarding.
For the main campaign, the Templars are seeking to undo the current world order by removing powerful empires with the use of the Observatory — an ancient complex that allows an individual to spy on another by using a drop of their blood to take control of their vision. The story has numerous set pieces, but aside from the excellent seafaring, it's business as usual for Assassin's Creed, with stealth, action, combat and, yes, plenty of "tail X to point Y without being discovered" missions thrown in.
It all works, though. What's more it works and plays incredibly well. There's the staple of all Assassins games: excellent navigation of environments, with Edward clambering up buildings and leaping across gaps with gay abandon. Occasionally he would climb onto something I didn't want him to, and negotiating ships can sometimes be an infuriating ordeal as he tries to scamper up rigging when you'd rather he be jumping onto a cannon, but it's more pleasure than pain. Combat is dense and enjoyable, though slightly easy. There's a wealth of swords and pistols available, which makes for a nice mix, but every encounter can be won by simply waiting for the visual cue which pops up when someone is about to strike you, pressing the button to counter and then pressing the button to deliver a deadly blow. Hardly the tension-soaked swashbuckling I'd have liked.
Really, fun seems to be the entire point of AC4. Gone is a lot of the slightly-too-serious tone of the previous installments, and in comes all of the rip-roarious fun and salty humor you'd expect from a group of nefarious pirates. Whatever you're doing, be it blasting through a Spanish armada, dancing between the blades of a British army or simply strolling along a pristine beach, gazing at the azure water as dolphins leap through the waves and crabs sidestep around your feet, it's all incredibly good fun.
That's all before you touch the multiplayer, which sadly neglects to offer any sea-based combat — a severely missed opportunity, as teaming up with friends to take down other ships would have been overwhelmingly enjoyable — but does offer some pretty good land-based action. I also haven't mentioned the present-day setting of part of Black Flag's story, which all Assassin's Creed games have. Where Edward's story is something of a prequel, the present day setting is a sequel to the story of Desmond Miles in other games. Presented in a first-person format, you are a modern pirate of sorts, stealing information and data from Abstergo entertainment, the company that has you loading into the Animus to follow the historical story of Edward Kenway in order to cull ideas for a game. Fourth walls are broken everywhere. It's very tongue-in-cheek, but it's also pretty interesting.
Really, though, Assassin's Creed is great because it strips away a lot of the baggage of being an Assassin's Creedgame. This isn't a stealth-action game that features a pirate as the protagonist. Assassin's Creed IV feels very much like the developers set out to make the best possible pirate game they could, before realizing they were supposed to be making a new Assassin's Creed game and shoehorning all that requires into their title. And that's no bad thing. Instead, we have a wonderful mix of both. All of the great gameplay Assassin's Creed has been offering for six years, but with a fresh, endlessly exciting, constantly engrossing context of being the best goddamn pirate you can be.
ASSASSIN'S CREED IV:
BLACK FLAG




PS4
Xbox One
Ubisoft
$59.99
My inner-child, the part that longs to don a captain's hat and shout, "Sail, me hearties!" — he couldn't be happier while playing Black Flag. I never tire of battering my ship through a hurricane, chasing down a frigate I wish to plunder, as massive waves roll my crew around the deck, rain obscures the camera and glints of sunlight stream through my billowing sails. I'm obsessed with getting every animus fragment, finding every bottled message, looting every sunken ship. I'm not done with exploring every glorious inch of this world. I'm Edward Kenway, captain of the Jackdaw, and I'm the best damn pirate the Caribbean has ever seen.