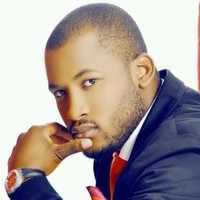 Arabile Gumede, business journalist for South African 24-hour news channel eNCA, has come under fire for tweeting that he thinks it's acceptable to be homophobic. Commenting on Ugandan President Yoweri Museveni signing his country's anti-homosexuality into law, The South African Times reports that Gumede tweeted "I think it's fine to be homophobic, but to imprison someone for life because of their sexual preference is quite hefty." The tweet has since been deleted.
Gumede then tweeted:
Imprisoning a homosexual for life is like killing a squirrel cause it stole your cashews…

— Arabile Gumede (@ArabileG) February 25, 2014
Another Twitter user responded to Gumede, asking "Why on earth is homophobia OK dude? Is it OK to be racist as long as I don't beat you to a pulp?" Gumede responded, saying: "It actually is."
Head of News at eNCA, Patrick Conroy, was swift in distancing his news team from Gumede's comments. "We do not condone discrimination in any form." eNCA's social media editor, Damon Boyd, stated that Gumede would be "disciplined in terms of our social media policy" which explicitly forbids "any form of racism, sexism, religious bigotry or prejudice on grounds of sexual orientation by eNCA staff."
Gumede later apologized for the tweet, both on Twitter and in an official statement.
Let me state this outright — I apologise for that tweet. Not my intention to hurt or anger. Trust you will all forgive me.

— Arabile Gumede (@ArabileG) February 25, 2014
In his statement, he expanded on his tweet: "I would like to pass on my sincerest apologies for my tweet. My hope was to relay a message that no one should impose their views on others either through death or any harm no matter what their views are on any social, judicial, economic or environmental issues. I am truly sorry, and take full responsibility for my actions."
Image Credit: @ArabileG (Twitter)