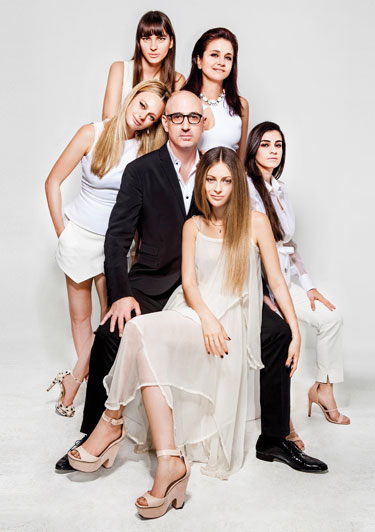 Eytan Fox with Cupcakes cast
MW: Have you ever made an American film, ever thought of "going Hollywood"?
FOX: All my films were and are Israeli. Walk on Water had a lot of English in it. But no, most of the films are in Hebrew — small Israeli films.
I've had my relationship with Hollywood throughout the years. Somehow I never felt at home enough there. And it's very important to me, when I make films, to really feel part of a family that works together and makes films together.
But my next film is going to be a very big film that I'm doing with a producer who works and lives now out of L.A. So it will be a bigger kind of film that might involve Hollywood, in some way, manner or form. But I like doing my thing. I like doing my small, independent, Israeli films, where I can do whatever I want to do. And where I work with people I love. And with budgets that allow me to do whatever I want to do.
MW: What is the focus of that film?
FOX: It's a biopic about a wonderful, beautiful Israeli singer in the '70s, called Mike Brant. Grew up in Israel. Was actually a son of Holocaust survivors. A very poor family. Disturbed parents. Brant never wanted to be a singer, never made it in Israel. Left Israel, became a giant, giant superstar in France. And then at some point became very depressed, and killed himself at the age of 27. But it's full of music that I love. And it has a lot of Israeli history, Jewish history. Sex, drugs and rock and roll — or more pop music than rock and roll. It has France in the '70s, and that whole music scene of France in the '70s. It's a wonderful story, I'm really happy about it. We're going to shoot it towards the end of 2014.
MW: Earlier you were talking about Tel Aviv being a mecca for young people and gay people in particular. Is there anti-gay violence there of late?
FOX: There always is to some extent. But I have to tell you that I think Tel Aviv is such a nice, gay-friendly city and environment. We had this terrible story a few years back where a shooter went into a gay youth community center and shot a kid. And two kids were killed, and a lot of them were injured and crippled. Just a year ago the police found the guilty person. And it's a big ordeal. So that was very bad, but after that, the whole country got together to fight homophobia, and anti-gay violence. So it's really part of our awareness here in Israel.
MW: It often takes something tragic to bring people together or open their eyes.
FOX: Yeah, sadly enough. But also you could say that the fact that the country has been supporting my films since the mid-'90s, constantly supporting my films. These films are made only with film funds. You can't really make these films without the support of Israeli film funds. And these are government funds: money the country is putting into films, that always have gay characters, gay themes, gay love stories, gay sex scenes. I remember traveling the world, especially gay and lesbian film festivals and Jewish film festivals, with the television series I made in the '90s called Florentine. And this was before Queer as Folk, before that whole Showtime television series, before you had all these gay characters and representations in American cinema and television, or on European television. And people were shocked! "How is it, the holy land of Israel allows you to show these things — gay love story and scenes — on primetime Israeli network television?"
MW: What's the answer to that? Why did Israel support that so early?
FOX: It's interesting. Israel is very full of contradictions. A very strange place. A lot of humanity and love and acceptance and inclusion. And then again a lot of fear, a lot of hatred, a lot of survival issues. Traumas. Inability to really see today, our situation, and to be able to reach peace with our neighbors. And to understand that there are certain things that we have to do in order to solve the occupation problem, and the war problems, and so on and so on. So it's really such a mix.
How do you explain the fact that Israel has become one of the most gay friendly, and accepting of gay people, cultures in the world? But then again it's so problematic and difficult as far as accepting the Arab other or Palestinian other? There are really very different views — religious on the one hand and very anti-religious/secular/progressive on the other hand. It's a very interesting, crazy mix.
MW: Sort-of on that topic, 2006's The Bubble is about the so-called "bubble" that is Tel Aviv. Residents live in peace while surrounded by the broader Middle East region that is perpetually in a state of conflict. One of the film's storylines involves a young gay Israeli who falls in love with a Palestinian. Was that inspired by a real-life experience? Was it your own?
FOX: Partly. I never really had a serious love story with a Palestinian. I grew up in Jerusalem, and therefore the whole story of living between Israel and Palestine — the Jewish parts of Jerusalem and the Arab/Palestinian parts of Jerusalem — are really part of my biography. But having a love story with a Palestinian is just my fantasy I guess. [Laughs.] I know a lot of people who have had these kind of relationships, these very difficult, sometimes even tragic relationships. And I was trying to say something about our situation through this tragic love story.
MW: Are there many gay Palestinians around you today? Is Tel Aviv a mecca for them too?
FOX: I don't know if there are many. But I think a lot of young, gay Palestinians escape Palestine and come try to live in Tel Aviv. A lot of them do encounter all the difficulties that the main character, the Palestinian character in The Bubble, does. And a lot of them decide to leave Israel, and leave the region, because they can't live in Palestine openly gay, and they can't live in Israel because they're not accepted here as Palestinians. So a lot of them do leave the whole Middle East and go live in Europe and try to rebuild their lives someplace that is more normal for them.
MW: Do you have hope for a more peaceful Israel and Middle East?
FOX: Different things have to happen, but it's clear that eventually we'll have to have two states here, Palestine and Israel. And we'll have to find ways to live together peacefully. We'll have to give up a lot of things that people are very afraid about. We have to overcome fear, that's the most important thing, and go for the right thing — which is concessions and understanding that we can't continue this way. The world is becoming so anti-Israeli policies and occupation. And rightly so.
MW: What sense of obligation do you feel in commenting on politics and current events in your work?
FOX: I always try to. I'm working on this television series now. Again, there are relationships between Israelis and Palestinians, and trying to solve problems between them on a more human level of relationships.
MW: What is the television series?
FOX: It's a new television series that I'm shooting as we speak. What would the American idiom be? "Good Family." You say in Hebrew, "It's okay, he comes from a good family." And it's about parents, a family in Jerusalem, whose kids all escape Jerusalem — we were talking about this before — and move to Tel Aviv. And the parents are starting to get divorced, and the whole family kind of reacts to that. And there's a nice gay character who is part of this wonderful dance company in Tel Aviv, so we'll have a lot of dance.
MW: So there are a lot of reflections of you in there?
FOX: Yeah. That's part of staying in Israel, making films in Israel. Because, really, I make films about myself. I am a one-trick pony. [Laughs.] I make films about myself and things that I really know, and know about and care about. Me, my friends, my family, my loved ones. '
MW: But you don't always write your screenplays. Are you co-writing that TV series?
FOX: Yeah. I wrote the stories and the characters for all my films. But for different reasons I didn't take the credit for the screenplays. Lately I have decided to do that, kind of put my name on the screenplays as well. Because I always did come up with the story and the characters and what I was trying to say there. And then always brought in a collaborator who wrote the screenplay with me or for me.
MW: So you were a closeted writer before?
FOX: Yeah, exactly. I'm working very hard at coming out of my writer's closet.
Eytan Fox's Cupcakes closes the WJFF on Saturday, March 9, at 7:30 p.m., at the Washington, D.C., Jewish Community Center, 1529 16th St. NW. Tickets are $12. The festival runs from Thursday, Feb. 27, through March 9, and a full festival pass is $85. Call 888-718-4253 or visit www.wjff.org.