"There's no art form that stirs up passion in your heart like music," says Jeff Buhrman of the Gay Men's Chorus of Washington. "You can hear just a few notes and be swept away, have such intense feelings."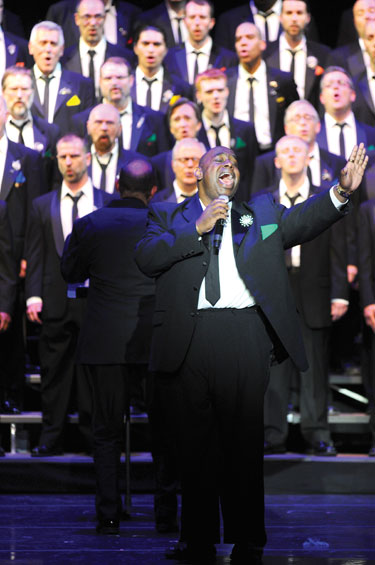 GMCW Passion
(Photo by Michael Key)
When putting together a Valentine's Day-themed program, one of his last as the chorus's artistic director, Buhrman was drawn to the idea of stirring passion among patrons. "Passion for love, for music, for family, for religion, for homeland," he says. "And the passion for keeping this battle going for LGBT equality." The result is a romantic program of diverse love songs, ranging from Dolly Parton's "I Will Always Love You" to three songs from Miss Saigon to arias from La Traviata and The Marriage of Figaro. "It is an inspirational program with songs about who we are as LGBT people," Buhrman says.
Buhrman also touts the concert venue, the "wonderfully acoustic hall" at the Church of the Epiphany. And he notes that in addition to a pianist, the chorus will also be accompanied by a string quartet and an oboist. The string quartet will feature on violin none other than the chorus's leader, Chase Maggiano. "This concert is going to be a fun chance for me to actually be able to make some music with the guys," Maggiano says. It'll be the first time the classically trained violinist will have accompanied the chorus since becoming its executive director last year.
"It's going to be a great show for a date night," Maggiano says. And just who will be his date to the concert? His parents. Says Maggiano: "I think this is actually my parents' first time seeing a Gay Men's Chorus concert." '
The Gay Men's Chorus performs Saturday, Feb. 15, at 3 and 8 p.m. at 'The Church of the Epiphany, 1317 G St. NW. Tickets are $46. Call 202-293-1548 or visit gmcw.org.