I searched in vain to find a saving grace in Olney Theatre's new production of How to Succeed in Business Without Really Trying. Initially, I thought it might come from actress Sherri L. Edelen. After all, I can still vividly recall her thoroughly commanding performance as Rose in Signature Theatre's just-wrapped production of Gypsy, which deservedly earned Edelen another Helen Hayes Award nomination.
But there's only so much even one great actor can do, even with support from other great actors. Even if Edelen — who only has a few scenes and sings solo in a few group numbers playing head secretary Miss Jones — had been in nearly every scene and sang in most of the show's biggest numbers, it still wouldn't have ended with everything coming up roses.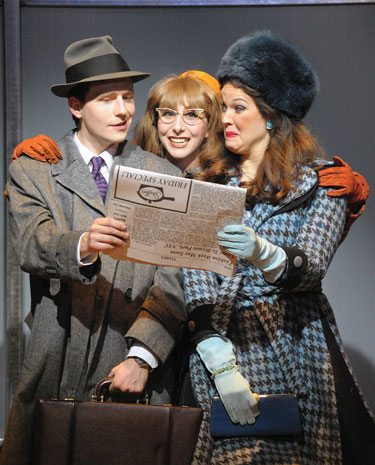 Olney Theatre's "How to Succeed in Business Without Really Trying"
(Photo by Stan Barouh)
Plain and simple, this 1961 musical as written just hasn't aged well. (As opposed to say Gypsy, which in point-of-fact is two years older.) This satirical story about office politics is not simply old-fashioned, it is seriously out of date. In fact, I found it offensive in its retrograde portrayal of a large company's thoroughly sexist culture, in which women will put out to get ahead. And yet they only ever inch ahead, and mostly stay horizontal — always remaining subordinate secretaries passed around from one male executive to another.
Some 50 years ago this must have registered as an amusing caricature of the burgeoning male-dominated, white-collar culture. Back then many of the show's cornpone jokes might have been funny. And the audience also might have more readily sympathized, even rooted for, the show's lead protagonist, J. Pierrepont Finch. Finch quickly climbs the corporate ladder by strategically stepping on and pushing aside his co-workers — following to a T a rulebook, which gives the show its name. Abe Burrows, Jack Weinstock and Willie Gilbert wrote the book based on the bestseller by Shepherd Mead. Of course it's all meant to be tongue-in-cheek, yet somehow the show's gleeful attitude about a ruthless corporate culture really got under my skin. I just couldn't bring myself to care for many of the show's characters, most critically Finch. It surely didn't help that Sam Ludwig played the lead character a little too glib.
How to Succeed in Business Without Really Trying

-1/2
To Feb. 23
Olney Theatre
$32.50 to $65
301-924-3400
olneytheatre.org
It also didn't help that Frank Loesser's music never really grabbed me, or even offer a momentary escape of critical relief. It must be said Christopher Youstra did fine work making the 10-piece orchestra sound grand. Speaking of grand, James Dardenne's set and Seth Gilbert's costumes provided great visual spectacle, stylish in a Mad Men way. And while choreographer Tommy Rapley offered some additional delight during office scenes in which the secretaries typed and moved paper in sync, his overall style was a bit too cute for a show I found anything but.
How to Succeed in Business without really Trying has been successfully revived twice in the past 20 years — without any changes made to reflect our changed times. Under the direction of its still new artistic director, Jason Loewith, Olney has simply followed suit. This may not faze D.C.-area theatergoers, just as it didn't those on the Great White Way. But I can't make sense of its puzzling popularity, just as I can't recommend it.
VIOLET, THE LATEST PRODUCTION AT FORD'S THEATRE, will touch you in its unusual approach and its unexpected story line. The show, with music by Jeanine Tesori and lyrics and book by Brian Crawley, follows the story of the titular character, who we see as both a teenager in rural North Carolina and as an adult traveling across the South, often at the same time, in overlapping scenes. That director Jeff Calhoun, ably assisted by Tobin Ost's complicated, movable set and sharp projection screens, pulls off this feat without it getting cluttered or confusing is one thing. That Lauren Williams as Young Vi and especially Erin Driscoll as Violet also regularly cross paths, even cross dialogue in a couple scenes, without a hitch in actor performance or audience comprehension is yet another stunning accomplishment.
Violet



To Feb. 23
$20 to $52
800-982-2787
fordstheatre.org
But Violet will move you most by virtue of that hopeful story, adapted from Doris Betts's short story The Ugliest Pilgrim. The story focuses on a young woman who wants to alter her physical appearance — chiefly, to remove the scar she sustained on her face from a wayward ax as a teenager. She travels cross-country in 1964 in search of a miracle, but along the way she instead finds herself — as well as love and friendship, principally, shockingly, with two male soldiers, one white and one black. The journey is beautifully complemented by the strong, large company of local performers Calhoun casted sing tunes that are mostly variants of roots-based music, from bluegrass to the blues, gospel to country. It's all just as pretty as Violet.