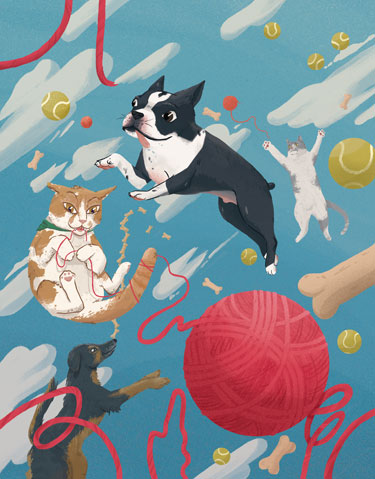 Some might argue that animals don't belong in close confines with humans, that the wild is more suitable for paws, fins, beaks and claws. While we're not about to defend cages and captivity, we will proudly celebrate lives shared with animals that become part of our families. These are the animals we talk to, even when we know they cannot comprehend our language – aside from the brightest the animal kingdom has to offer, of course. These are the animals that bond to us and seek comfort from us, just as we seek comfort from them. These are the animals that remind us that affection is a basic need that requires no apology. These animals, unintentionally yet powerfully, also remind us of the responsibility we as humans, with our big ol' brains, have for the entire planet; the power we have to ruin environments or to save them. How we care for the animals we love can be evidence of how we care – or don't – for the world around us.
In turn, these animals often show us how the world can love us back. They show us that when we've had a rotten day, and are being rotten as a result, they may still crave our company. Remarkably, they get to know us and they still love us. It's no wonder our longtime companions are not exclusively fellow humans.
To celebrate the best of the bond between humans and other animals, particularly those with whom we share our homes and our hearts, Metro Weekly is offering its first annual Pets Issue. But that's not all. The Pets Issue also kicks off an ongoing Pets section in the magazine and online, where we'll continue the love affair weekly. We hope you'll join the pack, too, by submitting photos of your own beastly buddies. Or simply participate in spirit, with "growls" and "woofs" as you see fit.