As written, Gore Vidal's The Best Man ultimately intends viewers to root for William Russell over Joseph Cantwell in their knock-down, drag-out fight to become their party's candidate for president in 1960. But as performed at Keegan Theatre, we unquestionably root for outgoing President Arthur Hockstader instead. The reason is simple: Kevin Adams plays Hockstader with such command, conviction and Bill Clinton-esque charisma, you'd love to vote for him in real life. Has Adams ever been a politician? Is he actually a Southerner? I don't know the answers, though I do know that Keegan company member Adams was equally superb and convincing a couple years back playing the Northeastern patriarch Joe Keller in Arthur Miller's All My Sons. Just chalk it up to being a first-rate actor.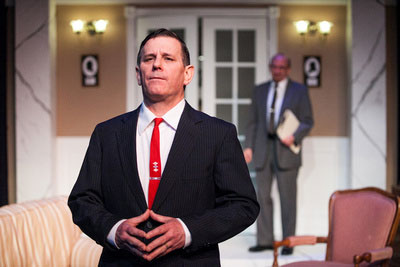 The Best Man
By contrast, both Colin Smith and Keegan founder and artistic director Mark Rhea stumble in their flat portrayals of the opportunist Cantwell and the principled Russell, respectively. Rhea, in particular, doesn't project or enunciate well enough, causing us to miss out on some of Russell's choice retorts. Fortunately, as integral as the two lead roles are to the story, there's enough in the play to chew on, to savor, and directors Christina A. Coakley and Timothy H. Lunch even make up for their miscast leads by lining up an otherwise strong ensemble for this production. Besides Adams, Sheri Herren as Alice Russell, and especially Susan Marie Rhea as Mabel Cantwell, deserve special mention for their studious portrayals of political wives; as does Rena Cherry Brown for her spot-on portrayal of mid-century female party boss Sue-Ellen Gamadge, and Stan Shulman as Russell's savvy campaign manager.
This is yet another Keegan production in which a large cast — in this case a total of 16 actors — fills the small stage space, allowing its veteran stage manager Megan Thrift to show off her dexterity as the theatrical equivalent of a station agent at a busy train terminal. Although she may be a bit too good at the job in this case: The Best Man is meant to emulate the raucous goings-on at a political convention in Philadelphia. Thrift's Keegan Station is a little too ho-hum to sub as that city's 30th Street Station. And Dan Deiter's sound effects of shouting delegates, heard every so often when the candidates' hotel suite doors are opened, are a little too canned to be convincing.
The Best Man



AND ONE HALF
To Feb. 23
Church Street Theater
$35
703-892-0202
keegantheatre.com
Keegan's set operation is headed by Michael Innocenti, who does double duty, also playing the small role of Sheldon Marcus, who accuses Cantwell of homosexual activity, years earlier when the two served in the Army. This is intended as a retaliatory move by Russell to impugn Cantwell, who is working to smear Russell's good name with evidence of his medically documented bouts with mental illness. Even if these dirty tactics aren't as surefire campaign decimators today, The Best Man still holds up as an incisive account of the game that is American politics. And the dirty tactics aren't the only things that have slightly changed over time. The late bisexual writer Vidal was a lifelong Democrat, even a wannabe politician, and The Best Man was originally written as veiled commentary on his party, criticizing the rise of John F. Kennedy over Adlai Stevenson, of populism over principles. But more than a half century later, The Best Man — which assiduously avoids any mention of a specific party — seems more like a critique of today's Republican party.
Regardless of party, so much of politics is about keeping the worst at bay — the worst impulses, the worst activities, the worst candidate. So much boils down to voting, or campaigning, for the least-bad option.
The best man doesn't always — maybe not even often — win.