Federal and local health organizations, along with a number of local churches, will observe National Black HIV/AIDS Awareness Day, Friday, Feb. 7, encouraging people, particularly African-Americans, to get tested to know their HIV status.
According to a recent analysis by the Centers for Disease Control and Prevention (CDC), among blacks in the U.S. who had been diagnosed with HIV, only 75 percent were linked to care. An even smaller number, 48 percent, stayed in care. Less than half, 46 percent, of blacks with HIV were prescribed antiretroviral therapy, the most effective way of combating the virus, and only 35 percent were able to achieve viral suppression, at which point the virus is under control in a way that can keep people healthy and the risk of transmitting it to others is reduced.
The CDC also noted in its analysis that black males had lower levels of care and viral suppression than females; and black youth under the age of 25 had lower levels of care and viral suppression than those who were older. According to the CDC, African-Americans account for nearly half of the more than 1.1 million Americans living with HIV and nearly half of those with AIDS who have died since the beginning of the epidemic.
"If we are to reduce HIV disparities in the U.S., and substantially prevent new infections, we must do a better job of addressing HIV in African-American communities," Dr. Jonathan Merriam, the director of the National Center for HIV/AIDS, Viral Hepatitis, STD and TB Prevention at the CDC, said in a statement. "Everyone can play a role – by being informed, talking about HIV, and getting tested. People who don't have HIV can take steps to protect themselves so that they can stay negative. People with HIV can get the care they need and stay on treatment. Together, we can fight this disease."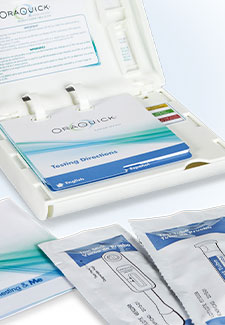 OraQuick test kit
(Photo by oraquick.com)
Local churches have also attempted to engage parishioners and surrounding communities by promoting the importance of testing ahead of Friday's awareness day. The Rev. John Alexander of St. John United Baptist Church, in coalition with the Leadership Council and Healthy Communities (LCHC) and the National Black Leadership Commission on AIDS (NBLCA), stressed the importance of getting tested to his congregation during services on Sunday, Feb. 2. Other churches involved in promoting National Black HIV/AIDS Awareness Day are Covenant Baptist Church, the New Morning Star, and the Plymouth Congregational Church of Christ.
While the church initiative has largely focused on use of the rapid oral HIV test, the OraQuick In-Home, there are other ways to arrange testing. Local community health center Whitman-Walker Health, which specializes in HIV/AIDS care, will offer expanded testing on the evening of Thursday, Feb. 6 and throughout the day on Feb. 7.
Whitman-Walker will offer HIV testing through its mobile testing unit at the Bachelor's Mill, located at 1104 8th St. SE in Capitol Hill, from 10:30 p.m. to 12:30 a.m. on Feb. 6, and at the Anacostia Metro Station from noon to 4 p.m. on Feb. 7. Whitman-Walker will also offer expanded testing through its Elizabeth Taylor Medical Center on 14th Street NW from 9 a.m. to 5 p.m., no appointment necessary.
"In the District of Columbia, black men and women continue to bear the brunt of the HIV epidemic," Don Blanchon, the executive director of Whitman-Walker, said in a statement. "Three our of every four people with HIV in D.C. are black. One in three black gay or bisexual men in D.C. has HIV. At Whitman-Walker, a large number of our new HIV diagnoses are among young gay black men."
"It is vital that black men and women receive ongoing primary medical care along with information and education on how to protect against HIV," Blanchon continued. "That is why WWH offers high quality HIV health care. We provide free testing, education about how to prevent HIV, and medical care for those who do have HIV. We want to empower the entire community to protect their health and their lives."