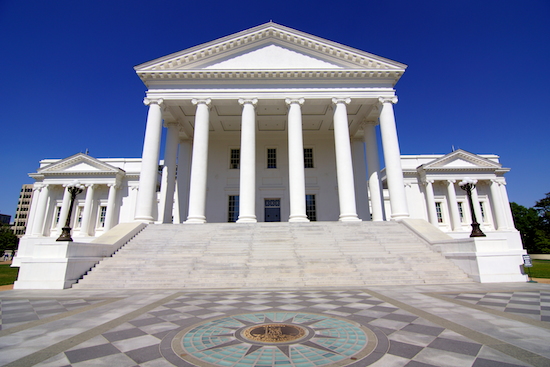 The Virginia House of Delegates voted 65-32 Monday morning to pass HB706, a bill that would amend the Code of Virginia to allow the General Assembly as a whole, either chamber of the Assembly, or any current member of the General Assembly to intervene as party to defend the constitutionality of a law passed by the Legislature if the governor and attorney general choose not to do so.
The impetus for the bill is a Jan. 23 announcement by Attorney General Mark Herring that he will not defend the constitutionality of Virginia's same-sex marriage ban, as established by both statute and a voter-approved constitutional amendment in 2006 as the Marshall-Newman Amendment. Herring said that upon review he believes the ban – which prohibits not just marriage, but any sort of legal recognition for same-sex partners – is unconstitutional and discriminates against same-sex couples on the basis of both sexual orientation and gender.
In refusing to defend the constitutionality of Virginia's same-sex marriage ban, Herring's office will clarify the state's new position in two upcoming federal court cases challenging the ban, Bostic v. Rainey, in the Eastern District of Virginia, and Harris v. McDonnell, in the Western District of Virginia. The first case will receive a hearing on Tuesday, Feb. 4, in Norfolk before Judge Arenda L. Wright Allen.
The plaintiffs in the Bostic case are being represented by the American Foundation for Equal Rights (AFER), as well as Ted Olson and David Boies, the lawyers who successfully argued for the overturn of California's Proposition 8, which banned same-sex marriage in that state. The legal team plans to argue that the Marshall-Newman Amendment violates the Equal Protection and Due Process clauses of the U.S. Constitution and singles out gay and lesbian Americans for a disfavored legal status, thereby creating a category of "second-class citizens."
Meanwhile, in the Harris case, a lawsuit filed on behalf of two couples by the American Civil Liberties Union (ACLU), the ACLU of Virginia, Lambda Legal and the law firm Jenner and Block, was certified on Friday as a class action suit, meaning the attorneys for the plaintiffs will be arguing on behalf of all same-sex couples in the commonwealth, who are prohibited from marrying or having their out-of-state marriages recognized.
Of the House's 67 Republicans, 59 signed on as co-patrons of HB706. Many of those legislators had also written to Gov. Terry McAuliffe (D) asking him to appoint a special counsel to defend the marriage amendment in light of Herring's announcement. McAuliffe declined to do so. But seven of the eight remaining Republicans, including two delegates – Del. Ron Villanueva (R-Virginia Beach, Chesapeake) and Del. Joseph Yost (R-Montgomery, Giles, Pulaski counties; City of Radford) – who have said they support repealing the marriage amendment, joined with the rest of their caucus and anti-gay Democratic Del. Johnny Joannou (Portsmouth, Norfolk) to pass the measure.
The 31 remaining House Democrats, as well as Republican Del. Tom Rust (Fairfax, Loudoun counties), voted against HB706. The bill now heads to the Senate, which Democrats control 20-20, with Lt. Gov. Ralph Northam (D) acting as tiebreaker. It is unclear whether it could pass with the help of a few conservative Democrats who have not yet endorsed marriage equality, but it would most likely face a McAuliffe veto if it did.
Debate over the measure in the House was short, with only three lawmakers choosing to speak. But the issue hung over the chamber from the start of Monday's session, with Del. Scott Surovell (D-Fairfax Co.) and Del. Bob Marshall (R-Manassas Park, Prince William Co.) using their points of personal privilege to make speeches on opposite side of the issue, foreshadowing most of the arguments that would be repeated when the bill was brought up for discussion.
In his personal remarks, Surovell invoked the specter of former Gov. James Lindsay Almond (D), a proponent of segregation who eventually determined that he would not resist federal laws ordering Virginia to integrate its schools.
"The world evolves, and the commonwealth of Virginia evolves with it," Surovell said. "Resisting federal laws does not reflect well on it."
In response, Marshall, arguably the General Assembly's most anti-LGBT delegate and whose name sits on the marriage-ban amendment, used his personal remarks to attack Herring for a lack of transparency in his response to a FOIA request by Marshall that asked Herring's office to provide documentation and precedents that it used to come to a decision about the constitutionality of the Marshall-Newman Amendment. He read aloud editorials from various papers across the state that endorsed Herring during his campaign for attorney general, particularly highlighting Herring's pledges to be transparent and provide "open access" to the inner workings of Virginia's government.
When the bill was brought up for debate, House Minority Leader David Toscano (D-Charlottesville, Albemarle Co.) started by asking delegates to answer a "quiz" on a statement, later revealed to be from former Attorney General Ken Cuccinelli (R), about the separation of powers. Toscano argued that HB706 violates separation of powers by granting the General Assembly powers reserved for the Attorney General, and posed a hypothetical scenario where two delegates could ostensibly argue on opposite sides of a case because both have "standing" to defend or not defend a law, and asking which one would be considered by the court to be representing the people of Virginia.
Toscano also alleged that the bill was not about constitutional laws, but specifically about Republicans' opposition to marriage equality. He further argued that attorneys general do not have to defend laws that they believe are unconstitutional, per precedent set by former Attorneys General Cuccinelli and Jerry Kilgore (R).
Marshall, as the second speaker, used his time to attack Herring and McAulliffe, saying he believes Herring has prejudiced his client – the commonwealth of Virginia – and is expected to defend the commonwealth's existing ban, not just the government officials named in the Bostic lawsuit. Marshall also compared House Republicans' actions to those pursued by U.S. House Speaker John Boehner (R-Ohio) to defend the Defense of Marriage Act (DOMA) when President Obama and Attorney General Eric Holder refused to defend the act, a section of which was later overturned by the U.S. Supreme Court. Marshall also added that the question of a constitutional "right" to same-sex marriage has not yet been resolves by the Supreme Court, making it all the more important to defend Virginia's ban.
The third speaker, Del. C. Todd Gilbert (R-Page, Rockingham, Warren, Shenandoah counties), the original patron of HB706, used his time to allege that Herring was on "shaky ethical ground," saying Herring has not "done his job" and arguing that the defendants in the Bostic case, in particular, need to be represented by the state's attorney general.
"I'm sorry we are experiencing a point in history where our attorney general and governor are refusing to defend our laws," Gilbert said, saying that passage of the bill would prevent a similar situation from arising in the future.
Following passage of the bill, the House Democratic Caucus issued a statement blasting those Republicans who voted for HB706.
"HB706 strikes at the heart of our separation of powers, a principle which the founders considered essential for democracy," Toscano said in the statement. "Passage of this bill is designed more to score political points than it is about building good public policy. House Republicans didn't advocate for this bill when Republican attorneys general declined to defend laws they determined were unconstitutional. The Attorney General is elected to be the sole person empowered to present the state's position in legal matters, and his authority should not be undermined by partisan considerations."
"The bill raises some constitutional and separation of powers concerns," added Del. Jennifer McClellan (D-City of Richmond, Henrico Co.). "It would create 140 mini-attorneys general in the General Assembly. Allowing each individual legislator to exercise executive powers violates the Virginia Constitution and raises practical concerns regarding authority to make decisions in a case on behalf of the Commonwealth."
"This bill is aimed at Attorney General Herring because its proponents disagree with his view that Virginia's laws against same-sex marriages are unconstitutional," Democratic Caucus Chair Mark Sickles (D-Fairfax Co.) said in a statement. "We expect the Senate to reject this effort to undermine our citizens' civil right to marry the person the love."
[Photo: Virginia State Capitol. Credit: Skip Plitt/C'ville Photography, via Wikimedia Commons.]