There is a special hell for serious music-lovers, and in one molten corner resides a certain kind of contemporary classical that puts more emphasis on atonality and stridency than any actual reason for it. Anyone who has felt those particular flames licking at their heels will be forgiven for thinking twice before allowing themselves to be sealed into the red cocoon of the Opera House with modern fare on the menu.
Thus it is with much relief that one finds that with his hot-off-the-presses Moby Dick, composer Jake Heggie is never different for difference's sake. He is, quite to the contrary, working hard and exploring sensitively within many of the traditions of classical opera. And why not? Who says new opera has to be weird?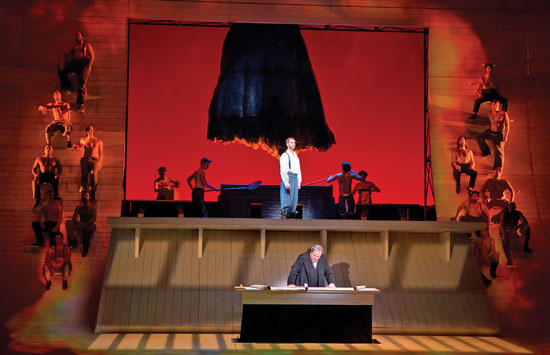 Moby Dick at Kennedy Center
(Photo by Scott Suchman for WNO)
And if Heggie may not quite (yet) transcend the derivative feel that comes from this embrace of his classical ancestors, and his Moby will inevitably be compared to Benjamin Britten's masterworks of Billy Budd or Peter Grimes, there is nevertheless a big idea here. And its name is Accessibility.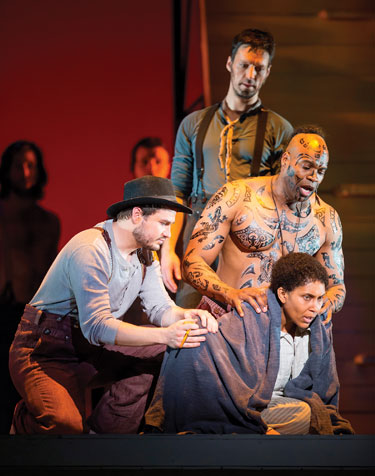 Moby Dick at Kennedy Center
(Photo by Scott Suchman for WNO)
With Elaine J. McCarthy's vast and spectacular projections, a score that swells lyrically and cinematically on waves of emotion, conflict and dangerous seas, and a familiar tale of man against beast (and himself), this is a highly theatrical and watchable opera. It benefits tremendously from Gene Scheer's libretto, which not only pares Melville's dense novel into a tight and dramatically potent story, but also serves to anchor the emotional intensity of Heggie's musical flights. Add the simple but dramatic rendering of the ship in Robert Brill's sets and this is a whole that is in many ways bigger than its parts.
And as such, it represents a place where a new generation may not fear to tread. And if they tread here, they may find they can also tread backward — to those operas that have so fruitfully and successfully inspired Heggie.
Of course, with such larger-than-life theatrics, there is always the danger that the characters themselves will get swallowed up, and not just by a whale. Here, Carl Tanner as Captain Ahab, the whaling-boat captain who will stop at nothing to find and kill the whale that took his leg, has no trouble commanding not just his boat but also his stage. An impressive and rather dashing figure, Tanner has the kind of charisma that makes one forget he's hiding half a leg somewhere. (Well, almost. He wore an intriguingly designed coat.) His virile baritone sails easily over the Washington National Opera orchestra (playing with power and exuberance under the baton of Evan Rogister), and yet he brings much tender spirit to Heggie's more soulful moments.
A charismatic and vocal counterpoint to Tanner is the superb baritone Eric Greene, who gives his Queequeg an enthralling presence and authenticity that stops dead any chance that this "noble savage" might become the cliché so often made of such characters. Greene offers a sonorous yet silky sound that matches well the understated power and expressiveness of Queequeg. Dramatically, he pairs well with Greenhorn, the young seaman who soon sees that there is more to Queequeg than meets the Western eye. Tenor Stephen Costello fills Greenhorn's not overly written character with a thoughtful energy, and by the second act his voice has warmed into expressiveness, even if a duet with Queequeg never quite takes off.
Another standout is Talise Trevigne in the trouser role of Pip, the cabin boy. Her strikingly rich and beautiful soprano glides through Heggie's score like a knife through butter — a sheer joy to the ears. Though she may give Pip a slightly incongruous maturity, she captures well his young stride and the theatricality the role requires. As Ahab's first mate Starbuck, baritone Matthew Worth may get a bit close to a nibble on the scenery, but he sings with expression and holds his own.
As shipmates Flask and Stubb, Alexander Lewis and Christian Bowers acquit themselves well as they come and go from the crowded deck scenes, which raises an inevitability of this production: crowd control. With a deck for a set (except for a few scenes) the crew-member chorus creates quite a crowd. Though they are pulled together effectively (and sing with unified gusto) for their two tour de force moments, the rhythm of shipboard life otherwise is never quite captured, especially during the interlude in which they dance and sing of the "Spanish ladies." With the challenge of an oceangoing opera there must come such dilemmas. Here there is room for a tighter, more cohesive feel.
MOBY DICK





To March 8
Washington National Opera
Kennedy Center
$30-$305
202-467-4600
kennedy-center.org
Having said that, the fight scenes — generally not a strong point in opera — are here effectively choreographed by Robb Hunter. The less crowed moments also carry well, especially those in which the crew members leave the ship to harpoon the whales in small boats. These scenes balance projections with the athletic use of the set's curved walls in ways that are imaginative and well executed.
Still, even if the crowds within don't always work, the crowds without are likely to be pleased. With familiar themes simply told, Heggie's grand and accessible score, and sets and projections that deliver an exceptionally atmospheric experience, this production will, no doubt, continue to make waves. (Sorry.)