There are people — plenty of them — who absolutely love the maudlin 1988 chick flick blockbuster Beaches, about the platonic love of two women. I'm not one of them. But I suspect haters would come away from Signature Theatre's world premiere musical, an adaptation led in large part by the original novel's author Iris Rainer Dart, singing a new tune. Yes, even a certain old one, as director Eric Schaeffer reversed course from an earlier announced decision, and the show now in fact features the song "Wind Beneath My Wings," the only holdover from the film.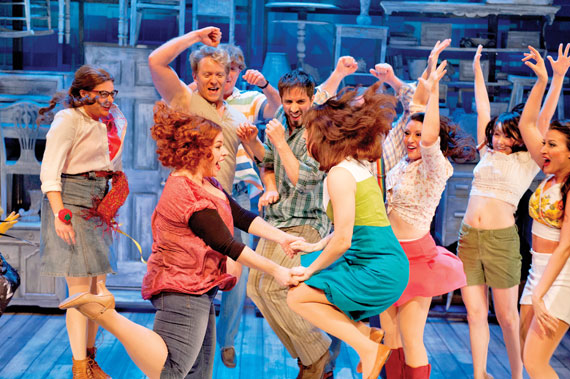 Beaches at Signature Theatre
(Photo by Margot Schulman)
If superbly voiced show star Alysha Umphress's version isn't better than the overplayed one Bette Midler flew away with from the movie, it's certainly every bit as good. Umphress sings the song in the musical Beaches with restraint, and that has the inverse effect of making it more powerful: It's less vocally showy, more emotionally genuine. This ode to her character Cee Cee's lifelong best friend Bertie (appealingly played by Mara Davi) is placed in the musical during a rough patch late in their relationship, and Umphress performs it a bit wistfully, only accompanied by a piano. It's uncharacteristically subtle.
Which, ultimately, is also why the musical, whose book Dart wrote with Thom Thomas, is more compelling. It is too long, clocking in at over two-and-a-half hours, with too many minor plot points and a couple of underdeveloped characters. We don't need to see nearly this much of all that happened between the two leads from childhood to middle age.
But relative newcomer David Austin's fine-tuned original music complements the book, and helps breezily move the show forward. The large cast of actors also advances the cause, with perfectly realized performances from even the tykes playing younger versions of Cee Cee and Bertie. It's notable that even the show's most emotional and touching final scenes, in sharp contrast to the movie, are subtly played, with actions and gestures often standing in for words. This induces more tears, not less, because it's so unexpected. '
Beaches (



-1/2) runs to March 30 at Signature Theatre, 4200 Campbell Ave., Arlington. Tickets are $56 to $89. Call 703-820-9771 or visit signature-theatre.org.