The Crimean Peninsula is an autonomous republic within Ukraine, and the home to the Russian Black Sea Fleet, in Sevastopol, in accordance with a bilateral Ukrainian-Russian agreement.
And for LGBT people from all over the former Soviet Union, Crimea is important because of Simeiz, the first and only gay resort anywhere in the former USSR. It's a small town at the southern tip of eastern coast of Crimea. The first nude beach was founded here in 1950s, and the gay fame of Simeiz goes as far back as to the '70s when homosexuality was still criminally prosecuted and hundreds of Soviet gays were jailed each year. Today, thousands of gay travelers come here to relax and play every summer.
I was there twice, in 2002 and 2012, and was planning to return soon with my husband. I'm not sure now if that's going to be possible.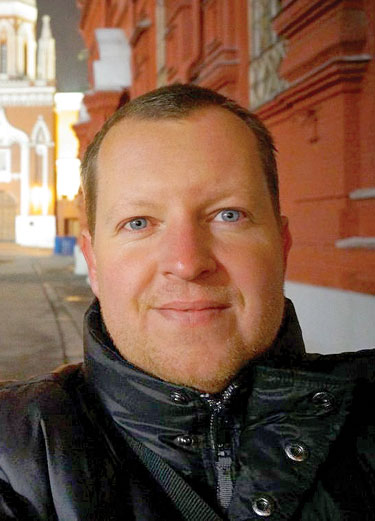 Viachaslau "Slava" Bortnik
On Feb. 26, I happened to be in my hometown of Gomel, Belarus, on the border with Ukraine, when clashes were reported in Crimea between supporters of the so-called EuroMaydan protests that resulted in the ousting of President Viktor Yanukovych and creation of an interim central government, and pro-Russian activists.
Buildings belonging to local authorities across Crimea were simultaneously seized by armed groups. Meanwhile, a new regional administration opposed to the interim central Ukrainian authority was formed in Simferopol, Crimea's capital.
This new Crimean entity is putting forth a March 16 referendum on the region's status and accession to Russia.
The last few days have seen a growing number of threats and intimidation of human-rights monitors, independent observers, journalists and pro-Ukrainian protestors in Crimea.
On Feb. 26, the Russian LGBT Network condemned the possibility of Russian forces seizing military control over Crimea. Later, controversial activist Nikolai Alekseev of GayRussia applauded the Russian military intervention in Crimea on his Facebook page.
The same day, Gay Alliance-Ukraine released a statement expressing full support for "revolutionary changes in our country since we believe that under the overthrown pro-Russian regime Ukrainian LGBT movement would not have had a future."
That statement concludes: "We appeal to some of our pro-Russian colleagues asking them not to speculate on the pain of Ukrainians to pursue their own political or public image goals."
There has been no reaction from the Belarusian LGBT movement so far. Being a member of Amnesty International for the last 19 years, I fully share the approach of my organization that takes no position on the legality or moral basis of the use of armed force or on military interventions.
Amnesty International is concerned that both the Russian and Ukrainian authorities should respect human rights at all times. In this atmosphere of growing tensions and conflicting allegations, there is an urgent need for international human rights monitors, as well as for an independent fact-finding mission in Crimea — as well as in other parts of Ukraine where tensions remain high. Such a mission has been proposed by a number member states in the Organization for Security and Cooperation in Europe (OSCE), but is reportedly opposed by Russia and the new de facto authorities in Simferopol loyal to them.
For the sake of everyone in the region, my wish is that human-rights monitors are in all affected areas immediately.
Viachaslau "Slava" Bortnik, a Belarusian, is a D.C.-based human-rights activist and Amnesty International USA country specialist for Belarus, Moldova and Ukraine. Email him at amnesty_by@gmx.net.