American culture dominates the global stage. Whether film, TV, music or theater, New York and Hollywood control the world to the point where it can be difficult to access foreign media without specifically seeking it out. For Alicia Adams, vice president of international programming at the Kennedy Center, that's part of the joy of her job. "As I've traveled around the world researching other festivals, I've come across a lot of wonderful work," she says. "America often misses out on some of the great theater in the world."
That's the inspiration behind this year's International Theater Festival, World Stages. The festival imports 22 theatrical offerings from 19 countries to the Kennedy Center, with a mixture of full-scale productions, installations, staged readings and forums. Giving locals the chance to access as much international culture as possible is something Adams is passionate about, and it's what inspired her to move this year's festival from a region-specific program — as it has been in the past — to a truly global offering. "It's something that I've always tried to work on here at the Kennedy Center," she says. "I thought this would be a great time to bring as much theater as we could afford from every continent, except Antarctica, to the Kennedy Center."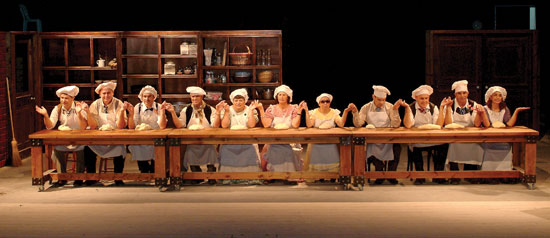 Not By Bread Alone: Nalaga'at Theater; Deaf, Blind, Acting Ensemble at Kennedy Center
Both seasoned theatergoers and newcomers alike will be well-catered for. Adams makes sure that whatever production is being staged, it is as accessible as possible for those willing to take the plunge. "We surround everything in a contextual way," she says, "so that people can dive into it from wherever they choose to enter."
Of course, the festival itself would be nothing without Adams. She curates it, hand-selecting the content and overseeing the production of each piece. It is her love letter to international culture, a passion she hopes many will share as they enjoy all the festival has to offer.
METRO WEEKLY: I've been looking through the program — it's an incredible selection. There are 22 productions this year. Are they all productions you've personally experienced, or are some chosen based on their significance?
ALICIA ADAMS: I've seen 90 percent of them. Savannah Bay hadn't yet been done. A Midsummer Night's Dream I saw the workshop for. Rupert hadn't been created when I was visiting Australia and programming the festival.
MW: When you're watching a production, what's the experience of seeing it performed in its native country, compared with how it's then staged at the Kennedy Center?
ADAMS: That's something that's really important for me to know and to understand. I need to see what the local audience response is to the work, because often things read well in one place, but not another. It might read very well in Iceland, but not in the United States. I want to be able to pick up those cues and understand from the people around me as to why they think this is either fantastic or not, and why it's representative and reflective of their culture. I'm trying to bring as authentic a representation as I can. Of course, that means it's not always work I personally like, but it is work I feel is resonant and appropriate to have at the Kennedy Center.
MW: With that, are there any performances that particularly stand out to you?
Adams: Sure. A Midsummer Night's Dream — the Handspring puppets are involved with that piece and I've been working with them for a long time. Solomon and Marion, the South African production, because it's a post-apartheid piece and I think it has a lot of resonance for this country, but also for what's going on in South Africa now. It's all about reconciliation, misunderstandings and how they continue to heal a country and, therefore, the people.
Not by Bread Alone, the Israeli piece, is one I find to be the most emotional for me, in that all of the performers are deaf and blind. These people are telling their stories and working together as an ensemble, and it's just intriguing that they can do it. You feel very grateful for all of the gifts that you have when you see performers like this. At the end of the performance they invite the audience onto the stage so that the performers actually know that they're there, because otherwise they don't, so they want people to touch them and partake in the eating of the bread. It's very moving.
One of the readings I selected, A Great Wilderness by Samuel Hunter, is about this whole notion of counseling people who feel that they are gay into being straight. As we know from this past year, all of that kind of therapy has been thrown out the window as being invalid. So I thought it was a very timely piece to present here.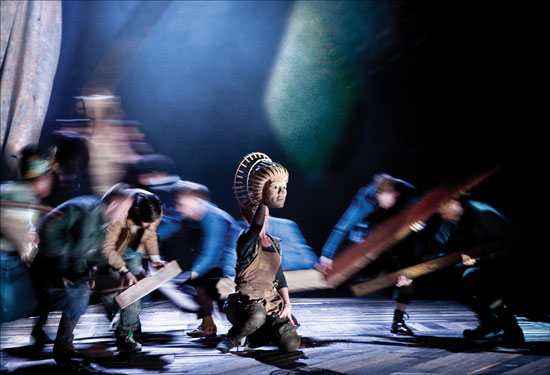 A Midsummer Night's Dream: Bristol Old Vicin association with Handspring Puppet Company at Kennedy Center
MW: What is it like to have your job? To be able to visit all of these countries and experience all of these productions, it seems to be the most interesting thing in the world.
ADAMS: It's a fascinating way to learn a lot about the history of the world through the lens of arts and culture. For me, the challenge — and what I particularly like doing — is to have people experience here, at the Kennedy Center, that which I am able to experience abroad. I try to do it in a variety of ways so that people are really able to feel, when they walk in the door, that they've immersed themselves in a very different world. I want to contextualize it as much as I am able to in terms of history. One example was the Arab festival, Arabesque. As I was doing the research — which was based on the 22 countries of the Arab world — I realized there was no way that I could put performances on the stage without somehow talking about the Arab contribution to the world. The 13th and 14th centuries with Baghdad, the House of Wisdom, everything that occurred with medicine and math and astronomy, science in general. So much of what was learned then has really influenced and been imparted to the rest of the world. Given that history, I created something called an Exploratorium where we crafted a 12-minute film so that people could see some of the ancient manuscripts, doing so in a very creative way. There was a dark room, the film was in the ceiling, people sat in beach chairs to watch it — it became a place that people went to rest, and while they rested they were able to look up and think about the Arab contribution to the world.
MW: In your experience, is there anything that particularly sets apart an American audience experiencing a piece of work to, say, a Chinese or Australian audience? Are there any marked differences?
ADAMS: That's a hard question to answer. I think it depends on what piece they're watching, and whether the enthusiasm is there. One of the things I do notice that's different in some audiences around the world, say Australia or in Europe, is that regardless of whether the audience likes the piece or embraces the piece or not, for them it inspires a dialogue, a conversation. I see people turn to their friends afterwards to have a discussion about it, such as, "Well I like this but I didn't like that," and they would go on and on.
Americans, I find that if they don't like the piece, they don't like it. [Laughs.] That's it, no discussion, they're out of there! I wish that it provoked more dialogue and more thought about the piece, because artists spend a lot of time creating this work and it does have value and meaning. To be able to tease some of that out is really important. It's why we have the post-performance discussions, so that audiences are able to gain more insight into the work. I would like to see more conversations about the production happen post-show in the U.S.
MW: I know from personal experience that a lot of Americans don't leave the United States, don't vacation in other countries. Many don't have passports. Is it important then, to you, to try and bring as much international culture into America as possible?
ADAMS: Absolutely. I think that the arts are the best tool we have for bringing people together. What I hope for is that by being able to see the arts and culture of the world, people will be able to see themselves in these countries and see the humanity that we share. I think that's something we do miss here in America, because we don't know these people, we don't know who the people are in Africa and in Latin America and in Asia. I know that after many of the festivals people are very interested in traveling to the countries they've experienced here — and I hope that it does have an impact on people.
World Stages: International Theater Festival 2014 runs through March 30 at the Kennedy Center. It includes free and paid events. For more information or tickets, visit kennedy-center.org/worldstages or call 202-467-4600.
Spring Arts Preview 2014