"All three of these choreographers are at the top of their game," Septime Webre says, referring to Trey McIntyre, Christopher Bruce and Christopher Wheeldon. As artistic director of The Washington Ballet, Webre has put together a program featuring works by these three choreographers, two of whom — the two Christophers — are British.
And as it turns out, Anglophilia is the driving force behind the program, titled British Invasions. The focus is on "the two greats of British rock and roll," as Webre describes the Beatles and the Rolling Stones. That's a particularly timely focus given that, to twist a Beatles lyric, it was 50 years ago this decade that the two bands became rock's standard-bearers.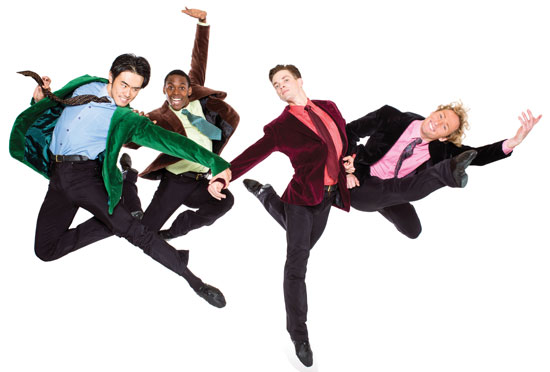 Washington Ballet British Invasion: Chong Sun, Andile Ndlovu, Jonathan Jordan and Jared Nelson
(Photo by Tony Brown)
Trey McIntyre's A Day In The Life uses songs from the Beatles to tell an emotional yet abstract story about a young man who feels like an outsider in his community. The gay, Idaho-based McIntyre originally created the work for The Washington Ballet in 2006. This is its first revival. "It's got Trey's trademark quirky blend of a contemporary sensibility and classical style; very energized and athletic," Webre says. Meanwhile, Christopher Bruce's two-decades-old Rooster, according to Webre, is "a bit cocky, foolish, very energized" — also a way to describe Mick Jagger and the Rolling Stones, whose music is the foundation for the work.
Webre contrasts these two rock-based ballets with Christopher Wheeldon's There Where She Loved, featuring neo-classical art songs by Frederic Chopin and Kurt Weill. "It's beautiful, playful and evocative," Webre says. "And it has his trademark blend of some [ballet legend George] Balanchine energy and a lyrical sensibility, which I think is intrinsically British."
Wheeldon is gearing up to make his mark in musical theater, as director and choreographer of An American in Paris. This musical adaptation of the 1951 film is tentatively slated to run on Broadway next year. But the former resident choreographer of the New York City Ballet is already a star.
Says Webre: "He's one of the real 'it' boys of the ballet world." '
The Washington Ballet's British Invasion runs to Sunday, March 9, at the Kennedy Center Eisenhower Theater. Tickets are $25 to $125. Call 202-467-4600 or visit kennedy-center.org or washingtonballet.org.