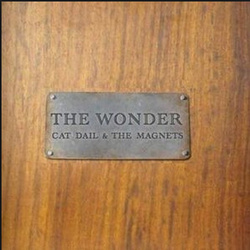 The latest CD by NYC-based Indie-rockers Cat Dail & The Magnets, The Wonder, most definitely lives up to its name. Dail is a veteran of the New York City music scene — her former band, distant cousins, enjoyed some success in Indie circles during the '90s around the NYC area. Her latest project with The Magnets is a thoroughly enjoyable listen — it's a hidden gem of an album that deserves a much wider audience.
The Wonder is mostly straightforward guitar-rock built on a strong foundation of outstanding songwriting. Although it never strays too far from its basic rock and roll framework, The Wonder is frequently colored by unexpected twists and turns. Cat Dail recently took some time to give us a peek behind the creative process that led to The Wonder, and these dalliances with different musical flavors are no accident. As Dail explains, "I like to make a record that has a lot of different feels in it. We all like lots of different kinds of music, so we all play lots of different kinds of music… I usually know we are on the right track when these various songs hang together as a record, because we hang together as a band. And I think we accomplished that."
Indeed they did. Take the opening track "Dark Matter," for instance; it has a lean, tight groove with a guitar pattern that fits neatly inside until it explodes during the propulsive chorus, and again in a sizzling solo during the song's protracted ending. "Goin' Nowhere" is an acoustic-rock shuffle with nice bluesy guitar licks, a beautifully fluid bass-line, and bits of organ and harmonica for flavor. Dail says of the song, "I was just playing 'Goin' Nowhere' today and it always just feels good. I think our overall tendency as a band is toward whatever's groovin'. Feel and soulfulness are prime… The keys are played by the remarkable Aaron Whitby… It's Aaron's wife, the incomparable Martha Redbone (!) I was honored to have singing with me on that song, and a couple of others on The Wonder. I love that elastic bass-line on the recording of 'Going Nowhere' played by one of my best pals ever, and co-writer of that song, bassist Bill Berry. Adam Minkoff kills it live, too!"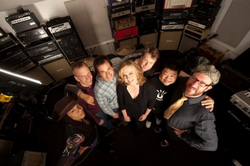 In order to pull off this kind of versatility and make it convincing, you've got to have outstanding musicianship, and Dail is rightly effusive in her praise for her collaborators: "These guys have more than just the killer chops, too. They're open to the ideas, they're willing to go on ridiculous, scary, weird, unpredictable musical adventures with me. They're brave and humor-filled. So, although there are times where the song is just the song and that's that, with a couple you might not expect, they didn't necessarily start out the way they end up. I think that takes a lack of a certain kind of ego — each has to be willing to let go of 'my idea' in favor of whatever is the best idea. We should be in service of the song, and between kind of mind-blowing skills, Teddy, Joel, Adam, Matt, those guys are also explorers. So, it's FUN."
That fun is a key ingredient to the formula on The Wonder is never more evident than in the video for the hard-rocking "Reckless," which features BMX Biker Jamie Cooper-Ellis. Dail says it was as fun to make as it is to watch: "The director, Marjorie Ray is a very cool, creative videographer-plus who loves the band… She had a passion for that particular punky tune, and she knew she wanted to get Jamie in on it, doing his awesome brand of BMX 'Reckless'-ness around us while we jammed, in the half pipe… I hope you can tell how many laughs we had. I hope it seems homemade in the best possible way."
Other high points on The Wonder include the reggae-flavored "What You Don't Want," and "All My Life," which is one of the more inventive tracks on the album. Dail explains how she and her partners weave together disparate musical ideas to make the song work: "'All My Life', there are actually three different vibes happening in that song: the first one is really an African rhythm and we were psyched to be allowed to sample our friends' Senegalese drumbeats for some of that. The second interpretation is… a New Orleans Jazzy feel… And the third one is a polyrhythm that just kind of tickled us. I think the point of shifting genres in that song is maybe to demonstrate somehow the transcendence of the love in the lyric, adapting and persisting over time, and through change, and regardless of culture…"
The most emotionally powerful track on The Wonder may be "Come Around," which starts off a bit quiet with basic acoustic guitar, piano and a lovely vocal, but by the end the drama escalates with a distinctly exotic sound. It's a personal song for Dail, and that intensity comes through in the recording. "'Come Around' was actually the last song we recorded for the record," she explains. "At that point, we knew we needed something kind of intimate, more vulnerable to make the round it out. I had 'Come Around' mostly written in advance but had kind of held that song back, probably for that exact reason — vulnerability and intimacy as a songwriter, and as a person… At the end, we had such a kind of naturally swelling, heavy groove going. It felt to me like a big Indian pageant with elephants walking by. And because we do have jam band tendencies, we really just kind of maxed that out pretty gleefully. We got some really fresh sounds layering, and had a lot of fun with it. I do think, also, it is 'form following function' since the song about sending a call and energy out into the universe, which maybe ripples or builds in some way, becomes larger — and so that's what happens musically too. Kind of about the mysterious and the exotic, and the desired."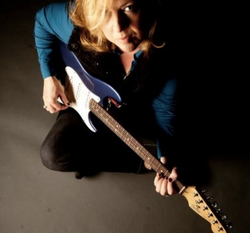 The Wonder's finale is "A Good Day," which is infused with joyous gospel-flavored energy that ends the album on a solidly positive note. Dail explains, "'A Good Day' is one of those songs about something that's sort of cliché, which I guess makes it worth writing a song about. You know, it's about how hard times, and lack, and loss can sometimes have the surprising effect of putting your focus back on to all the things that ARE in place, instead. Maybe it's an 'it could be worse, we've got each other,' vibe, definitely a silver lining kind of a song and that's why it has that kind of an anthem-y top giving way to a blissed-out Gospel hoe down! It's a hoot to play live! Great closer."
Ultimately, Dail says, it's all about creating music that she loves and would want to listen to herself: "My goal is to write songs that I want to hear over and over again. That means they have to have great musicianship… and offer me lyrics that can appeal to me in more than one way, in more than one mood."
The Wonder by Cat Dail & the Magnets is just another reminder that music fans are well-advised to cast a wide net when exploring for new bands to discover. There are gifted musicians and artists creating outstanding work without the benefit of a major label or an influx of money and promotion. While access to social media and the internet provides an unprecedented opportunity to reach potential fans, it also makes it very difficult to break through the glut of talented artists from every corner of the world and reach a wider audience. The Wonder by Cat Dail & The Magnets is an album that deserves to break through the noise, and be heard and appreciated.
Photos by Michael Weintraub