For his swansong to the DC Different Drummers — and to D.C. — Joe Bello has put together a concert focused on dance.
"No, I won't be dancing," laughs Bello, director of DCDD's main ensemble the Capital Pride Symphonic Band. But Bello has hired five dancers to perform at the concert band's spring concert Saturday, March 29. "The whole theme is centered around dance and several different forms of dance, including the tango and the polka," says Bello, who will be performing for the last time as show conductor, a position he's held for the past six years.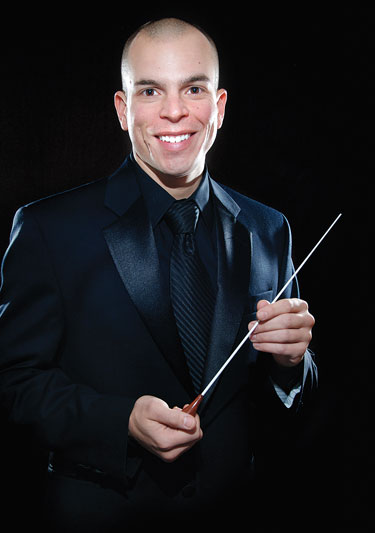 Joe Bello
(Photo by Todd Franson)
"I've certainly grown as a person with them, and I wanted my last concert to be a celebration of everything we've accomplished together," he says. Among his accomplishments, Bello helped start the Capital Pride Wind Ensemble. "I've learned a lot about managing a community ensemble, while at the same getting to practice my own conducting on a weekly basis." Having already held auditions, the DCDD board is expected to announce Bello's replacement around concert time.
This fall Bello intends to start a doctorate degree in conducting — hopefully at Northwestern University in his hometown of Chicago. He'll be solely devoted to that pursuit: After 16 years, Bello has also decided to take early retirement from the Air Force. Bello is a euphoniumist with and the assistant director of operations for the United States Air Force Band's Ceremonial Brass ensemble.
Tying together his work with both organizations, Bello has invited Shanti Nolan, a fellow officer in the Air Force Band, to guest conduct a piece during the DCDD concert. "She's a very energetic, gracious conductor," he says.
But not too energetic: Like Bello, Nolan is expected to save the dancing to the hired professionals.
The Capital Pride Symphonic Band performs Saturday, March 29, at 7:30 p.m., at the Columbia Heights Educational Center's CHEC Auditorium, 3101 16th St. NW. Tickets are $20. Call 202-403-3669 or visit dcdd.org.