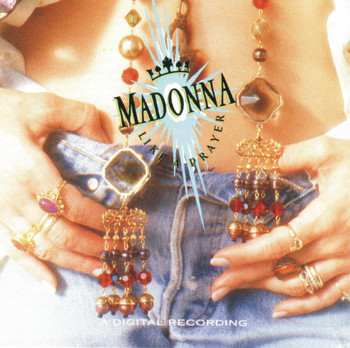 Twenty-five years ago this March, after months of feverish anticipation, one of the most successful pop albums of the '80s hit stores with a whiff of patchouli and a heavy dose of controversy. Madonna's commercial and artistic momentum had been building steadily since her first hit, "Holiday," reached a modest #16 six years earlier. By the time 1989 had arrived and she was preparing to release her fourth album she'd amassed six #1 singles and was second only to Michael Jackson in the galaxy of pop stardom. With Like a Prayer she delivered a knockout that became a global smash, generated six hit singles, and sold millions of copies worldwide. Like a Prayer enjoyed critical acclaim as well as commercial success. Released on March 21, 1989, it spent six weeks at #1 on the Billboard Top 200 album chart during the spring of '89. A quarter-century later, Like a Prayer still holds up as an outstanding collection of top-notch material. Overall, as a complete piece of work, it is arguably the finest album of Madonna's three-decade-plus career.

The album was preceded by the release of the fantastic title-track on March 3. The single "Like a Prayer" did nothing to dampen expectations for the new album, and it quickly shot to #1 all over the world. The provocative video directed by Mary Lambert had religious conservatives in a tizzy and prompted Pepsi to drop Madonna from a major ad campaign (although all the pearl-clutching by those denouncing the video was surely more effective promotion than any advertising money could buy). The religious-themed clip — which features Madonna tenderly kissing a black saint that she had transformed from statue to flesh and blood with a sensual caress of her hand, and then dancing amongst flaming crosses in a skimpy black dress while wearing a crucifix — was condemned by no less than the Vatican itself. "Like a Prayer" is one of the great singles of the '80s and was brilliantly produced by Patrick Leonard. The sequence between 3:04 and 3:38 (on the album version) is particularly stunning. "Like a Prayer" includes a strong gospel element, and some commentators have noted a striking similarity between it and David Bowie's 1986 single "Underground" from the movie Labyrinth (although even Bowie would have to admit that "Like a Prayer" is by far the stronger of the two). The title song and album opener set the stage for an assemblage of songs that are personal, strongly commercial, and brilliantly executed. Pop music doesn't get much better than this.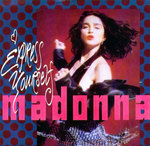 When you consider any two '80s singles that were released by an artist in secession, it's hard to top the one-two punch of "Like a Prayer" and "Express Yourself." Perhaps Michael Jackson's "Billie Jean" and "Beat It", or Prince when he unleashed "When Doves Cry" and "Let's Go Crazy" as the first two singles from Purple Rain— but not many others even come close. "Express Yourself" is a jubilant dance/pop anthem of independence and individuality that remains one of Madonna's signature songs. With a blistering horn arrangement and one of those classic melodies that seems to have been beamed straight from Heaven, "Express Yourself" became another massive single for Madonna, reaching #2 over the summer of '89. It was held out of the top spot by two rather feeble songs in comparison that don't hold a candle to "Express Yourself" in terms of cultural significance: Martika's "Toy Soldiers" and Simply Red's cover of the old R&B chestnut "If You Don't Know Me By Now." Just goes to show ya once again — chart position isn't everything.
She follows "Express Yourself" with her quirky duet with Prince, "Love Song." It's clearly a Prince song musically and lyrically — he's not known to cede control in the studio (or anywhere else) — but Madonna's presence definitely blends nicely within Prince's typically inventive vocal arrangement. It's nice that a superstar duet wasn't a made-for-radio love ballad, but rather an offbeat, funky little number that would have fit nicely on the album Prince released the prior year, Lovesexy. Next up is the jittery "Til Death Do Us Part," an obviously personal song inspired by the well-publicized split between Madonna and her former husband, actor Sean Penn. Before turning darker, the music at first give the impression of a cheery pop tune, but it quickly becomes evident that's far from the case. "Til Death Do Us Part" tells of a relationship that has disintegrated and become violent. Madonna delivers lines like "He takes a drink, she goes inside. He starts to scream, the vases fly" in an unsettling deadpan voice that sounds completely convincing. It's a harrowing song that makes the listener feel like they are peering directly into the artist's most personal thoughts and emotions.
Next up is the melancholy piano-ballad "Promise to Try" — she goes from the pain of a fractured relationship to the anguish of the loss of her mother. It's a beautifully poignant song, and quite simple — just Madonna's voice over a piano and a tasteful string arrangement. She sings it beautifully and with real heart and feeling — if you ever hear someone make the claim that Madonna can't sing, play them "Promise to Try" immediately. There's more to singing than hitting octaves — conveying genuine feeling isn't always about vocal theatrics.
After the emotional ending of Side One, the breezy, cheery "Cherish" is a nice mood switch to open Side Two. As the third single from Like a Prayer, the ebullient "Cherish" — featuring a video with Madonna frolicking on the beach — also peaked at #2 (at least this time she was kept out of the top spot by a classic, Janet Jackson's "Miss You Much.") "Cherish" has an endearing quality to it, and while it might not seem to have the emotional power of some of the album's tracks, that's precisely the point. Like a Prayer covers a range of emotions, and happiness and joyful love is one of them.
The whimsical "Dear Jessie" is next, a merry little ditty with a childlike charm and a jubilant string arrangement. It was a single in some territories (not the US). "Dear Jessie" is sheer joy to play and adds beautiful color to the second half of the album. The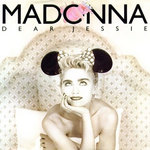 lightheartedness is necessary, as next she delves back into her more personal material with the stunning "Oh Father," a powerfully confessional track presumably inspired by the strained relationship with her own father. Once again Madonna's vocals are up to the task and hold up to the power of the song. Released as a single in the US, the dark and introspective track struggled to #20, her lowest chart showing in America since "Holiday." That hardly matters — "Oh Father" is a stunning reminder of how great pop music can be at its best.
The high-energy "Keep it Together," released as a single in January, 1990, fared much better commercially, rising to #8 on the pop charts and reaching the top of the dance chart. "Keep it Together" is something of a forgotten gem — even though it was a Top 10 hit, it was omitted from all three of Madonna's hits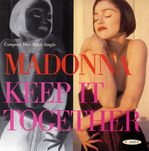 compilations: 1990's The Immaculate Collection, GHV2 from 2001 and her 2-disc Celebration released in 2009 (one of only three of Madonna's Top 10 hits to suffer this indignity, the others being "True Blue" and "Angel"). The sultry ballad "Spanish Eyes" follows, and then the album closes with the wonderfully offbeat "Act of Contrition." It features portions of "Like a Prayer" played backward over a blazing guitar freak-out (widely assumed to be played by Prince, although he is not credited) and somewhat self-deprecating humor as she insists repeatedly "I have a reservation!" before shouting, "What do you mean it's not in the computer?" Only Madonna would have the guts to cause a scene at the pearly gates.
Like a Prayer has aged extremely well. The production is strong, and the songs stand the test of time. There really is no weak link, as the album veers from jubilant pop/dance to tracks that are intensely dramatic and personal. She would never again record an album this diverse, or with the depth and strength of songwriting on every track. Madonna is still enjoying an amazing career, and she's never really put out a bad album (even MDNA has its positive attributes, and American Life is drastically underrated), but Like a Prayer is her crowning achievement. As Like a Prayer reaches the quarter-century milestone, it's a good time to give it a thorough listen and rediscover one of the truly great pop albums of our time.